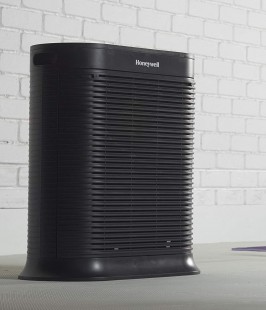 Reasons to buy Honeywell hpa300:
It filters & circulates air 5-times per hour.
Removes up-to 99.97% of airborne particles.
Designed for use in large rooms of (465sq.ft.)
Uses a certified HEPA filter to eliminate allergens.
See price on Amazon
summary Review:
PERFORMANCE

Honeywell hpa300

HEPA FILTER
TIMER
FOR LARGE ROOMS
REMOVES CIGARETTE ODOR
ROOM SIZE AND AIRFLOW
FIGHTS GERMS
ELIMINATES DUST MITES
REMOVES PET DANDER
GETS RID OF POLLEN
REMOVES SMOKE
REMOVES MOLD
TRAPS ALLERGENS
QUIET OPERATION
EASY FILTER REPLACEMENT
SLEEP MODE
WATTAGE
ENERGY STAR

USABILITY

Honeywell hpa300

CONTROLS AND MODES
FILTER REPLACEMENT REMINDER
ECONOMICAL
AFFORDABLE
IDEAL FOR ASTHMATIC PEOPLE
FILTER LIFE - BASED ON USE

SAFETY
APPEARANCE

Honeywell hpa300

DESIGN
SIZE AND APPEARANCE
WEIGHT
HEPA FILTER
Yes
Feature a TrueHEPA-filter that captures up to 99.97% of the airborne-pollutants down to 0.3-microns and larger-particles.
TIMER
Yes
Has an Automatic shut-off timer that can be programmed in intervals of 2, 4 or 8 hours so as to achieve great purification results.
FOR LARGE ROOMS
Yes
It can be used in large-rooms of up-to 465sq.ft. This makes it perfect for use in bedrooms, offices, and living-rooms.
REMOVES CIGARETTE ODOR
Yes
Uses an activated carbon pre-filter to absorb and eliminate household-odors including; cigarette-odors.
ROOM SIZE AND AIRFLOW
Yes
It can purify air in extra-large rooms of 465sq.ft. and can even filter and circulate air for about 5-times an hour.
FIGHTS GERMS
Yes
Its True HEPA filter can capture and remove certain germs within air so as to keep your home clean.
ELIMINATES DUST MITES
Yes
Uses a certified HEPA filter to eliminate dust-mites & other airborne-pollutants.
REMOVES PET DANDER
Yes
It can capture up to 99.97% of airborne-pollutants including; pet-dander so as to help you live comfortably with pets.
GETS RID OF POLLEN
Yes
This device can capture and eliminate airborne-pollutants such as pollen with sizes of; 10-to-100 microns hence reducing on the allergic cases within your home.
REMOVES SMOKE
Yes
Uses a True HEPA & Carbon filter to capture and eliminate smoke-particles with sizes of 0.01-to-4 microns.
REMOVES MOLD
Yes
It can remove mold-spores with sizes of 3-to-40 microns using an integrated HEPA-filter
TRAPS ALLERGENS
Yes
Traps and removes allergens from air making it perfect for use in homes with allergic people.
QUIET OPERATION
Yes
It operates quietly when running on the lowest speed-setting in-order to allow you enjoy sleep & relaxation while at home.
EASY FILTER REPLACEMENT
Yes
It's equipped with easy to replace filters that don't require any tools or professional-help to change.
AUTOMATICALLY DETECTS AIRBORNE PARTICLES
SLEEP MODE
Yes
After operating for the set period, this device will go into a "sleeping-mode" which enables you to save electrical power.
WATTAGE
Yes
It uses 133-watts on Turbo-Clean and a lower-wattage when running on the lowest-speed-setting.
ENERGY STAR
Yes
This unit is Energy-Star Certified for its low power-consumption.
CONTROLS AND MODES
Yes
It has 3 air-cleaning levels/modes, a Turbo-Clean setting, an Automatic shut-off timer, a Dimmer-option and filter-change indicators.
FILTER REPLACEMENT REMINDER
Yes
Features an electronic filter replacement indicator that will light-up to alert you when it's time to change the filters.
ECONOMICAL
Yes
It's an energy star certified unit that uses a low-wattage in-order to save you a lot of money on electricity-bills.
AFFORDABLE
Yes
This device is affordable compared to most air-purifier brands within its range.
IDEAL FOR ASTHMATIC PEOPLE
Yes
If you live with people having allergies like asthma, then this device will work perfectly for you because it can eliminate up-to 99.97% of airborne allergens.
FILTER LIFE - BASED ON USE
Yes
Its Pre-Filter should be replaced every 3-months while the HEPA-filter should be replaced once a year. Likewise, a filter light reminds you when to make replacements.
OZONE FREE
Yes
There is no Honeywell air-purifier that produces ozone.
DESIGN
Yes
This unit features an old-school Honeywell tower design with a black colour housing and solid look.
SIZE AND APPEARANCE
Yes
22.38"H x 20.08"W x 10.83"D coupled with a simple tower design with a black-colour.
WEIGHT
Yes
12-pounds which makes it a perfect home-appliance for use in different rooms.
WAS THIS REVIEW HELPFUL TO YOU? IF YES, PLEASE SHARE IT WITH A FRIEND.