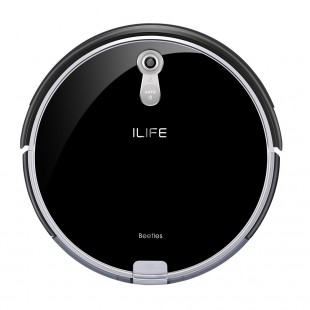 Reasons to buy ILIFE A8:
5 cleaning-modes & Programmable memory.
Panoview navigation that adapts to your home.
i-voice technology tells you what A8 is doing.
Gen-3 cyclonepower system with high suction power.
See price on Amazon
summary Review:
PERFORMANCE

ILIFE A8

CLEANS UNDER FURNITURE
COVERAGE
SUCTION POWER
IDEAL FOR HOMES WITH PETS
CLEAN CORNERS AND ALONG WALLS
BATTERY LIFE
CHARGE TIME
MULTI-FLOOR CLEANING
FOR LARGE ROOMS
AUTO DOCKS AND RECHARGE
RESUMES AFTER AUTO RECHARGING
MULTI-ROOM NAVIGATION
AVOIDS STAIRS AND OBJECTS
QUIET OPERATION
BOOSTS SUCTION POWER
HEPA FILTER
MAPS & PLANS ROUTE
CONCENTRATED CLEANING

USABILITY

ILIFE A8

HASSLE FREE OPERATION
CAN BE SCHEDULED

DESIGN

ILIFE A8

LOW PROFILE DESIGN
BATTERY CAPACITY
DUST BIN CAPACITY
PRODUCT DIMENSIONS
WEIGHT

CONCLUSION
CLEANS UNDER FURNITURE
Yes
Its low-profile design allows it to clean under furniture above 2.8-inches from the ground. In fact, it perfectly fits under most furniture like; beds and sofas.
COVERAGE
Yes
This unit can cleans medium-to-large room spaces of up-to 1615sq.ft.
SUCTION POWER
Yes
Its Gen 3 CyclonePower motor system offers up-to 1200-Pa of suction so as to absorb debris from all types of floor.
IDEAL FOR HOMES WITH PETS
Yes
Uses a Rubber-brush & Bristle-brush to thoroughly clean pet-hair without getting clogged. It even has a HEPA-Filter that eliminates dust and pet allergies.
CLEAN CORNERS AND ALONG WALLS
Yes
An advanced spinning side-brush sweeps debris and dust hiding along walls and corners.
BATTERY LIFE
Yes
Has a long-lasting, 2600mAh, Li-ion Battery that provides up-to 90 minutes of run-time.
CHARGE TIME
Yes
Its battery can be fully-charged within 250-minutes.
MULTI-FLOOR CLEANING
Yes
Features a Rubber-brush & Bristle-brush that can clean different floor-types. Likewise, its extra-large roadrover wheels allow it to move across different surfaces.
DEEP CLEANS THICK CARPETS
FOR LARGE ROOMS
Yes
Clean floors of medium-to-large rooms of up-to 1615sq.ft.
AUTO DOCKS AND RECHARGE
Yes
It can automatically dock and recharge when the battery runs low on power.
RESUMES AFTER AUTO RECHARGING
Yes
This can remember its position and the planned route after the self-charging. In fact, it will resume cleaning using the original coordinates generated by the gyroscope.
MULTI-ROOM NAVIGATION
Yes
This unit can move to different rooms of your home using Panoview-navigation-technology that uses a camera to scan the surrounding and then systematically cleans.
AVOIDS STAIRS AND OBJECTS
Yes
Its panoview-navigation technology uses proximity, distance and fall prevention sensors to detect obstacles and to prevent drop-offs on stairs.
QUIET OPERATION
Yes
It offers silent cleaning with a sound-level lower than 64dBs.
BOOSTS SUCTION POWER
Yes
Has a cleaning-mode (TurboBoost) that maximizes suction-power to ensure that all your floors are thoroughly clean.
HEPA FILTER
Yes
It has a HEPA-Filter that is capable of retaining 99.9% of allergens and dust.
MAPS & PLANS ROUTE
Yes
This unit will map your home automatically and create an orderly cleaning plan according to surroundings. In fact, this will help to avoid omissions or cleaning the same area twice.
CONCENTRATED CLEANING
Yes
It has a spot-mode that will keep it clean a particular area until it gets thoroughly clean.
HASSLE FREE OPERATION
Yes
It can be easily programmed using the included infrared remote-control. It also features a programmable schedule that allows for auto-cleaning throughout the week.
REMOTE CONTROL WITH MOBILE APP
CAN BE SCHEDULED
Yes
Its remote-control will allow you to set a weakly cleaning schedule.
LOW PROFILE DESIGN
Yes
Its low-profile design of (2.83"H) allows for cleaning under furniture above 2.83-inches in height.
PRODUCT DIMENSIONS
Yes
12.2"L x 2.83"H x 12.2"D
PROS
Yes
• Auto-charge and resume. • Map your home automatically. • Intelligent i-voice technology. • Groundbreaking Panoview navigation. • Versatile Bristle & Rubber brushes. • Extra-large roadrover wheels for stabilization. • Moves across different surfaces & avoids obstacles.
CONS
Yes
• No Mobile-App. • No full-bin indicator. • No wet-mopping function. • No deep-cleaning for carpets. • Not compatible with Alexa or Google Assistant.
WAS THIS REVIEW HELPFUL TO YOU? IF YES, PLEASE SHARE IT WITH A FRIEND.