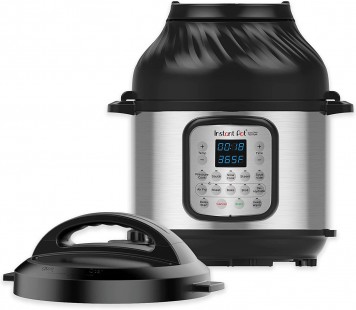 Reasons to buy Instant Pot duo crisp:
Its stainless steel cooking pot offers you with even cooking
Includes over 10 safety features
Get the best of both air frying and pressure cooking with duo crisp.
Even crisp technology creates the perfect crunch with 95% less oil.
Check price here....
summary Review:
PERFORMANCE

Instant Pot duo crisp

Electric
Air fryer combo
Specs & Functionality
MultiCooker
AUTO PRESSURE RELEASE
Rice or Grain Cooker
Slow Cooks
CUSTOMIZABLE COOKING PROGRAMS
TenderCrisp Technology
Programmable

DESIGN

Instant Pot duo crisp

LCD Display
Capacity (Qts)
Stainless Steel
Built-in Pressure Gauge
Built-in Scale
SAFETY FEATURES
INCLUDED ACESSORIES
Wattage
Product dimensions

CONCLUSION
FEATURES

Instant Pot duo crisp

Crisper Basket
Dehydrate
Broil
Sear/Sauté
Steam
Pressure Cooks
Start/Stop functionality
Air Crisp
Keep Warm
Yogurt
Electric
Poultry
Meat Stew
Multigrain
Rice Cooker
Delay Start
Pressure Level
Cancel Cooking
Electric
Yes
It is fully automatic and smart with one-touch cooking programs.
Specs & Functionality
Yes
8 quarts stainless steel pressure cooker, manual and automatic operation modes. 11 in 1 functionality. It has an included air fryer lid that delivers even crisp technology. It has quick one-touch cooking with 11 customizable smart programs.
CUSTOMIZABLE COOKING PROGRAMS
Yes
Choose from 11 customizable cooking programs.
TenderCrisp Technology
Yes
Available- The included air fryer lid delivers all the crunch and tenderness of deep-frying with 95% less oil.
SAFETY FEATURES
Yes
Includes over 10 safety features, plus overheat protection and a safe-locking lid.
INCLUDED ACESSORIES
Yes
Broil and dehydrator tray, air fryer basket, air fryer basket base, steam rack, air fryer lid, pressure cooker lid, and stainless-steel inner pot.
Product dimensions
Yes
14.76 x 13.58 x 15.28 inches
PROS
Yes
It combines 11 appliances in 1: Pressure cooker, slow cooker, rice cooker, steamer, sauté pan, food warmer, and yogurt maker. It also has the most popular size with a capacity to cook for up to 8 people. A food-grade stainless-steel cooking pot with a tri-ply bottom offers more even cooking and an anti-spin design that secures the pot for perfect sautéing. The new easy seal lid gives you 1 less thing to worry about because it automatically seals your Instant Pot. Steam release is also a breeze with the fast, safe push of the quick-release button. And it even comes with a bonus sealing ring it has worry-free cooking with 10 plus safety features with UL certification; You're free to do other things while the Duo Nova cooks your dinner safely and quickly, with minimal mess and easy clean-up. it is dishwasher safe and very easy to clean. It has clear, simple controls with an elegant blue LCD that intuitively indicates the cooking process of the multi-cooker. the Convenient 1-touch control of 13 programs can be customized to remember the way you like to coo
CONS
Yes
It is not able to air crisp however if you purchase the air fryer lid you can make this problem go away. The inner pot of this pressure cooker easily dents so careful handling of the parts is required.
WAS THIS REVIEW HELPFUL TO YOU? IF YES, PLEASE SHARE IT WITH A FRIEND.