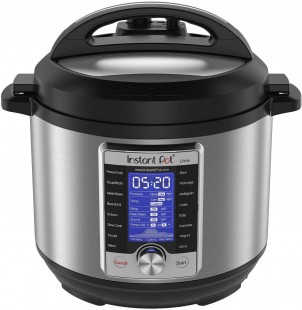 Reasons to buy Instant Pot ultra:
Multipurpose - Can be used as a Pressure Cooker, Slow Cooker, Rice Cooker, Yogurt Maker, Cake Maker, Egg Cooker, Sauté, and more
Dial for program selection and system settings adjustments
Cooks up to 70% faster than traditional pressure cookers
It comes with a cooking progress indicator.
Check price here....
summary Review:
PERFORMANCE

Instant Pot ultra

Electric
Air fryer combo
Specs & Functionality
MultiCooker
AUTO PRESSURE RELEASE
COOKING PRESET
Rice or Grain Cooker
Slow Cooks
CUSTOMIZABLE COOKING PROGRAMS
Programmable

DESIGN

Instant Pot ultra

LCD Display
Capacity (Qts)
Stainless Steel
Built-in Pressure Gauge
Built-in Scale
SAFETY FEATURES
INCLUDED ACESSORIES
Wattage
Product dimensions

CONCLUSION
FEATURES

Instant Pot ultra

Broil
Sear/Sauté
Steam
Pressure Cooks
Start/Stop functionality
Bake/Roast
Keep Warm
Reheat
Yogurt
Electric
Poultry
Bean Chili
Meat Stew
Multigrain
Rice Cooker
Soup Broth
Delay Start
Pressure Level
Cancel Cooking
Specs & Functionality
Yes
A central dial with a simple turn, altitude adjustment, cooking indicator, steam release reset button, sterilise, cake and egg programs,10 cooking appliances in one,11 safety features, app with over 1000 guided recipes.
MultiCooker
Yes
multi-cooker. You can use it to prepare various dishes.
AUTO PRESSURE RELEASE
Yes
You have an option of either releasing the pressure manually or let it happen automatically.
CUSTOMIZABLE COOKING PROGRAMS
Yes
Choose from 10 customizable cooking programs.
Programmable
Yes
Simply use the central dial with a simple turn and press for maximum program selection and adjustment.
LCD Display
Yes
Available-it has a large blue LCD display for easy selection and adjustment of the cooking programs.
SAFETY FEATURES
Yes
Easy Steam Release Feature, The Quick Release Button makes it easier to release steam
INCLUDED ACESSORIES
Yes
Steam rack (with handles), recipe booklet, serving spoon, soup spoon
Product dimensions
Yes
13 x 12.5 x 12.5 inches
PROS
Yes
1. Safe to use thanks to its 11 safety features and auto steam release which gives you peace of mind when using it. The cooker has a new steam release reset button for safer handling. It is also best to remove the float valve, steam release valve and sealing ring. 2. Very easy to use thanks to its central dial which is simple to turn and press for easier and more precise cooking program selection and adjustment. It also has an easy to read blue LCD display where you can easily select the cooking program of your choice. 3. It comes with new amazing features; an altitude adjustment which takes the guesswork out of this pressure cooker. It can easily convert a recipe to provide a more cooking time depending on the altitude you are at. It does not matter whether you are at a low or high or sea level. Attainable pressure levels get lower as you get higher in elevation 4. It has a cooking progress monitor which allows you to monitor the cooking states; The Ultra has a cooking graph that displays the progress through preheating, cooking and warming phases so you know right where you are in the process. 5. The vent/regulator is controlled by a separate button - the Quick Release button, Push the button into the locking position and it pops the Vent up to release the pressure, turns the quick release knob and unlock the Vent so it drops back down and stops the pressure from releasing. 6. It has a 24 hour delay start which allows you to postpone the cooking and start it from wherever you are. Thereafter the keep warm feature keeps your meal warm to until you are ready to serve and enjoy your meal while it is still hot.
CONS
Yes
• The silicone lid holds all the cooking smells which lead to it stinking in the future, however you can run it into the dishwasher on the top rack laid flat each time you are done cooking. • The stainless steel is not really good with non-stick feature as some foods remain stuck on the insides of the pot; however cleaning it is very easy.
Rice Cooker
Yes
Can be used to cook rice and other grains
WAS THIS REVIEW HELPFUL TO YOU? IF YES, PLEASE SHARE IT WITH A FRIEND.