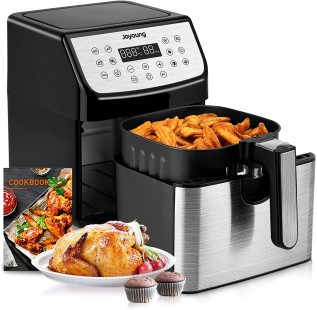 Reasons to buy JOYOUNG Air Fryer:
360°Airflow Convection Technology.
A large and easy to clean detachable square basket.
Oil-less cooking with Up to 92.6% less oil.
LED one touch operation for an easy cooking experience.
Check price here....
summary Review:
PERFORMANCE

JOYOUNG Air Fryer

Multipurpose
Capacity (Quarts)
LESS FAT
Customizable
Cooking Functions
Adjust Temperature
Easy To Clean
Uses Less Oil
Evenly Distributes Heat

FEATURES

JOYOUNG Air Fryer

Air fry
Roast
Bake
Reheat
Dehydrate
Stainless Steel
Dishwasher-Safe
Nonstick
Keep Warm Function
Shake Reminder
Save and Preset Cooking Functions
Recipes Book Included
Frying Basket

DESIGN

JOYOUNG Air Fryer

Digital Touch Screen
Dimensions
Included Accessories

CONCLUSION
Multipurpose
Yes
With the airflow convection technology and detachable basket, this multi-tasker makes it possible to cook with 92% less oil, providing you a healthier choice. 13 presets make it faster and easier to cook.
Capacity (Quarts)
Yes
The 5.8Qt basket can make 5lbs of chicken, 3.3lbs of French fries, or 8 inches of pizza at once, feeding 3–5 people with a single-serve.
LESS FAT
Yes
Joyoung Air Fryer uses 360° air flow technology that creates crispy texture, with up to 93% less fat than the traditional deep-fry method.
Customizable
Yes
Customizable Time and Temperature and 13 cooking presets.
Cooking Functions
Yes
This air fryer features 13 in 1 cooking functionality.
Adjust Temperature
Yes
With the wide temperature range as 180-400°F and 60 mins timer, you have the full control of culinary creation and exploration in endless possibility.
Easy To Clean
Yes
The air fryer oven comes with a non-stick pan, a dishwasher safe detachable basket, fingerprint-resistant stainless-steel finish, all those thoughtful details designed for you, helping you to avoid a messy kitchen.
Uses Less Oil
Yes
360°hot air convection system helps make the food as crispy as deep fry in oil while cuts 92.6% oil.
Evenly Distributes Heat
Yes
The powerful air flow in the basket makes all ingredients cooked evenly, makes the food crispy on the outside and tender on the inside.
Stainless Steel
Yes
Made of fingerprint resistant stainless-steel material, the oily stains on the Joyoung Multi Tasker 13 Air Fryer would be gone with an easy wipe.
Dishwasher-Safe
Yes
The air fryer oven comes with a non-stick pan, a dishwasher safe detachable basket.
Nonstick
Yes
The basket and pan have a nice nonstick surface that makes cleaning very easy.
Shake Reminder
Yes
It features an alarm function reminds you to shake or flip your food.
Save and Preset Cooking Functions
Yes
This Joyoung air fryer has 13 built-in smart programs with premium one-click LED screens, including steak, seafood, bacon, chicken, dehydrate, reheat and so much more.
Recipes Book Included
Yes
It includes 1 removable basket coated with PFOA-free non-stick material. This detachable basket leaves more space under the ingredients and helps the hot air circulate inside the basket.
Digital Touch Screen
Yes
This Joyoung appliance features LED one touch operation with 13 easy to use presets that give you an easy cooking experience. Featuring a large full touchscreen control panel with an ergonomic design making it easier to start cooking with a touch of a button.
Dimensions
Yes
15.35 x 27.36 x 15.55 inches
Included Accessories
Yes
The air fryer oven comes with a non-stick pan, a dishwasher safe detachable basket and a cookbook for you to explore more possibilities in the kitchen.
PROS
Yes
• You can fit a lot of food in this basket for cooking, which is great because you can cook enough for more than just two people, unlike most air fryers that have much smaller baskets. • The dehydrator function on this air fryer is a nice feature making it a multipurpose kitchen product, not to mention the other cooking modes on it as well. • It is very useful if your target is to have quick and fast meals on the table. The wide temperature range makes this possible for different cooking functions. • It is easy to use and control thanks to its large full touchscreen control panel with 13 cooking functions to choose from. • This product is very easy to use , prepare your ingredients, put it in , and then select the mode you want, that's it. • It reminds you to pause and shake the food for better cooking. • It's also compact which didn't take a lot space, but big enough to put whole chicken in. • It's a nice looking machine that fits very well in your kitchen. • The modern fine finish fits your kitchen design, big capacity in compact footprint makes the air fryer easier to store.
CONS
Yes
• The sound of the fryer during cooking process is pretty loud. • It would have been nice to have some other basket accessories.
WAS THIS REVIEW HELPFUL TO YOU? IF YES, PLEASE SHARE IT WITH A FRIEND.