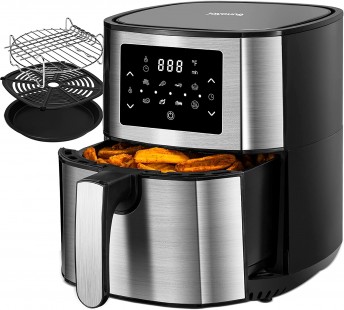 Reasons to buy JOYOUNG Air Fryer Oven:
One touch operation with 8 presets.
Endless Possibilities to Explore with Accessories and Recipes.
Fingerprint Resistant.
360° air flow technology
Check price here....
summary Review:
PERFORMANCE

JOYOUNG Air Fryer Oven

Multipurpose
Capacity (Quarts)
LESS FAT
Customizable
Cooking Functions
Cooks Faster
Adjust Temperature
Easy To Clean
Uses Less Oil
Evenly Distributes Heat

FEATURES

JOYOUNG Air Fryer Oven

Air fry
Roast
Bake
Reheat
Dehydrate
Stainless Steel
Dishwasher-Safe
Nonstick
Keep Warm Function
Shake Reminder
Save and Preset Cooking Functions
Recipes Book Included
Frying Basket
Number of Buskets

DESIGN

JOYOUNG Air Fryer Oven

Digital Touch Screen
Dimensions
Included Accessories

CONCLUSION
Multipurpose
Yes
From appetizer to main courses, every idea you get in the kitchen, Joyoung Multi Task 8 Air Fryer can help to realize it with 92.6% less oil. It features amazing specifications like Power: 1400W,rated voltage: 120V,Rated Frequency: 60Hz,Capacity: 5.5L/5.8QT,Control Type: Digital/8 smart programs, Temperature: 180°-400°F Time Range: 1-60min.
Capacity (Quarts)
Yes
5.8QT Large Capacity. It can make 3.3lbs fries at one round, perfect helper for family of 3–5 or a big gathering.
LESS FAT
Yes
Joyoung Air Fryer uses 360° air flow technology that creates crispy texture, with up to 93% less fat than the traditional deep-fry method.
Customizable
Yes
Customizable time and temperature.
Cooking Functions
Yes
It features an intuitive one touch operation panel with 8 smart pre-set programs.
Cooks Faster
Yes
With the wide temperature range as 180-400°F, this air fryer cooks faster than other traditional cooking methods.
Adjust Temperature
Yes
With the wide temperature range as 180-400°F and 60 mins timer, you have the full control of culinary creation and exploration in endless possibility.
Easy To Clean
Yes
With the premium sleek touch screen and fingerprint resistant stainless steel material, the greasy stains will be gone with one simple wipe, all accessories are dishwasher safe.
Uses Less Oil
Yes
With the included 360 degree air flow technology, this air fryer gives you crisper and crunchier results with little to no oil.
Evenly Distributes Heat
Yes
Super powerful heating elements mean your meals cook evenly on all sides and the shake reminder ensures you constantly flip your food for all sides to cook evenly.
Stainless Steel
Yes
Its compact, square design along with the sleek half stainless steel face allows it to easily fit and look great on your counter.
Dishwasher-Safe
Yes
It is very easy to just clean in the sink with hot water and soak. But you can also put it in the dishwasher.
Nonstick
Yes
The basket and crisper tray have a nice nonstick surface that makes cleaning very easy.
Keep Warm Function
Yes
Easy-to-operate and easy-to-read control panel allow a super quick warm-up with the air fryer.
Shake Reminder
Yes
It features an alarm function that reminds you to shake or flip your food.
Save and Preset Cooking Functions
Yes
The control panel comes with 8 preset functions; Air Fry, Roast, Broil, Bake, Grill, Dehydrate, Keep Warm, and Preheat.
Recipes Book Included
Yes
Features 1 cookbook with amazing recipes to elevate your cooking.
Number of Buskets
Yes
It includes 1 removable basket coated with PFOA-free non-stick material
Digital Touch Screen
Yes
Featuring a large full touchscreen control panel with an ergonomic design making it easier to start cooking with a touch of a button. The control panel is a full touchscreen that comes with 8 cooking functions.
Included Accessories
Yes
Explore with Accessories and Recipes: Pizza pan*1, grill set*1, supporting plate*1, cookbook*1, oven mitts*1 all in one set, so you can use this air fryer for the various sessions.
PROS
Yes
Comes with a thick glove, 2 containers, and a few skewers, functionally good quality and exactly what you need. The pot is big, the bigger the better, able to cook lots of food at one time. Heating fast, built-in cooking methods easy to use. Its material quality looks solid to me, well packaged, and protected with no worry of shipment. You can fit a lot of food in this basket for cooking, which is great because you can cook enough for more than just two people, unlike most air fryers that have much smaller baskets. The dehydrator function on this air fryer is also a nice feature making it a multipurpose kitchen product, not to mention the other cooking modes on it as well. It is very useful if your target is to have quick and fast meals on the table. The wide temperature range makes this possible for different cooking functions. It is easy to use and control thanks to its large full touchscreen control panel with 8 cooking functions to choose from. It also includes 100 recipes that will get you started on your cooking journey and also provide you with cooking ideas. You can enjoy your favorite meals without worrying about the added calories and fats. This air fryer oven with 360° hot air circulation technology offers you food that is crispy on the outside but tenders on the inside using little to no oil.
CONS
Yes
Cleaning heating pipes inside is not very easy. Weird smell during first time setup like other electronic cookers, fortunately, it disappears later.
WAS THIS REVIEW HELPFUL TO YOU? IF YES, PLEASE SHARE IT WITH A FRIEND.