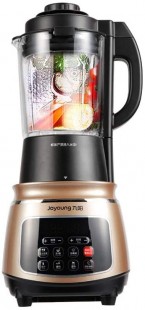 Reasons to buy Joyoung JYL-Y15U Pro:
Make different type of food in one machine
Pitcher made from lead-free glass for safe food contact
Can be used on either hot soup or cold drinks.
User friendly design and one click cleaning function
Check price here....
summary Review:
PERFORMANCE

Joyoung JYL-Y15U Pro

Smoothie Maker
Capacity
Stainless steel Blade
Makes Hot Soups
Self-Cleaning Container
Touchscreen controls
Easy To Clean
Programmable timer
Heavy / Commercial Duty Performance
Quiet
Ideal for blending medium to large batches

FEATURES

Joyoung JYL-Y15U Pro

Pulse Button
Commercial-Grade Motor
LED Touchscreen
Sturdy Base
Variable Speed Control
High-Performance Motor
BPA-Free Jar

DESIGN

Joyoung JYL-Y15U Pro

Volts
Watts
Low Profile Container
Included Accessories

CONCLUSION
Smoothie Maker
Yes
This blender makes perfect smoothies, can mix batters, baby food, dips and spreads and frozen treats in just seconds.
Capacity
Yes
Makes Warm Drink at 47 Oz and Cold Drink at 60 Oz-1.7L (60oz) capacities for up to 4 people in one serve for big family.
Stainless steel Blade
Yes
Available Hardened 3D stainless steel blade - The Pro 3D blades are precisely designed to create an excellent taste.
Makes Hot Soups
Yes
JYL-Y15U can help you make the different kind of soup whatever you want even for the fish soup, chicken soup and pork bone soup for the children.
Self-Cleaning Container
Yes
The one-click-cleaning function can help you a lot and you do not have to worry about the heavy cleaning work.
Easy To Clean
Yes
It features a one-click cleaning function which makes cleanup more convenient. Plus the pitcher is dishwasher safe.
Pair with any SELF-DETECT containers
Programmable timer
Yes
Available-the LED display features a countdown timer.
Heavy / Commercial Duty Performance
Yes
The powerful motor and huge blending capacity make this blender a heavy-duty blender.
Quiet
Yes
This blender is quieter than most blenders with the same motor strength.
Ideal for blending medium to large batches
Yes
This powerful blender for shakes and smoothies has 60oz for up to 4 people in one serve. Perfect for a big family treat or a party gathering.
Pulse Button
Yes
The control panel of this smoothie blender features a pulse button.
Commercial-Grade Motor
Yes
With a 2HP extra strong motor and 30,000 RPM high speed, the Joyoung blender can give you commercial-grade results.
LED Touchscreen
Yes
This Joyoung blender features an LED screen which makes control a breeze.
Sturdy Base
Yes
The base is sturdy enough and keeps firm on the counter without vibrating off during the blending process.
High-Performance Motor
Yes
JOYOUNG Blender for Shakes and Smoothies features an industrial grade and peak 30,000rpm high-speed motor.
BPA-Free Jar
Yes
The Tritan Pitcher is 100% BPA-free. This means no harmful materials will be released during the cooking process.
Watts
Yes
1000 watts with 30,000 rpm / extra-large horsepower.
Included Accessories
Yes
Machine body Grinding Bar Measuring Cup Cleaning Brush Instruction guide Recipe book
PROS
Yes
• It can make very smooth drinks. • Thick glasses but not too heavy. • Noise level is acceptable. • Easy to clean. • Delivery is fast even without prime membership. • Powerful motor. • It's a great-looking machine. • Super easy to use. • LOVE that it can wash and is dishwasher safe. • Result turn out great. • Nice glass pitcher • LED touch screen • Affordable, • Can be used to make hot soup and cold drinks in just seconds. • features a one-click cleaning function and is very convenient for use. Cleaning takes only 15 seconds to complete, saving time and effort • Amazing product, very convenient. Throw ingredients in and a piping hot soup pops out. • Imported high borosilicate cup body, quenching and heat recovery without breaking, safer to use. • Intelligent temperature control sensor: intelligent temperature control, easy to cook ingredients, can prevent spilling cups. • The glass jar is dishwasher safe, and clean-up is just as simple as using the blender. • This blender for shakes and smoothies has a universal installation system, so it can fit onto the motor base in all 4 positions, which is easy to use for both right-handed and left-handed people. • This blender for the kitchen has an interlocking design that prevents accidents.
CONS
Yes
• Motor may not be powerful enough. • The cord is pretty short and you might need an extension cord. • A little heavy • Not very quiet. • The blades cannot be unscrewed for washing so care should be taken before you get cuts left right and center. • May not be suitable for ice cream. • It is huge and storing it may prove to be a problem.
WAS THIS REVIEW HELPFUL TO YOU? IF YES, PLEASE SHARE IT WITH A FRIEND.