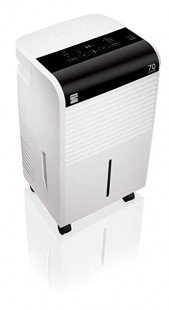 Reasons to buy Kenmore 55570:
70 pints per 24 hrs / 19.2 pint capacity
Feartures a Humidistat for humidity control
Has a Built-in timer control and drain hose compatible
Bucket-full sensor with auto-shut off and auto-defrost
Check price here....
summary Review:
PERFORMANCE

Kenmore 55570

DEHUMIDIFICATION PINT PER DAY
ROOM COVERAGE
FULL WATER TANK ALERT
ELIMINATES BACTERIA
PROTECTS HOME FROM MILDEW & BACTERIA
IDEAL FOR BASEMENT
IDEAL FOR BEDROOM
IDEAL FOR ENCLOSED SPACES
EFFORTLESS HUMIDITY CONTROL
FAN SPEED
ANTI-BACTERIAL MESH FILTER
FEATURES & SPECS

USABILITY

Kenmore 55570

EASY TO MOVE FROM PLACE TO PLACE
EASY TO EMPTY
EASY TO CONTROL
AUTO RE-START
AUTO SHUT OFF
FULL WATER TANK INDICATOR
REMOVABLE WATER TANK

DESIGN

Kenmore 55570

WATER TANK CAPACITY
WASHABLE FILTERS
AVAILABLE SETTINGS
PORTABLE DESIGN
SPACE SAVING DESIGN
EMITS HEAT WHEN IN USE
ENERGY STAR RATING
MECHANICAL / ELECTRONIC CONTROLS
POWER CORD LENGTH
DIMENSIONS
WEIGHT
WATTS
Amps

CONCLUSION
DEHUMIDIFICATION PINT PER DAY
Yes
Removes 70 pint of moisture every 24 hours. Uses a high speed of 175 CFM to remove unwanted moisture indoors.
ROOM COVERAGE
Yes
Removes moisture in room with 700 square feet coverage. Suitable for small sized rooms – closets, cabinets, bedrooms, kitchens etc.
FULL WATER TANK ALERT
Yes
Full bucket sensor – automatically alerts you once water tank is almost at full capacity before shutting down.
ELIMINATES BACTERIA
Yes
Uses cleancel antimicrobial technology - Removes bacteria and other tiny particles that make breathing hard. Ideal for people with allergies.
PROTECTS HOME FROM MILDEW & BACTERIA
Yes
Protects home furniture, walls, floors, curtains and other objects from mildew and bacteria damage.
IDEAL FOR BASEMENT
Yes
Features auto defrost suitable for basements. Operates in areas with low temperatures and defrosts moisture
IDEAL FOR BEDROOM
Yes
Produces minimal noise – ideal for restful sleep in bedrooms. Highest noise level is 53 db only.
IDEAL FOR ENCLOSED SPACES
Yes
Effective only in enclosed spaces within room coverage.
EFFORTLESS HUMIDITY CONTROL
Yes
Humidistat for effortless humidity control – adjust humidity levels in rooms depending on what suits the people in it.
MOSITURE REMOVAL ''GALLONS''
FAN SPEED
Yes
Features 2 fan speeds – easy to select high and low speeds.
ANTI-BACTERIAL MESH FILTER
Yes
Easily traps and eliminates bacteria from enclosed spaces within a 700 square feet coverage.
FEATURES & SPECS
Yes
Humidistat, Auto defrost, Auto shut off, caster wheels, built in timer, cleancel antimicrobial technology, drain hose hookup and 2 fan speeds
EASY TO MOVE FROM PLACE TO PLACE
Yes
Smooth gliding wheels for easy movement. Suitable for all floors types and other ground surfaces.
EASY TO EMPTY
Yes
Easy to drain out water or manually empty bucket. Uses a drain hose hookup for continuous draining or removable bucket with a handle.
EASY TO CONTROL
Yes
Hassle free controls with a digital display unit. Simply touch on the screen to adjust your preferred settings.
AUTO RE-START
Yes
Automatically restarts through 24 hour inbuilt timer. Can be scheduled
AUTO SHUT OFF
Yes
Automatically shuts off once the water tank is full. Prevents over flows of water on floors.
FULL WATER TANK INDICATOR
Yes
Full bucket indicator – lights up continuously once the water tank is almost full or full before shutting down.
REMOVABLE WATER TANK
Yes
Easy to eject water tank – pulls out in seconds. Power off unit first before removal.
WATER TANK CAPACITY
Yes
19.2 pint bucket capacity – large water amount with no constant emptying required.
WASHABLE FILTERS
Yes
Easy to remove and washable filters – clean filters after a month or 2 depending on usage and air quality.
AVAILABLE SETTINGS
Yes
Auto defrost, fan speed and humidistat settings
PORTABLE DESIGN
Yes
Wheels provide portability. Easily move without feeling the heavyweight.
SPACE SAVING DESIGN
Yes
Compact and upright build – small sized dehumidifier that can be stored in small available spaces
EMITS HEAT WHEN IN USE
Yes
Emits heat after running for long hours. Heat comes out through the fan and sometimes makes room temperature high.
ENERGY STAR RATING
Yes
Energy star approved device – utilizes little energy when used all the time. Saves you from high energy bills.
MECHANICAL / ELECTRONIC CONTROLS
Yes
Electronic controls through smart digital control unit.
POWER CORD LENGTH
Yes
5.25 feet power cord length
DIMENSIONS
Yes
14.4 x 16.5 x 25.6 inches
PROS
Yes
• Does not consume a lot of power • Built in timer control – allows you schedule automatic on and off • Use powerful cleancel antimicrobial technology • Alerts one water bucket is almost full • Effortless water bucket emptying through drain hose hookup or removable bucket • User friendly controls with touch screen buttons • Automatically shuts off to prevent overflows • Very large capacity water bucket – 19.2 pints • Ideal for 700 square feet rooms • Eliminates up to 70 pints of moisture a day • Low noise production suitable for bedrooms • Auto defrost suitable for basements and other cold rooms • Portable design with wheels
CONS
Yes
• Not an entirely quiet dehumidifier • Emits some heat after running nonstop for a while
WAS THIS REVIEW HELPFUL TO YOU? IF YES, PLEASE SHARE IT WITH A FRIEND.