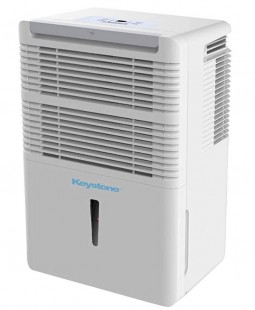 Reasons to buy Keystone KSTAD50B:
Energy Star 50-Pint
3000 Sq. Ft. Coverage
6.4-Pint Bucket Capacity
Full Bucket Alert
Check price here....
summary Review:
PERFORMANCE

Keystone KSTAD50B

DEHUMIDIFICATION PINT PER DAY
ROOM COVERAGE
FULL WATER TANK ALERT
ELIMINATES BACTERIA
PROTECTS HOME FROM MILDEW & BACTERIA
IDEAL FOR BASEMENT
IDEAL FOR BEDROOM
IDEAL FOR ENCLOSED SPACES
BUILT-IN WATER PUMP
EFFORTLESS HUMIDITY CONTROL
MOSITURE REMOVAL ''GALLONS''
FAN SPEED
ANTI-BACTERIAL MESH FILTER
FEATURES & SPECS

USABILITY

Keystone KSTAD50B

TURBO MODE
EASY TO MOVE FROM PLACE TO PLACE
EASY TO EMPTY
EASY TO CONTROL
AUTO RE-START
AUTO SHUT OFF
FULL WATER TANK INDICATOR
REMOVABLE WATER TANK

DESIGN

Keystone KSTAD50B

WATER TANK CAPACITY
WASHABLE FILTERS
AVAILABLE SETTINGS
PORTABLE DESIGN
SPACE SAVING DESIGN
EMITS HEAT WHEN IN USE
ENERGY STAR RATING
MECHANICAL / ELECTRONIC CONTROLS
POWER CORD LENGTH
DIMENSIONS
WEIGHT
WATTS
Amps

CONCLUSION
DEHUMIDIFICATION PINT PER DAY
Yes
Successfully removes up to 50 pint of moisture in a room per 24 hours. Has a airflow of 188CFM high and low of 165 CFM.
ROOM COVERAGE
Yes
3000 square feet room coverage – suitable for small to medium sized rooms.
FULL WATER TANK ALERT
Yes
Features a full bucket alert system – starts indicating when water tank is nearing full capacity. If not emptied, automatically shuts off on full tank.
ELIMINATES BACTERIA
Yes
Makes breathing safe and easy by eliminating bacteria
PROTECTS HOME FROM MILDEW & BACTERIA
Yes
Protects home objects from mildew and bacteria
IDEAL FOR BASEMENT
Yes
Features an Auto defrost suitable for basements. Suitable for basements with a minimum temperature of 45 degrees Fahrenheit
IDEAL FOR BEDROOM
Yes
Has a noise level of 55 db suitable for bedrooms – won't make much background noise as you sleep.
IDEAL FOR ENCLOSED SPACES
Yes
Built for spaces within walls – enclosed kitchens, bathrooms, bedrooms, living rooms, basements etc
EFFORTLESS HUMIDITY CONTROL
Yes
An adjustable humidistat for an effortless humidity control. Change humidity levels to what suits you best in a room as it removes moisture.
MOSITURE REMOVAL ''GALLONS''
FAN SPEED
Yes
Comes with 2 fan speeds and a turbo mode
ANTI-BACTERIAL MESH FILTER
Yes
Has a dust filter – captures all particles of dirt and other particles from air
FEATURES & SPECS
Yes
Built with an automatic humidistat, continuous run, automatic defrost, full bucket indicator and alert, LCD display, automatic shut off and on, rolling caster wheels and handle and 24 hour timer.
TURBO MODE
Yes
Turbo mode – increase the fan speed to maximum automatically to effectively remove moisture within coverage.
EASY TO MOVE FROM PLACE TO PLACE
Yes
Bottom rolling casters – lets you move device from place to place without much effort. 4 durable wheels on each side at the bottom.
EASY TO EMPTY
Yes
Variety empty options - take out the water tank easily and empty when full. Or use the continuous draining option (purchase standard garden hose separately).
EASY TO CONTROL
Yes
Features a simple control panel – single touch buttons and settings. Or just switch on device for automatic clean up.
AUTO RE-START
Yes
Has an auto restart – will first save your settings during a power outage. Switches on and resumes cleaning when power is restored.
AUTO SHUT OFF
Yes
Automatically shuts off when water tank is full and not emptied.
FULL WATER TANK INDICATOR
Yes
Features a transparent water level indicator – easy to see the water in the tank and indicates once almost at full capacity.
REMOVABLE WATER TANK
Yes
Comfort grip handles for easy water tank removal
WATER TANK CAPACITY
Yes
6.4 pint bucket capacity - eliminates the need of constant emptying
WASHABLE FILTERS
Yes
Easy cleaning dust filter – built with a clean filter alert and can be completely taken out of the device.
AVAILABLE SETTINGS
Yes
Includes turbo mode, normal and Auto defrost mode settings
PORTABLE DESIGN
Yes
Carry handles and wheels for a portable design. Movement to room requires very minimal effort.
SPACE SAVING DESIGN
Yes
Compact and sleek design – measures smaller dimensions
EMITS HEAT WHEN IN USE
Yes
Produces some heat when removing unwanted moisture from the air. Heat comes out through the fan.
ENERGY STAR RATING
Yes
Complaint with Energy star – has a 2.0 EEV and saves more on energy even when used 24/7.
MECHANICAL / ELECTRONIC CONTROLS
Yes
Features electronic controls with LED displayer plus 24 hour timer.
POWER CORD LENGTH
Yes
7.22 feet – has a long power cord length that eliminates the need for an extension power cord
DIMENSIONS
Yes
10.8 x 15.4 x 23.2 inches
PROS
Yes
• Very lengthy power cord – 7.22 feet • Saves your settings during power outage using Auto restart • Perfect for rooms within 3000 square feet • Easy to read water level indicator • Features auto normal, turbo and defrost mode • Removable and easy to clean dust filter • Electronic controls with Led display • Easy rolling caster wheels • A 24 hour timer
CONS
Yes
Produces some little noise – 50 db noise level
WAS THIS REVIEW HELPFUL TO YOU? IF YES, PLEASE SHARE IT WITH A FRIEND.