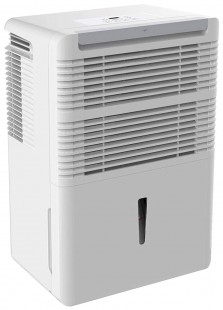 Reasons to buy Keystone KSTAD70B 70 Pt:
Removes up to 70 pints of moisture
4500 square feet Coverage
Electronic controls with LED Display
Auto-restart
Check price here....
summary Review:
PERFORMANCE

Keystone KSTAD70B 70 Pt

DEHUMIDIFICATION PINT PER DAY
ROOM COVERAGE
FULL WATER TANK ALERT
ELIMINATES BACTERIA
PROTECTS HOME FROM MILDEW & BACTERIA
IDEAL FOR BASEMENT
IDEAL FOR BEDROOM
IDEAL FOR ENCLOSED SPACES
EFFORTLESS HUMIDITY CONTROL
MOSITURE REMOVAL ''GALLONS''
FAN SPEED
ANTI-BACTERIAL MESH FILTER
FEATURES & SPECS

USABILITY

Keystone KSTAD70B 70 Pt

TURBO MODE
EASY TO MOVE FROM PLACE TO PLACE
EASY TO EMPTY
EASY TO CONTROL
AUTO RE-START
AUTO SHUT OFF
FULL WATER TANK INDICATOR
REMOVABLE WATER TANK

DESIGN

Keystone KSTAD70B 70 Pt

WATER TANK CAPACITY
WASHABLE FILTERS
AVAILABLE SETTINGS
PORTABLE DESIGN
SPACE SAVING DESIGN
EMITS HEAT WHEN IN USE
ENERGY STAR RATING
MECHANICAL / ELECTRONIC CONTROLS
POWER CORD LENGTH
DIMENSIONS
WEIGHT
WATTS
Amps

CONCLUSION
DEHUMIDIFICATION PINT PER DAY
Yes
Has the ability to eliminate approximately 70 pint of moisture per day from air. Functions with air flow of 165 CFM low and 188 CFM high.
ROOM COVERAGE
Yes
4500 room coverage – suitable for medium to large sized rooms
FULL WATER TANK ALERT
Yes
Full water tank alert with auto shut off. Warns you when water tank is about to get full.
ELIMINATES BACTERIA
Yes
Lessens bacteria that make breathing hard in air.
PROTECTS HOME FROM MILDEW & BACTERIA
Yes
Protects home curtains, walls, floors, furniture etc from mildew and bacteria
IDEAL FOR BASEMENT
Yes
Perfect for basements within 4500 square feet coverage
IDEAL FOR BEDROOM
Yes
Low noise level of 54 dB suitable for bedrooms. No loud background noise as you rest.
IDEAL FOR ENCLOSED SPACES
Yes
Built for indoor rooms – thoroughly captures moisture indoors within its maximum range.
EFFORTLESS HUMIDITY CONTROL
Yes
Adjustable humidistat – change the humidity level to what suits you and the family. Provides comfort in different rooms within a 41° to 95° Fahrenheit temperature.
MOSITURE REMOVAL ''GALLONS''
Yes
Approximately 1.3 gallons of moisture in a single day
FAN SPEED
Yes
Up to 2 fan speeds – high and low fan options
ANTI-BACTERIAL MESH FILTER
FEATURES & SPECS
Yes
24 hour programmable timer, Auto restart, adjustable humidistat, full water tank alert with Auto shut off, electronic controls with LED displayer, transparent water tank indicator, continuous drain option, rolling caster wheels and clean filter alert
TURBO MODE
Yes
Automatically changes from low fan speed to high fan speed for top performance. Quickly eliminates moisture.
EASY TO MOVE FROM PLACE TO PLACE
Yes
Rolling caster wheels – glides smoothly on multiple surfaces from place to place.
EASY TO EMPTY
Yes
Built with easy 2 empty options. Remove water tank and empty or use continuous drain option for long use.
EASY TO CONTROL
Yes
LED control panel for easy operation. Click or select the options displayed and unit performs the rest.
AUTO RE-START
Yes
Saves your settings first during auto restart. Power outage causes auto restart to be activated.
AUTO SHUT OFF
Yes
Powers off when water tank is filled up. Avoids overflow of water to flows and other surfaces.
FULL WATER TANK INDICATOR
Yes
Transparent water level indicator – shows and indicates the level of the water in the tank. Easy to see progress and empty.
REMOVABLE WATER TANK
Yes
Bottom front pull out removable water tank
WATER TANK CAPACITY
Yes
Holds in up to approximately 1.3 gallons of water.
WASHABLE FILTERS
Yes
Clean filter alert function – notifies you rinse dust and other particles off filters. Clean filters are effective and durable depending on usage.
AVAILABLE SETTINGS
Yes
Features a Turbo, Normal and Auto defrost settings.
PORTABLE DESIGN
Yes
Casters make unit portable to move along. Push it in a 360 degree angle without it weighing you down.
SPACE SAVING DESIGN
Yes
Compact space saving design – simple composure that takes very little storage space.
EMITS HEAT WHEN IN USE
Yes
Emits low amounts of heat from the fan when in use.
ENERGY STAR RATING
Yes
Approved by energy star to consume much less power. No need to worry about energy bills even on full use.
MECHANICAL / ELECTRONIC CONTROLS
Yes
Electronic control with a LED display unit.
POWER CORD LENGTH
Yes
Extra long 7.22 feet power cord length
DIMENSIONS
Yes
11.2 x 15.5 x 23.2 inches
PROS
Yes
• Removes 70 pint of moisture in a room per day • Can be programmed to turn on or off after 24 hours • Easy to clean dust filter with clean filter reminder • Automatically restarts after power shortage and resumes • Suitable for large rooms within 4500 square feet • 3 settings – turbo, auto defrost and normal settings • Long power cord length – 7.22 feet • 4 durable rolling caster wheels for effortless movement • See through water level indictor • Full water tank with Automatic shut off • Easy to use electronic controls with LED display • Ideal for enclosed spaces • Easy to empty
CONS
Yes
• Without a built-in water pump
WAS THIS REVIEW HELPFUL TO YOU? IF YES, PLEASE SHARE IT WITH A FRIEND.