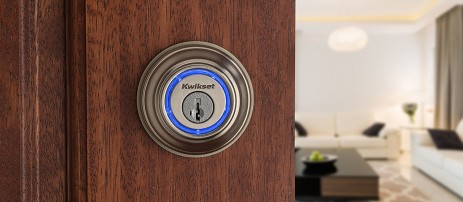 Reasons to buy Kwikset Kevo:
Can be remotely controlled with Alexa & a Mobile App
Very easy to install
The lock opens on instant once it detects your smart phone
Can be used by multiple family members
Check price here....
summary Review:
PERFORMANCE

Kwikset Kevo

REMOTELY CONTROLLED
AUTO-LOCK
AUTO-UNLOCK
WIRELESS SMART LOCK
TRACKS ACTIVITY AT YOUR DOORSTEP

USABILITY

Kwikset Kevo

EASY INSTALLATION
WORKS WITH ALEXA
CONTROL ACCESS
USER FRIENDLY
BATTERY LIFE

SAFETY

Kwikset Kevo

PIN CODES ACCESS
DATA ENCRYPTION
RANDOM SECURITY CODE

DESIGN

Kwikset Kevo

DURABLE
LED KEYPAD
LOW BATTERY WARNING
REMOTELY CONTROLLED
Yes
Can be remotely controlled using the Kevo-App that can be installed on your Smartphone. Additionally, this device is Alexa-compatible which allows for remote voice-control when you're within your home.
AUTO-LOCK
Yes
This unit can be set to automatically re-lock the door 30 seconds after unlocking so as to ensure maximum security even if you forgot to lock your door when leaving the house or after entering your house.
AUTO-UNLOCK
Yes
Can recognize that you're approaching the front door and will unlock when touched. This implies that you won't need to touch your phone to unlock this smart doorlock but make sure that your phone is around in-order to use the auto-unlock feature
WIRELESS SMART LOCK
Yes
Can be wirelessly accessed on your phone for control and monitoring but it will require a Kevo Plus hub in-order to enable wireless-connectivity.
TRACKS ACTIVITY AT YOUR DOORSTEP
Yes
Can track doorstep user activity by simply allowing you to access the lock history. So, this implies that you will be able to see who locked/unlocked, who sent an eKey, who accepted an eKey, and which eKey/User was enabled/disabled.
EASY INSTALLATION
Yes
Can be installed on your door in just minutes using only a screwdriver. Additionally, this device fits on all standard-doors of 1-3/4 inch. Kevo app contains an interactive step-by-step guide to installing and configuring the lock.
WORKS WITH ALEXA
Yes
Is Alexa-compatible in-order to facilitate for quick and easy remote voice control of the smart-door-lock when you're inside the house.
KEEP YOUR EXISTING LOCK AND KEYS
CONTROL ACCESS
Yes
Features a Kevo-App that facilitates for easy control on your phone via Bluetooth or Wi-Fi technology. But also comes with 2 anytime eKeys for the owner and another person whereby these eKeys can be used to unlock the smart door lock.
USER FRIENDLY
Yes
It's very user-friendly because it facilitates for easy control and monitoring via the Kevo-App. Additionally, this is Alexa-compatible for easy voice-control and it also features an auto lock and unlock feature coupled with easy installation. It can also be easily reset using the back-display-panel in case you forget the passwords.
COMPATIBLE WITH COMMON TYPES OF CYLINDERS
ATTACHES TO YOUR EXISTING DEADBOLT
ATTACHES TO YOUR EXISTING KEYS
BATTERY LIFE
Yes
Uses 4-AA alkaline batteries that can last 8-to-12 months before a requiring a replacement.
PIN CODES ACCESS
Yes
Comes with 2 anytime eKeys for the owner and another one to use for a friend or family member with a Kevo-App compatible Smartphone
DATA ENCRYPTION
Yes
Uses multiple levels of encryption to increase digital security so that data transferred between your Smartphone and deadbolt is extremely secure. It also uses 2 encrypted eKeys that can only be used by the owner and another person
RANDOM SECURITY CODE
Yes
Can generate random Guest eKeys that will be automatically deleted 24-hour period in-order to keep your home secure.
DURABLE
Yes
Features an all-metal body with a Lifetime Polished Brass finish.
LED KEYPAD
Yes
Features a back-panel with a LED-display-keypad in-order to facilitate for easy physical-control of the smart doorlock.
LOW BATTERY WARNING
Yes
It will sound a beep and flash a red light in-case the batteries are getting low on power so that you can make a battery-replacement in time
WAS THIS REVIEW HELPFUL TO YOU? IF YES, PLEASE SHARE IT WITH A FRIEND.