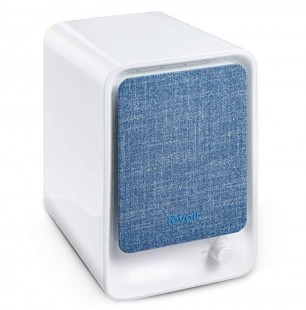 Reasons to buy LEVOIT LV H126:
Three stage filtration system with three fan speeds
Zero light pollution at lowest noise level
Quiet Odor Eliminator for Bedroom
Compact Air Cleaner Purifier for Allergies and Pets
See price on Amazon
summary Review:
PERFORMANCE

LEVOIT LV H126

HEPA FILTER
FOR LARGE ROOMS
REMOVES CIGARETTE ODOR
ROOM SIZE AND AIRFLOW
FIGHTS GERMS
ELIMINATES DUST MITES
REMOVES PET DANDER
GETS RID OF POLLEN
REMOVES SMOKE
REMOVES MOLD
TRAPS ALLERGENS
QUIET OPERATION
WASHABLE PRE-FILTERS
EASY FILTER REPLACEMENT
SLEEP MODE
WATTAGE
ENERGY STAR

USABILITY

LEVOIT LV H126

CONTROLS AND MODES
FILTER REPLACEMENT REMINDER
ECONOMICAL
AFFORDABLE
IDEAL FOR ASTHMATIC PEOPLE
FILTER LIFE - BASED ON USE

SAFETY
APPEARANCE

LEVOIT LV H126

DESIGN
SIZE AND APPEARANCE
WEIGHT
HEPA FILTER
Yes
Has a True hepa filter. Effective at elimination of dust mites, pet dander, allergens, mold and pollen. Traps particles to a size of 0.3 microns.
FOR LARGE ROOMS
Yes
Effectively cleans a large room within 161 square feet or 15 square meters.
REMOVES CIGARETTE ODOR
Yes
Easily removes cigarette and other home odors. Activated carbon filter removes multiple odors like cigarette, cooking smells and pet odors.
ROOM SIZE AND AIRFLOW
Yes
Has room size coverage of 161 square feet. Fine air flow through its back and guided through the front panel to direct clean air indoors.
FIGHTS GERMS
Yes
Preliminary filter fights germs – assists to neutralize germs and bacteria from indoor air.
ELIMINATES DUST MITES
Yes
Eliminates dust mites that are frequent allergy triggers. It cleans dust mites from carpets and hard to reach areas.
REMOVES PET DANDER
Yes
Removes pet dander – shed off by pets like cats, dogs and birds on a daily. Betters human-better living relationships.
GETS RID OF POLLEN
Yes
Gets rid of every type and size of pollen. keeps indoor air fresh from pollen congestion.
REMOVES SMOKE
Yes
Cigarette, kitchen and fireplace smoke can be removed. Filters the air from smoke congestion.
REMOVES MOLD
Yes
Captures and destroys mold and fungi. Minimises chances of skin and eye irritation, and allergy from mold exposure.
TRAPS ALLERGENS
Yes
Filters both large and small allergens to a size of 0.3 microns. Traps up to 99.97% of allergens from indoor air.
QUIET OPERATION
Yes
Cleans air quietly – its lowest noise level is 32 db. Silent not to interrupt sleep or any other programme.
WASHABLE PRE-FILTERS
Yes
Has a washable Pre-filter. Remove the dirt collected on the pre-filter by washing when dirty or clogged.
EASY FILTER REPLACEMENT
Yes
Simple steps – take out the used filter, eliminate the plastic bag of the new filter. Place it in the place of the old and run the air purifier.
AUTOMATICALLY DETECTS AIRBORNE PARTICLES
SLEEP MODE
Yes
Zero light pollution – lets the device run at a quiet 32 db noise level without any display lights to disturb the dark.
WATTAGE
Yes
Rated power is only 35 watts. Less likely to consume a lot of energy when used 24/7.
ENERGY STAR
Yes
Has been certified by energy star – saves power.
CONTROLS AND MODES
Yes
Built with few and manual controls and modes. Has a dial for 3 fan speeds. The dial is located at the front for easy access.
FILTER REPLACEMENT REMINDER
Yes
Unique filter reminder wheel. It is numbered 1 to 12 with a turn-able wheel at the back panel. Use it to mark the month you insert ne filters or when you plan to change them id '2' representing February.
ECONOMICAL
Yes
Economical, has been energy star rated. The amount of power consumed will not be alarming when the bills arrive.
AFFORDABLE
Yes
Priced below $100 - so far the best air purifier below $100
IDEAL FOR ASTHMATIC PEOPLE
Yes
Features a 3 stage filtration system – true hepa filter pre-filter and activated carbon filter. Combine efforts to eliminate 99.97% of particles that trigger asthma.
FILTER LIFE - BASED ON USE
Yes
Usually, activated carbon pre-filter have a life of 2 to 3 months. Hepa filter with life of 6 to 8 months. Filter life might vary depending of air quality and usage.
OZONE FREE
Yes
Completely ozone free – no harmful air pollutants released. Will not use ions or UV which fabricate trace levels of measurable ozone.
DESIGN
Yes
Contemporary design – has a modern and simple design to match interior decor. Features a unique blue material at the front of the device.
SIZE AND APPEARANCE
Yes
10.5 x 6.8 x 7.9 inches
WEIGHT
Yes
5.5 pounds – lightweight
WAS THIS REVIEW HELPFUL TO YOU? IF YES, PLEASE SHARE IT WITH A FRIEND.