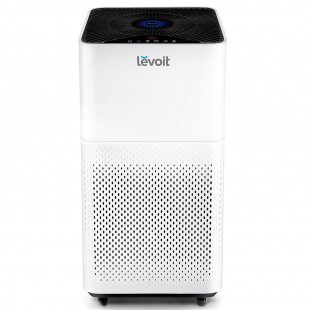 Reasons to buy LEVOIT LV H135:
Adjusts 3 fan speed setting automatically
Timer function of 1-12 hours
26 db quiet operation
Air quality indicator
Check price here....
summary Review:
PERFORMANCE

LEVOIT LV H135

HEPA FILTER
TIMER
FOR LARGE ROOMS
REMOVES CIGARETTE ODOR
ROOM SIZE AND AIRFLOW
FIGHTS GERMS
ELIMINATES DUST MITES
REMOVES PET DANDER
GETS RID OF POLLEN
REMOVES SMOKE
REMOVES MOLD
TRAPS ALLERGENS
QUIET OPERATION
WASHABLE PRE-FILTERS
EASY FILTER REPLACEMENT
AUTOMATICALLY DETECTS AIRBORNE PARTICLES
SLEEP MODE
WATTAGE
ENERGY STAR

USABILITY

LEVOIT LV H135

CONTROLS AND MODES
FILTER REPLACEMENT REMINDER
ECONOMICAL
AFFORDABLE
IDEAL FOR ASTHMATIC PEOPLE
FILTER LIFE - BASED ON USE

SAFETY
APPEARANCE

LEVOIT LV H135

DESIGN
SIZE AND APPEARANCE
WEIGHT
HEPA FILTER
Yes
Console filter deactivates up to 99.97% of airborne pollutants. Fine preliminary filter traps large particles. True Hepa filter traps fine particles. Activated carbon filter captures and neutralizes diverse household odors.
TIMER
Yes
Has a timer function of 1-12 hours. Comes with 12 options to choose operation time and spare energy for future uses.
FOR LARGE ROOMS
Yes
Made with CADR rating of 212 CFM for large rooms of up to 710 square feet. Will clean air in the living room, kitchen and even bedroom
REMOVES CIGARETTE ODOR
Yes
Removes cigarette odor using activated carbon filter. Keeps air fresh from bad odor.
ROOM SIZE AND AIRFLOW
Yes
Covers a total area of 710 square feet. Small to large sized rooms are covered.
FIGHTS GERMS
Yes
Fights germs using the True hepa filter. Removes them from air and traps them into the filter.
ELIMINATES DUST MITES
Yes
Eliminated dust mites hidden in hard to reach areas like carpets
REMOVES PET DANDER
Yes
Fine preliminary filter removes pet dander. Suitable for homes with pets
GETS RID OF POLLEN
Yes
Uses unique technology of filtration to remove pollen. Pollen congested air is dangerous to the respiratory system of a person.
REMOVES SMOKE
Yes
Easily removes different kinds of smoke as little as 0.3 microns. Smoke may arise from kitchen or smoking in a home.
REMOVES MOLD
Yes
Gets rid of mold using high efficiency air purifier. Some allergies and asthma arise from exposure to environments with mold
TRAPS ALLERGENS
Yes
The mixture of LV-H135 hepa air purifiers traps up to 99.97|% of allergens and bacteria from air.
QUIET OPERATION
Yes
Whisper quiet operation – produces 26dB noise level. Will not interrupt your sleep or conversations.
EASY FILTER REPLACEMENT
Yes
Unplug the air purifier and remove back cover; remove and dispose old ones; unwrap new and place into housing; place back cover; plug in and turn on; and reset.
AUTOMATICALLY DETECTS AIRBORNE PARTICLES
Yes
Features a dust sensor- immediately and correctly detects the air particles within 30 seconds. Provides you with real-time air quality feedback. Blue for very good, green for good, yellow for moderate and red for bad air condition.
SLEEP MODE
Yes
Sleep mode focuses on quiet operation. Produces only 26 db of noise while on its lowest fan speed.
WATTAGE
Yes
Rated power wattage is 40W. On standby power the wattage will be 0.8w or less.
ENERGY STAR
Yes
Fully certified with CARB, FCC and ETL listed
CONTROLS AND MODES
Yes
Various functional options for effectiveness. Include sleep and Auto mode, heap filter change indicator and timer function
FILTER REPLACEMENT REMINDER
Yes
Hepa filter change indicator – lights to inform you that it's almost time to replace the old filter.
ECONOMICAL
Yes
Fully certified – you won't spend too much on power bills even when fully using it.
IDEAL FOR ASTHMATIC PEOPLE
Yes
Eliminates up to 99.97% of airborne particles as small as 0.3 microns. Highly minimizes any chances of asthmatic attacks on people.
FILTER LIFE - BASED ON USE
Yes
On average filter will take approximately 6 – 8 months. This will depend on your air quality and regularity of use.
OZONE FREE
Yes
Completely ozone free. No UV-C light or ionizers constructed on it
DESIGN
Yes
Compact and wheeled design – easily moved from one room to the next.
SIZE AND APPEARANCE
Yes
24.6 x 13.6 x 13.4 inches
WAS THIS REVIEW HELPFUL TO YOU? IF YES, PLEASE SHARE IT WITH A FRIEND.