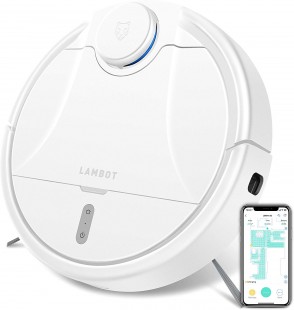 Reasons to buy Lambot A1 Robot Vacuum:
180 minutes of run time
LDS intelligent navigation
5200 mAh battery capacity
Auto recharge and resume
Check price here....
summary Review:
PERFORMANCE

Lambot A1 Robot Vacuum

CLEANS UNDER FURNITURE
COVERAGE
SUCTION POWER
IDEAL FOR HOMES WITH PETS
CLEAN CORNERS AND ALONG WALLS
BATTERY LIFE
CHARGE TIME
MULTI-FLOOR CLEANING
FOR LARGE ROOMS
AUTO DOCKS AND RECHARGE
RESUMES AFTER AUTO RECHARGING
MULTI-ROOM NAVIGATION
AVOIDS STAIRS AND OBJECTS
QUIET OPERATION
BOOSTS SUCTION POWER
HEPA FILTER
MAPS & PLANS ROUTE
SWEEPS AND MOPS
CONCENTRATED CLEANING

USABILITY

Lambot A1 Robot Vacuum

HASSLE FREE OPERATION
REMOTE CONTROL WITH MOBILE APP
WIFI CONNECTED
CAN BE SCHEDULED
WORKS WITH ALEXA
ZONE CLEANING

DESIGN

Lambot A1 Robot Vacuum

LOW PROFILE DESIGN
BATTERY CAPACITY
DUST BIN CAPACITY
VIRTUAL WALL INCLUDED
PRODUCT DIMENSIONS
WEIGHT

CONCLUSION
CLEANS UNDER FURNITURE
Yes
3.8 inches in height – can clean under sofas, beds and sidekicks above 3.8 inches. Hard to clean under furniture below 3.8 inches in height.
COVERAGE
Yes
3000 square feet room coverage – suitable for small to large sized rooms
SUCTION POWER
Yes
2200 Pa suction power – strong enough to provide thorough cleaning in all areas
IDEAL FOR HOMES WITH PETS
Yes
Hepa filter captures pet hairs from multiple floors. Suitable for homes with dogs, cats, birds etcs
CLEAN CORNERS AND ALONG WALLS
Yes
2 side brushes – built to enter into corners and along walls. Sweeps out and collects dirt into dust bin
BATTERY LIFE
Yes
Runs for approximately 180 minutes before requiring a recharge.
CHARGE TIME
Yes
Takes approximately 240 minutes to obtain full battery charge
MULTI-FLOOR CLEANING
Yes
Uses 4 stage system – turbo, quiet, max and balanced to clean multiple floors. Climbs over low pile and medium pile carpets using 1.3 cm carpet pressurization function.
DEEP CLEANS THICK CARPETS
FOR LARGE ROOMS
Yes
Grid and Z sweeping mode ideal for large rooms. Navigates smartly through in 180 minutes to cover large rooms.
AUTO DOCKS AND RECHARGE
Yes
Returns to its charge station automatically to recharge once battery is low or has completed cleaning.
RESUMES AFTER AUTO RECHARGING
Yes
Resumes to where it had stopped after auto recharge. Every cleaning task is always completed
MULTI-ROOM NAVIGATION
Yes
Moves from room to room using the LDS navigation system. Turns away from stairs in multi floor rooms. keeps away from restricted areas or rooms
AVOIDS STAIRS AND OBJECTS
Yes
Safety anti-drop sensors and object detection – keeps robot from falling off stairs and bumping into objects
QUIET OPERATION
Yes
65 db noise level – whisper quiet operation. Not loud to disturb your sleep time
BOOSTS SUCTION POWER
Yes
Carpet pressurization mode and Max mode. Increase the suction power automatically after detecting a carpeted floor.
HEPA FILTER
Yes
E11 High performance Hepa filter – destroys 99.7% of dust and allergens as tiny as 0.3 microns like mold spores, pet dander and pollen
MAPS & PLANS ROUTE
Yes
LDS laser intelligent navigation technology – will scan and map your home about 4000 times per second for a radius distance of 8m distance. Saves the SLAM algorithm to create a real-time map and then creates an optimal route.
CONCENTRATED CLEANING
Yes
Spot cleaning mode – maximizes the suction power in areas with stains and other messes.
HASSLE FREE OPERATION
Yes
Can automatically clean when no one is home. Hassle free operation through scheduling and smart remote control from anywhere.
REMOTE CONTROL WITH MOBILE APP
Yes
Lambot Smart App – lets you conveniently schedule, customize, monitor accessory status, start, stop, OTA system update technology etc
WIFI CONNECTED
Yes
Supports WIFI connection – use a 2.4 GHz WIFI frequency bands
CAN BE SCHEDULED
Yes
Starts cleaning automatically after schedule. Obeys time, mode and area set as it cleans even when no one is home.
WORKS WITH ALEXA
Yes
Allows voice command through Alexa
ZONE CLEANING
Yes
Area cleaning for specific areas. Use a map to set an area around the place you want to clean with dates and times. It will only be restricted to such areas.
LOW PROFILE DESIGN
Yes
3.8 inches low profile design that can fit in difficult areas to clean
BATTERY CAPACITY
Yes
5200 mAh battery – high capacity that delivers nonstop 180 minutes of run time
DUST BIN CAPACITY
Yes
380 ml dust bin capacity
VIRTUAL WALL INCLUDED
Yes
Can set virtual wall using Lambot Smart App
PRODUCT DIMENSIONS
Yes
13.7L X 13.7W X 3.8H inches
PROS
Yes
• Up to 4 cliff sensor technology • Strong suction power of up to 2200 Pa • 9 cleaning modes – zone, schedule, virtual wall, spot, edge, grid and z cleaning etc • Can be controlled using Lambot Smart App • Recharges and resumes automatically • E11 high efficiency HEPA filter • Large cleaning coverage – 3000 square feet • Works with Alexa and WIFI
CONS
Yes
• No full bin indicator • Not suitable for deep cleaning thick carpets
WAS THIS REVIEW HELPFUL TO YOU? IF YES, PLEASE SHARE IT WITH A FRIEND.