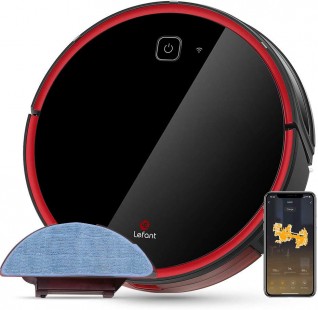 Reasons to buy Lefant T701:
FreeMove technology.
Durable runtime.
Voice and APP controls.
Slim yet powerful.
Check price here....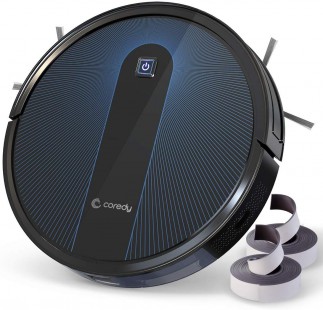 Reasons to buy Coredy R650 :
Boost intellect technology
Hepa filter combo with sponge
Magnetic boundary strips
1600Pa Super-Strong Suction
Check price here....
summary Review:
PERFORMANCE

WINNER :

Lefant T701

MAPS & PLANS ROUTE
CONCENTRATED CLEANING

USABILITY

WINNER :

Lefant T701

REMOTE CONTROL WITH MOBILE APP
WIFI CONNECTED

DESIGN

WINNER :

Coredy R650

FULL BIN INDICATOR
VIRTUAL WALL INCLUDED

CONCLUSION
Reasons why we like it:
MAPS & PLANS ROUTE
CONCENTRATED CLEANING
REMOTE CONTROL WITH MOBILE APP
WIFI CONNECTED
Check price here....
CLEANS UNDER FURNITURE
Yes
Slim design, easily slides under sofa, bed and corner, and any other furniture in the home to thoroughly clean.
Yes
Has a height of only 2.77 inches tall. Cleans under furniture above 2.77 inches tall and fails to enter under furniture below its height.
SUCTION POWER
Yes
Packing a whooping 2200Pa of suction power to eliminate dust, dirt, bread crumbs and pet hair while being gentle with tiles, hardwood floors and carpets, keeps your home free of fur balls and your children healthy.
Yes
1600 Pa suction power – effective at removal of small debris and dust from multiple floors.
IDEAL FOR HOMES WITH PETS
Yes
This device is ideal for homes with pets because of its strong suction power and 3 in 1 HEPA filter.
Yes
Hepa filter with sponge filtration suitable for homes with pets. Traps pet dander that might cause allergies to people.
CLEAN CORNERS AND ALONG WALLS
Yes
This device is able to clean corners and along walls.
Yes
4 side brushes – gathers dirt, hairs and dust from the corners and along the walls.
BATTERY LIFE
Yes
The vacuum has built-in 2600mAh lithium battery, cleaning up to 110-130min on a single charge.
Yes
120 minutes of continuous cleaning once battery is fully charged
CHARGE TIME
Yes
The Lefant T701 is fully charged after 4-5 hours on its charging base.
MULTI-FLOOR CLEANING
Yes
It uses the most advanced Brushless Direct Current Motor, with max 1800Pa suction power, it cleans pet hairs, dust, debris thoroughly from hard floors to medium-pile carpets.
Yes
Effectively cleans laminate, bare floor, ceramic tile and hardwood floors. Also features a climbing threshold of 0.64 inches for low pile carpets.
DEEP CLEANS THICK CARPETS
FOR LARGE ROOMS
Yes
This vacuum's ability to clean the home for 110 to 130 minutes makes it eligible for large rooms.
Yes
120 run time minutes suitable for large rooms. Will navigate through large rooms using inbuilt infrared sensors.
AUTO DOCKS AND RECHARGE
Yes
The sweeper will automatically go charging when battery is low or cleaning is completed if the charging base is set against the wall without obstacles on either side or straight ahead.
Yes
Auto docks and recharges on low battery - Coredy R650 will always be ready to clean your home.
RESUMES AFTER AUTO RECHARGING
MULTI-ROOM NAVIGATION
Yes
This device is able to navigate from room to room.
Yes
Navigates from room to room on a single floor. Set boundaries to prevent Coredy R650 from accessing other rooms or areas.
AVOIDS STAIRS AND OBJECTS
Yes
Anti-collision/cliff sensors and soft cushion bumpers ensures device avoids obstacles and ledges to safely clean your home.
Yes
Inbuilt with infrared sensors – anti drop technology prevents robot from falling off stairs. Avoids obstacles on its cleaning path.
QUIET OPERATION
Yes
Thanks to the optimized internal airflow structure, the robot vacuums quietly without interfering with your daily life.
Yes
45 lowest db and highest 65 db noise level – streamlined air flue delivers quiet operation. Won't interrupt your conversation or TV programme
BOOSTS SUCTION POWER
Yes
The device is able to boost suction power from 1800Pa to 2200Pa when required.
Yes
Features intelligent boost technology – will automatically boost the suction power to maximum within seconds after carpets are detected.
HEPA FILTER
Yes
Device has 3 layer filters i.e. primary filter, sponge filter and HEPA filter which prevents the dust from entering into the air again.
Yes
Built with an advanced washable HEPA filter – works with sponge filtration system to eliminate tiny household dust and allergens.
MAPS & PLANS ROUTE
Yes
You can also plan your own route before leaving work, remote control, super convenient operation.
SWEEPS AND MOPS
Yes
The LEFANT T701 is able to sweep and mop at the same time
Yes
Only sweeps multiple floors
CONCENTRATED CLEANING
Yes
Device has spot cleaning with repeat cleaning at one small space until it is completely cleaned

Lefant T701
HASSLE FREE OPERATION
Yes
With the help with Radio Frequency technology, you can command device from any room in your house. You can initiate a cleaning session; pre-program the sessions with voice command. It comes with a WIRELESS COMMAND CENTER.
Yes
Can be remotely controlled from across a room for hassle free operation. Features a remote device or you can power it on and it will automatically clean.
REMOTE CONTROL WITH MOBILE APP
Yes
The robot works with Alexa and Google Assistant voice commands. Download Lefant Life App, available on iOS and Android 4.0 or above, access to direction control, schedule cleaning, choose the cleaning modes, real-time monitor, adjust the suction power, etc. Support OTA firmware.
WIFI CONNECTED
Yes
This device is WIFI connected which makes it easy to control remotely.
CAN BE SCHEDULED
Yes
This device lets you schedule cleanings and target specific rooms or areas with the remote control.
Yes
Allows scheduling – set up Coredy R650 to clean at a given time daily. Cleans automatically even when nobody is home.
ZONE CLEANING
Yes
Device has a mapping feature that lets you choose the cleaning method of specific zones between vacuuming and mopping.
Yes
Create out of bounds areas using boundary strips. Robot will be restricted to clean only specific areas that you want.

Lefant T701
LARGE DEBRIS BIN
Yes
A large 0.6L dust box holds more dirt, no need of frequent emptying per cleaning.
Yes
Has a 500 ml large capacity dust bin. Can take in tiny crumbs of food.
LOW PROFILE DESIGN
Yes
This robot vacuum is designed with a low profile design which makes it able to go under any furniture.
Yes
Only 2.77 inches ultra thin build – smoothly enters under most furniture and hard to reach areas for thorough home cleaning
BOUNDARY STRIPS INCLUDED
Yes
This device is made with boundary strips which make navigation easy.
Yes
Magnetic boundary strips – creates a vacuuming zone for Coredy R650. Cleans only the areas within the boundary strips that you want.
BATTERY CAPACITY
Yes
2600mAh lithium battery
Yes
2600 mAh Li-ion battery capacity – powerful enough to provide 120 minutes of nonstop cleaning.
DUST BIN CAPACITY
Yes
500 ml dust bin capacity – been redesigned fir easy access with wide opening door and instant empty.
VIRTUAL WALL INCLUDED
Yes
Creates virtual walls using magnetic boundary strips. Creates a wall to restrict robot from some areas.
PRODUCT DIMENSIONS
Yes
12.6 x 12.6 x 3.1 inches
Yes
12.8 x 12.7 x 2.8 inches

Coredy R650
PROS
Yes
FreeMove technology. Slim yet powerful. Voice and APP controls. Durable runtime. Ready to clean. Anti-collision for safety. Protect robot and your family. A quiet clean. Auto charging. 2200Pa powerful suction. Triple filter. Duration up to 110-130 minutes. Large capacity dust box.
Yes
• Delivers up to 120 minutes of continuous runtime • Washable and effective hepa filter with sponge • 180 degree easy access dust bin • Carpet boost suction power • Large dust bin capacity of 500 ml • Smart sensor protection form obstacles and falls • Virtual wall boundaries • Automatically docks and recharges • Effortlessly moves from room to room • Cleans corners and along walls effectively • Low profile design to clean hard to reach areas • Can be scheduled to clean daily • Features IR remote control • Ideal for homes with pets
CONS
Yes
This robot machine does not have a full bin indicator.
Yes
• Not built with a Smartphone app • Cannot map home floors • Doesn't allow voice command through Alexa • Cannot wet mop floors • Not suitable for high pile carpets
Overall Winner
WAS THIS COMPARISON BETWEEN Lefant T701 & Coredy R650 HELPFUL TO YOU? IF YES, PLEASE SHARE IT WITH A FRIEND.