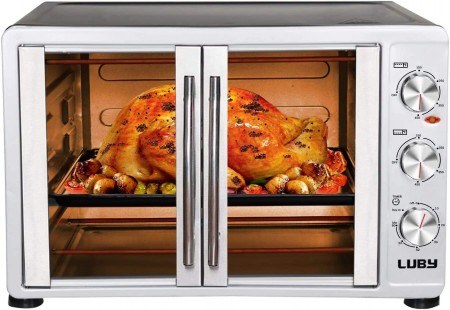 Reasons to buy Luby Large Toaster Oven:
Large countertop oven
Fast & even heating
Simple control and 60 minute timer
Separate temperature selector
Check price here....
summary Review:
PERFORMANCE

Luby Large Toaster Oven

Cooking Modes or Functions
Dual Convection
Countertop Dual Convection
Evenly Distributes Heat
Uses knobs
Easy to use

USABILITY

Luby Large Toaster Oven

non-stick interior
Included accessories
Easy Clean Up

DESIGN

Luby Large Toaster Oven

Watts
Large Capacity
capacity
Item Weight
Item Dimensions
Cooking Modes or Functions
Yes
Have 9 functions, including convection, to handle your family's cooking needs. Air Fry, Broil, Bake, Toast
Dual Convection
Yes
Separate temperature selector - separate and precise temperature control for upper and lower racks, allows you to set two temperatures for different foods at a time, provides maximum cooking flexibility.
Countertop Dual Convection
Yes
Luby Large Toaster Oven Countertop This luby is a countertop toaster oven that will be available every time you need a quick meal.
Cyclonic Wave Inverter Technology
Evenly Distributes Heat
Yes
The top and bottom heating elements evenly distribute heat bringing your meals to perfection.
Uses knobs
Yes
The three knobs have been updated to a version with an obvious marking line so that the direction of the knob can be seen more clearly.
Easy to use
Yes
With the double doors, it's easy to get things in and out. Seems to heat up very quickly and cook evenly.it can fit large meals.
non-stick interior
Yes
The exterior and interior of the oven are made of stainless steel, making it easy to clean.
Included accessories
Yes
Machine Body And Bake Tray(1Pc), Wire Rack(1Pc), Tray Handle(1Pc)
Easy Clean Up
Yes
The non-stick interior and the stainless steel coating both on the interior and exterior makes cleaning this toaster very easy.
Large Capacity
Yes
Enough for baking a 14-inch pizza, roasting a 20-lb turkey, a family cake or a nice tenderloin and comfortably fit 24 cup muffin trays. Four rack positions.
capacity
Yes
The usable cooking space is 16.3" Wide x 15.8" Deep x 8.5" High
Item Dimensions
Yes
22.04 x 16.14 x 14.37 inches
WAS THIS REVIEW HELPFUL TO YOU? IF YES, PLEASE SHARE IT WITH A FRIEND.