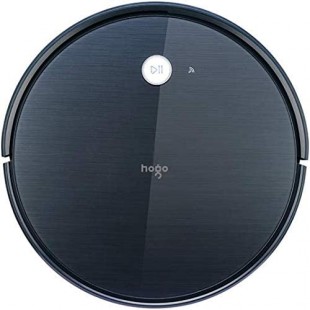 Reasons to buy Makimoo Hogo T500:
1800Pa strong suction
Super quiet.
Compatible with Alexa.
Wi-Fi connectivity.
Check price here....
summary Review:
PERFORMANCE

Makimoo Hogo T500

CLEANS UNDER FURNITURE
SUCTION POWER
IDEAL FOR HOMES WITH PETS
CLEAN CORNERS AND ALONG WALLS
BATTERY LIFE
CHARGE TIME
MULTI-FLOOR CLEANING
FOR LARGE ROOMS
AUTO DOCKS AND RECHARGE
RESUMES AFTER AUTO RECHARGING
MULTI-ROOM NAVIGATION
AVOIDS STAIRS AND OBJECTS
QUIET OPERATION
BOOSTS SUCTION POWER
HEPA FILTER
MAPS & PLANS ROUTE
SWEEPS AND MOPS
CONCENTRATED CLEANING

USABILITY

Makimoo Hogo T500

HASSLE FREE OPERATION
REMOTE CONTROL WITH MOBILE APP
WIFI CONNECTED
CAN BE SCHEDULED
WORKS WITH ALEXA
ZONE CLEANING

DESIGN

Makimoo Hogo T500

LARGE DEBRIS BIN
LOW PROFILE DESIGN
BOUNDARY STRIPS INCLUDED
BATTERY CAPACITY
DUST BIN CAPACITY
VIRTUAL WALL INCLUDED
PRODUCT DIMENSIONS
WEIGHT

CONCLUSION
CLEANS UNDER FURNITURE
Yes
Maneuvers easily under beds and sofas due to its super-slim, ultra-thin height whilst providing the perfect sweep.
SUCTION POWER
Yes
Engineered with a strong motor, which provides powerful suction up to 1800Pa.
IDEAL FOR HOMES WITH PETS
Yes
This device is an ideal fit for homes with pets since it has a strong suction power as well as a heap filter that can clean out all pet dander in the room.
CLEAN CORNERS AND ALONG WALLS
Yes
This device is able to clean corners and along walls.
BATTERY LIFE
Yes
Cleans for up to 120-150(min)
MULTI-FLOOR CLEANING
Yes
Device has Multi-Surface Cleaning that is the hard floors & carpets & ceramic tile.
DEEP CLEANS THICK CARPETS
FOR LARGE ROOMS
Yes
With its long running time, device is designed to clean large rooms.
AUTO DOCKS AND RECHARGE
Yes
Never worry about running out of power or having to manually move the robot as it automatically returns to its charging station when the battery falls below 20%.
RESUMES AFTER AUTO RECHARGING
Yes
This device is able to resume cleaning after auto recharging.
MULTI-ROOM NAVIGATION
Yes
This device is able to navigate from room to room.
AVOIDS STAIRS AND OBJECTS
Yes
Anti-collision/cliff sensors and soft cushion bumpers ensures device avoids obstacles and ledges to safely clean your home.
QUIET OPERATION
Yes
Optimized internal airflow structure, decrease the noise level, soft working sound will not interrupt daily life
BOOSTS SUCTION POWER
Yes
The robot vacuum cleaner has two adjustable suctions modes - standard and maximum - to meet your varied cleaning requirements.
HEPA FILTER
Yes
Device has a HEPA filters which prevents the dust from entering into the air again.
MAPS & PLANS ROUTE
Yes
You can also plan your own route before leaving work, remote control, super convenient operation.
SWEEPS AND MOPS
Yes
A water tank can be adjusted; you can control the humidity of the ground when mopping the floor.
CONCENTRATED CLEANING
Yes
Device has spot cleaning with repeat cleaning at one small space until it is completely cleaned
HASSLE FREE OPERATION
Yes
With the help with Radio Frequency technology, you can command your device using a remote.
REMOTE CONTROL WITH MOBILE APP
Yes
The APP allows you to remote control the robot to clean home where ever you are.
WIFI CONNECTED
Yes
This device is Wi-Fi connected.
CAN BE SCHEDULED
Yes
This device lets you schedule cleanings and target specific rooms or areas with the remote control.
WORKS WITH ALEXA
Yes
Works with Amazon Alexa and Google Assistant, voice control-services let you easily accomplish your vacuuming needs;
ZONE CLEANING
Yes
Device has a mapping feature that lets you choose the cleaning method of specific zones between vacuuming and mopping.
LARGE DEBRIS BIN
Yes
There's no need to empty this robot vac frequently as it comes with a 600ml dust box, allowing it to store more dirt, clean more areas and vacuum for longer.
LOW PROFILE DESIGN
Yes
This robot vacuum is designed with a low profile design which makes it able to go under any furniture.
BOUNDARY STRIPS INCLUDED
Yes
This device is made with boundary strips which make navigation easy.
BATTERY CAPACITY
Yes
4400mAh high capacity Li-battery for a longer running time and even more cleaning task.
VIRTUAL WALL INCLUDED
Yes
This robot vacuum has got a virtual wall sensor included.
PRODUCT DIMENSIONS
Yes
23.9 x 16.3 x 6.9 inches
PROS
Yes
High runtime. Safety sensors. A quiet clean. Low failure rate. Keep the air clean. Always prepared for cleaning. Remote control. Anti-collision for safety.
CONS
Yes
Device has no full bin indicator. This robot vacuum lacks self-emptying capabilities.
WAS THIS REVIEW HELPFUL TO YOU? IF YES, PLEASE SHARE IT WITH A FRIEND.