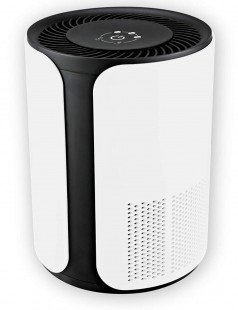 Reasons to buy Medify MA-18:
Portable Modern Design with Medical Grade H13 True HEPA Filtration
Lifetime Warranty
Touch screen technology.
Filter Replacement Indicator
See price on Amazon
summary Review:
PERFORMANCE

Medify MA-18

HEPA FILTER
REMOVES CIGARETTE ODOR
ROOM SIZE AND AIRFLOW
FIGHTS GERMS
ELIMINATES DUST MITES
REMOVES PET DANDER
GETS RID OF POLLEN
REMOVES SMOKE
REMOVES MOLD
TRAPS ALLERGENS
QUIET OPERATION
WASHABLE PRE-FILTERS
EASY FILTER REPLACEMENT
SLEEP MODE
WATTAGE
ENERGY STAR

USABILITY

Medify MA-18

CONTROLS AND MODES
FILTER REPLACEMENT REMINDER
ECONOMICAL
AFFORDABLE
IDEAL FOR ASTHMATIC PEOPLE
FILTER LIFE - BASED ON USE

SAFETY
APPEARANCE

Medify MA-18

DESIGN
SIZE AND APPEARANCE
WEIGHT
HEPA FILTER
Yes
Has a medical grade true HEPA air purifier that cleans 99,97% of allergies, dust ,pollen and other airborne particles within 400 sq. ft
REMOVES CIGARETTE ODOR
Yes
Its H13 true HEPA filter combined with a carbon filter recycles the entire smoke and cigarette odor from the room within 400sq.ft.
ROOM SIZE AND AIRFLOW
Yes
This air purifier is perfect for medium rooms up to 800 sq. ft. covers up to 800 square feet every hour | Covers 400 sq. ft. in 30 minutes | 200 sq. ft. in 15 minutes
FIGHTS GERMS
Yes
It has H13 Medical Grade True HEPA to capture 99.97% of airborne germ particles.
ELIMINATES DUST MITES
Yes
Has a pre filter that captures large particles such as dust mites.
REMOVES PET DANDER
Yes
Has a medical grade H13 HEPA FILTER that gets rid of 99.97% of pet dander in a medium room.
GETS RID OF POLLEN
Yes
Cleans air in a room with its H13 true HEPA filter to get rid of pollen.
REMOVES SMOKE
Yes
Has an activated carbon filter that is perfect for capturing smoke in a room within 400 sq, ft.
REMOVES MOLD
Yes
For a room of up to 400 sq. ft, this air purifier is fit to remove mold of that room size.
TRAPS ALLERGENS
Yes
Its dual filtration system is fit to trap allergens up to 99.97%.
QUIET OPERATION
Yes
At minimal speed, this purifier works in quiet mode and this can be set using the touch screen panel.
EASY FILTER REPLACEMENT
Yes
Its portable design makes it easy for filter replacement.
AUTOMATICALLY DETECTS AIRBORNE PARTICLES
SLEEP MODE
Yes
Purifier has a standby mode/sleep mode that automatically shuts it down when system is idle for long.
WATTAGE
Yes
The air purifier has an estimated rated power use of 35 watts of energy.
ENERGY STAR
Yes
This device is energy star approved
CONTROLS AND MODES
Yes
Has touch screen controls on top of the air purifier with A choice of three fan speeds and a track light indicator. Has a standby and sleep mode as well.
FILTER REPLACEMENT REMINDER
Yes
Has a filter replacement indicator that lets you know when to change the filters.
ECONOMICAL
Yes
Device has a life time warranty with minimal energy usage ability making it more economical.
AFFORDABLE
Yes
Device is affordable for a medical grade H13 air purifier
IDEAL FOR ASTHMATIC PEOPLE
Yes
With its combination of dual filtration system, it is able to clean out any allergens and clear the air for asthmatic and allergic people.
FILTER LIFE - BASED ON USE
Yes
The filter life for this device goes for 4 months of daily use.
CHILD LOCK
Yes
Its light weight and touch screen controls makes it safe as it can be kept on raised grounds as well as not having wandering buttons for child consumption.
OZONE FREE
Yes
This device is ozone free if the ionizer is off, however when turned on, it will produce a trace amount that is 100% safe for human use.
DESIGN
Yes
Compact, portable, modern design
SIZE AND APPEARANCE
Yes
8.4 x 8.4 x 11.2 inches
WEIGHT
Yes
The device weighs 4.4 pounds.
WAS THIS REVIEW HELPFUL TO YOU? IF YES, PLEASE SHARE IT WITH A FRIEND.