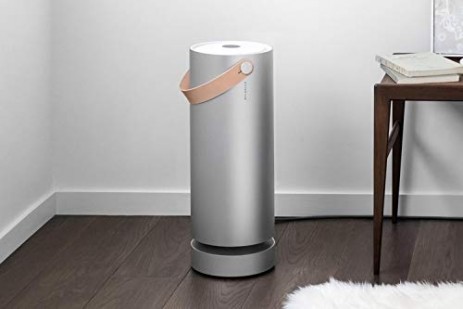 Reasons to buy Molekule Air Purifier:
Built with a dual filtration system
Has a 360 degree air intake
Destroys pollutants at molecular level
Automatic filter refills
Check price here....
summary Review:
PERFORMANCE

Molekule Air Purifier

HEPA FILTER
TIMER
FOR LARGE ROOMS
REMOVES CIGARETTE ODOR
ROOM SIZE AND AIRFLOW
FIGHTS GERMS
ELIMINATES DUST MITES
REMOVES PET DANDER
GETS RID OF POLLEN
REMOVES SMOKE
REMOVES MOLD
TRAPS ALLERGENS
QUIET OPERATION
WASHABLE PRE-FILTERS
EASY FILTER REPLACEMENT
AUTOMATICALLY DETECTS AIRBORNE PARTICLES
SLEEP MODE
WATTAGE
ENERGY STAR

USABILITY

Molekule Air Purifier

CONTROLS AND MODES
FILTER REPLACEMENT REMINDER
ECONOMICAL
IDEAL FOR ASTHMATIC PEOPLE
REMOTE CONTROL
FILTER LIFE - BASED ON USE

SAFETY
APPEARANCE

Molekule Air Purifier

DESIGN
SIZE AND APPEARANCE
WEIGHT
HEPA FILTER
Yes
Makes use of a dual filtration system. Its Pre-filter will capture larger particles such as pet hair and dust while slowing down VOCs heading to PECO-filter. PECO-filter will break down viruses, VOCs, bacteria and other pollutants.
FOR LARGE ROOMS
Yes
Has a room coverage of up to 600 square foot every single hour. Suitable for cleaning air in all the rooms
ROOM SIZE AND AIRFLOW
Yes
Covers a room size of 600 square feet in an hour. Covers entirely rooms within this particular range.
FIGHTS GERMS
Yes
Built with a scientifically proven Nanotechnology. Fights viruses, germs and bacteria at molecular level destroying 3.7 million bacteria in only 5 minutes.
ELIMINATES DUST MITES
Yes
Eliminates dust mites usually hidden in carpets.
REMOVES PET DANDER
Yes
Gets rid of pet dander without much effort. Makes homes and offices pet friendly
GETS RID OF POLLEN
Yes
Makes use of Nanotechnology to eliminate pollen. Air filled with pollen is dangerous to people with asthma and allergies.
REMOVES SMOKE
Yes
PECO clean air filtration system removes smoke and any other gaseous chemicals from the air. Leaves the air clean to breath from any form of smoke.
REMOVES MOLD
Yes
Wipes out up to 3.4 million black mold spores in only 50 minutes.
TRAPS ALLERGENS
Yes
Dual filter combination with Nanotechnology traps and destroys 1 million allergens in just 4 minutes.
QUIET OPERATION
Yes
Runs extremely quite with its unique technology. Noise level ranges from 30 dBa silent mode – 55 dBa boost mode.
EASY FILTER REPLACEMENT
Yes
Comes with an auto refill program created for easy filter replacement. Lets your Molekule maintain efficiency.
AUTOMATICALLY DETECTS AIRBORNE PARTICLES
Yes
Uses Nanotechnology to detect airborne particles to the size of 0.3 microns or smaller and removes them.
SLEEP MODE
Yes
Features a Dark mode instead – switches off UV light for people that are sensitive to light while sleeping.
WATTAGE
Yes
Uses 25 watts on silent mode, 35 watts on Auto mode and 80 watts on Boost mode.
ENERGY STAR
Yes
Is energy star certified
CONTROLS AND MODES
Yes
Built with a number of modes and controls that establish its effectiveness. Contains Dark mode, Silent mode, Auto mode and Boost mode.
FILTER REPLACEMENT REMINDER
Yes
Auto refill program which automatically sends to your doorstep filters after 6 months. You will need to sign for this program on My Molekule account first.
ECONOMICAL
Yes
Is energy star certified – you will not spend a lot on power bills regardless of how long it purifies your air in a day.
IDEAL FOR ASTHMATIC PEOPLE
Yes
Has a 360 degree air intake – collects pollutants, bacteria, germs, pet dander and other particles from the air that could trigger an asthmatic attack.
REMOTE CONTROL
Yes
Can be remotely controlled using Smartphone wifi connection. Download the molecule app for iPhone and Android.
FILTER LIFE - BASED ON USE
Yes
The PECO filter has a countdown of 180 days while the Pr-filter life is 90 days. Filters can also be replaced when 0% is shown on filter status indicator
OZONE FREE
Yes
No ozone – will not emit ozone or any dangerous by-product into your air
DESIGN
Yes
Quality and compact design – easily fits in small spaces.
SIZE AND APPEARANCE
Yes
27.8 x 11.4 x 11 inches
WAS THIS REVIEW HELPFUL TO YOU? IF YES, PLEASE SHARE IT WITH A FRIEND.