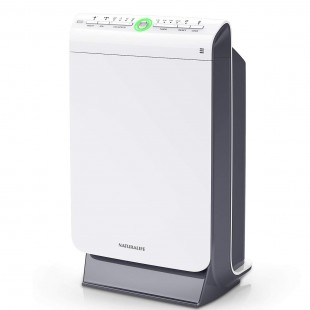 Reasons to buy NATURALIFE Air Purifier:
Odor Eliminator
4 Stage Filtration and Ionization System
Night Mode and Auto-Off Timer
Air Cleaner for Pets, Smokers, Smoke and Dust
Check price here....
summary Review:
PERFORMANCE

NATURALIFE Air Purifier

HEPA FILTER
TIMER
FOR LARGE ROOMS
REMOVES CIGARETTE ODOR
ROOM SIZE AND AIRFLOW
FIGHTS GERMS
ELIMINATES DUST MITES
REMOVES PET DANDER
GETS RID OF POLLEN
REMOVES SMOKE
REMOVES MOLD
TRAPS ALLERGENS
QUIET OPERATION
WASHABLE PRE-FILTERS
EASY FILTER REPLACEMENT
AUTOMATICALLY DETECTS AIRBORNE PARTICLES
SLEEP MODE
WATTAGE
ENERGY STAR

USABILITY

NATURALIFE Air Purifier

CONTROLS AND MODES
FILTER REPLACEMENT REMINDER
ECONOMICAL
AFFORDABLE
IDEAL FOR ASTHMATIC PEOPLE
FILTER LIFE - BASED ON USE

SAFETY
APPEARANCE

NATURALIFE Air Purifier

DESIGN
SIZE AND APPEARANCE
WEIGHT
HEPA FILTER
Yes
True Hepa filter – effective at removing airborne particles like germs, pollen, pet dander, smoke, dust and odor to the micro size of 0.3 microns
TIMER
Yes
Features a timer. Allows the device work for a specific period before it automatically power off or on.
FOR LARGE ROOMS
Yes
Suitable for large rooms within the range of 376 square feet. Usually perfect for living rooms, kitchen and bedrooms.
REMOVES CIGARETTE ODOR
Yes
Removes cigarette smoke and other odors. Uses an integrated ionizer to purify air from smoke
ROOM SIZE AND AIRFLOW
Yes
Has coverage of 376 square feet – 144 CFM of clean air delivery rate. Cleans small to large sized rooms completely within this given range.
FIGHTS GERMS
Yes
Fights and kills germs – maximizes the True Hepa filter to kill up to 99.97% of germs. Keeps your home safe from air and food germs.
ELIMINATES DUST MITES
Yes
Abolishes dust mites – dust mites have common hiding places in homes such as carpets and cushion. Dust mites lead to sneezing and coughing among others.
REMOVES PET DANDER
Yes
Detects and right away removes pet dander. Pet dander is dead skin from pets like cats, birds, dogs etc.
GETS RID OF POLLEN
Yes
Saves you from indoor pollen. Powerful Hepa filter searches and catches all pollen from your indoor air to a small size of 0.3 microns
REMOVES SMOKE
Yes
Removes smoke with the power of an integrated ionizer. Produces millions of negatively charged ions that force smoke to clump together and get eliminated.
REMOVES MOLD
Yes
Gets all mold and removes it instantly. Homes with leaks or humidity have mold fungus growing in them.
TRAPS ALLERGENS
Yes
Uses True hepa filter to trap allergens. Allergen makes human bodies to respond abnormally causing allergies and asthma.
QUIET OPERATION
Yes
Sound almost unheard in the lowest speed setting.
WASHABLE PRE-FILTERS
Yes
Wash the pre filter whenever they get dirty or are clogged. Washing opens all the clogged pores on the filter to promote efficiency.
EASY FILTER REPLACEMENT
Yes
Easy filter replacement – any adult can easily replace the filter. Take out the old and put in its place the new filter and power on.
AUTOMATICALLY DETECTS AIRBORNE PARTICLES
Yes
Smart sensor automatically detects airborne particles. Analyzes the ambient air quality and then alters fan speed accordingly.
SLEEP MODE
Yes
Whisper silent night mode – reduces the fan to the lowest speed and then switches of every indicator light. Provides uninterrupted sleep.
WATTAGE
Yes
Power consumption is only 45 watts in total. You can choose the lower speed modes that work at lower wattage.
ENERGY STAR
Yes
Certified by Energy Star to be power saving
CONTROLS AND MODES
Yes
Contains some controls and modes to maintain its helpfulness. Modes include Auto and sleep mode. Controls are 3 wind speeds and Smart sensor
FILTER REPLACEMENT REMINDER
Yes
Filter replacement reminder – built with a flashing light that alerts you once there is a need for filter change.
ECONOMICAL
Yes
Has been certified by energy star. Thus will not consume a lot of energy that is alarming even when used full time.
IDEAL FOR ASTHMATIC PEOPLE
Yes
99.97% big and small particle remover – ideal for asthmatic people.
FILTER LIFE - BASED ON USE
Yes
Filter life is approximately 6 months. Might vary depending on air quality and usage.
CHILD LOCK
Yes
Child lock – activate this feature to prevent unwanted changes made to the air purifier. Suitable for living spaces with children.
OZONE FREE
Yes
Does not use UV – Ozone free
DESIGN
Yes
Modern and smooth design – easily blends with most interior decor and available storage space
SIZE AND APPEARANCE
Yes
12.6"L X 8.3"W X20.6"H
WAS THIS REVIEW HELPFUL TO YOU? IF YES, PLEASE SHARE IT WITH A FRIEND.