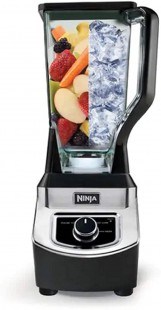 Reasons to buy NINJA NJ600 Blender:
Blasts solid ice cubes into powdery snow in seconds.
XL 72oz. Professional blender pitcher with pour spout
Ninja 6-blade technology
1000-Watts professional grade motor for heavy duty blending
Check price here....
summary Review:
PERFORMANCE

NINJA NJ600 Blender

Smoothie Maker
Capacity
Stainless steel Blade
Makes Hot Soups
Easy To Clean
Heavy / Commercial Duty Performance
Ideal for blending medium to large batches

FEATURES

NINJA NJ600 Blender

Pulse Button
Preprogrammed Cycles
Commercial-Grade Motor
Sturdy Base
Variable Speed Control
High-Performance Motor
Ice Crusher
BPA-Free Jar

DESIGN

NINJA NJ600 Blender

Volts
Watts
Low Profile Container
Low Profile Blender
Included Accessories

CONCLUSION
Smoothie Maker
Yes
Blend dairy, fruit, and ice for creamy and healthy smoothies. It's great for making smoothies; just add frozen fruit and some liquid. The extract button is to die for, as it blends for a couple seconds, stops, blends a couple more seconds, stops, then starts blending again until you stop it.
Makes Hot Soups
Yes
You can make hot soups in this blender without worrying about the impact it has on the blender. You can add hot ingredients to the pitcher and have hot results thereafter.
Easy To Clean
Yes
The pitcher is BPA-free and dishwasher safe, making cleanup just as simple and easy as using the blender.
Pair with any SELF-DETECT containers
Heavy / Commercial Duty Performance
Yes
The powerful motor and huge blending capacity make this blender a heavy-duty blender.
Ideal for blending medium to large batches
Yes
With 72 oz. pitcher, you can make drinks, smoothies, and more for the whole family.
Commercial-Grade Motor
Yes
It has a commercial-grade motor.
Sturdy Base
Yes
The 1000 watt base is made with strong and sturdy materials which last longer and withstand high-powered blending situations.
Variable Speed Control
Yes
It features 3 dedicated variable speeds.
High-Performance Motor
Yes
1000-watt base with dedicated blending speeds puts the power and control in your hands.
Ice Crusher
Yes
Ninja Total Crushing Blades give you perfectly crushed ice for your smoothies and frozen drinks with 1000 peak watts of professional power.
Low Profile Blender
Yes
This is a low-profile blender that can be stored on your countertop and in cabinets.
Included Accessories
Yes
1000 Watt Motor Base 72Oz. Blender Pitcher Blender Pitcher Lid Total Crushing Blades Instruction Book Quick Start Guide Inspiration Guide
PROS
Yes
• The different levels of blades help chop much easier. Ice does not stand a chance against them • Great Power, blends very quickly • Removable blade means shakes won't get hot and melt • Easy to clean • Large container • Safety lock isn't obtrusive • powerful • huge pitched • easy to clean • The different levels of blades help chop much easier. Ice does not stand a chance against them • Sharp, durable blades are backed up by a powerful motor. • Large capacity 72 oz, BPA-free blending jar. • A sleek and modern design with plenty of manual speed options to play with. • Easy to use and easy to care for too. • Includes a 50 recipe book to help you get a little more adventurous with your blending. • It is easy to clean. • Easy to clean because of the removable blade. • The design and pouring mechanism are nice. • This is a DRINK blender and it is exceptional at making perfect smoothies, turning ice to snow, and pulverizing most wet ingredients to a perfect consistency--no chunks. • Comes with inbuilt blades thus very easy to use and clean; • Equipped with a tamper that makes it more functional for tough food processing;
CONS
Yes
• A rather limited 1-year warranty, although this isn't unusual for an appliance at this end of the market. • Bulky compared to other blenders, so measure up carefully first! • The lid is needed to operate this blender and is pretty clunky and awkward • The machine will not grind up the seeds from strawberries. So the little seeds are part of the drink when you are finished. • The dial knob is too sen­si­tive, so even the slight­est touch can make it turn up or down even; • The blender is huge and takes up a lot of counter space. • The machine is very loud.
WAS THIS REVIEW HELPFUL TO YOU? IF YES, PLEASE SHARE IT WITH A FRIEND.