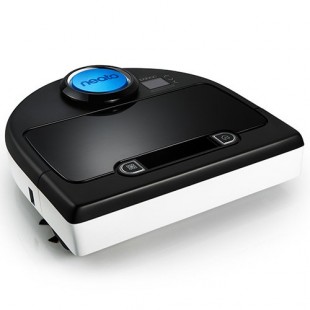 Reasons to buy Neato Botvac D85:
Patented laser-guided technology scans & maps rooms.
Specially designed to pick up all types of hair.
50% larger brush & extra large dirt-bin.
Schedule daily cleanings or push a button multi-room or spot-cleaning.
Check price here....
summary Review:
PERFORMANCE

Neato Botvac D85

CLEANS UNDER FURNITURE
COVERAGE
SUCTION POWER
IDEAL FOR HOMES WITH PETS
CLEAN CORNERS AND ALONG WALLS
BATTERY LIFE
CHARGE TIME
MULTI-FLOOR CLEANING
AUTO DOCKS AND RECHARGE
RESUMES AFTER AUTO RECHARGING
MULTI-ROOM NAVIGATION
AVOIDS STAIRS AND OBJECTS
QUIET OPERATION
BOOSTS SUCTION POWER
HEPA FILTER
MAPS & PLANS ROUTE
CONCENTRATED CLEANING

USABILITY

Neato Botvac D85

HASSLE FREE OPERATION
CAN BE SCHEDULED

DESIGN

Neato Botvac D85

LARGE DEBRIS BIN
LOW PROFILE DESIGN
BOUNDARY STRIPS INCLUDED
BATTERY CAPACITY
DUST BIN CAPACITY
FULL BIN INDICATOR
VIRTUAL WALL INCLUDED
PRODUCT DIMENSIONS
WEIGHT

CONCLUSION
CLEANS UNDER FURNITURE
Yes
It can easily clean under furniture because it's only 3.9" high which allows it to go under most furniture.
COVERAGE
Yes
Can cover up-to 1076 square-feet of floor space per cleaning cycle with ease and automatically recharges to complete the job.
SUCTION POWER
Yes
1800-pa which allows it to thoroughly clean all floor-types and even pick-up more pet-hair.
IDEAL FOR HOMES WITH PETS
Yes
Includes a combo-brush that helps to pick-up all types of hair making it ideal for use in homes with pets.
CLEAN CORNERS AND ALONG WALLS
Yes
Features a D-Shape design and CornerClever-technology with side-brushes that help to clean dirt hiding in corners and along walls.
BATTERY LIFE
Yes
Its battery can run for about 1.5hrs (90-mins) on a single charge.
CHARGE TIME
Yes
It takes about 180-minutes (3-hours) for the battery to get fully charged.
MULTI-FLOOR CLEANING
Yes
Its spiral blade brush can clean all floor types while the included all-terrain wheels allow it to move from one floor surface to another.
DEEP CLEANS THICK CARPETS
AUTO DOCKS AND RECHARGE
Yes
When this device needs more power, it will automatically return to the charging-dock to recharge.
RESUMES AFTER AUTO RECHARGING
Yes
After recharging, this robotic-vacuum will automatically return to where it left off in-order finish the cleaning-job.
MULTI-ROOM NAVIGATION
Yes
It can automatically vacuum multiple rooms on its own and transitions from one floor surface to another using Patented LaserSmart mapping and navigation technology.
AVOIDS STAIRS AND OBJECTS
Yes
Scans the room and senses objects in its path then carefully navigates around them. It also uses sensors to detect and avoid stair drop-offs.
QUIET OPERATION
Yes
At only 64dBs, this device operates quietly which makes it perfect for use any home-environment that requires optimum-silence.
BOOSTS SUCTION POWER
Yes
Has a Turbo-mode that increases suction power so as to thoroughly clean all floor-types.
HEPA FILTER
Yes
Includes a high performance filter that captures airborne-particles as small as 0.3-microns like; mold and pet-dander.
MAPS & PLANS ROUTE
Yes
Uses Patented laser-guided technology with laser floor mapping and real-time object detection to map the room, plan and methodically clean it.
CONCENTRATED CLEANING
Yes
Simply press the spot-clean button to allow this device to thoroughly clean a particular area until it gets purely clean.
HASSLE FREE OPERATION
Yes
You can schedule it for daily-cleanings or use the onboard-buttons for instant multi-room or spot cleaning.
REMOTE CONTROL WITH MOBILE APP
CAN BE SCHEDULED
Yes
Use the Auto-Schedule display screen and controls to set up a schedule that works for you for up-to 7-days.
LARGE DEBRIS BIN
Yes
It equipped with an extra-large, bag-less 700ml dirt-bin that holds more dust and dirt than round vacuums and it's easy to empty.
LOW PROFILE DESIGN
Yes
Has a low profile design with a height of 3.9-inches which allows for cleaning under furniture and in other hard-to-reach places where dust collect.
BOUNDARY STRIPS INCLUDED
Yes
Includes Boundary-Markers that keep it away from places you don't want it to go.
BATTERY CAPACITY
Yes
2600MHz NiMH (nickel-metal-hydride) Battery
DUST BIN CAPACITY
Yes
700-ml (extra-large & bag-less).
PRODUCT DIMENSIONS
Yes
12.7"L x 13.2"W x 3.9"H
PROS
Yes
• LaserSmart mapping & navigation. • Powerful vacuum-suction. • Powerful precision-brushes. • Auto recharges & resumes. • Automatically vacuums multiple rooms. • Extra-Large Bagless Dirt Bin. • Easy-to-Schedule Automatic Cleaning. • Avoids Furniture & Obstacles. • D-shape design and 50% larger brush. • Maximum Hair Pick Up.
CONS
Yes
• No Smartphone App & Wi-Fi Support. • Amazon Alexa Not Supported. • Doesn't have a Wet Mopping Feature. • Can't deep-clean thick carpets.
WAS THIS REVIEW HELPFUL TO YOU? IF YES, PLEASE SHARE IT WITH A FRIEND.