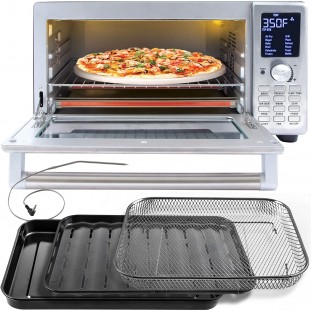 Reasons to buy NuWave Bravo XL:
Digital temperature probe
12 presets for convenient one-touch cooking.
Unbeatable temperature control
One touch cooking
Check price here....
summary Review:
PERFORMANCE

NuWave Bravo XL

Slow Cook Function
Cooking Modes or Functions
Dual Convection
Evenly Distributes Heat
Uses knobs
Easy to use

USABILITY

NuWave Bravo XL

Compact Design
Digital/LCD Display
non-stick interior
Included accessories
Interior Light
Easy Clean Up

DESIGN

NuWave Bravo XL

Watts
capacity
Item Weight
Item Dimensions
Slow Cook Function
Yes
The 6-quart, 1000-watt NuWave Nutri-Pot Digital Pressure Cooker has 11 preset cooking functions in addition to a convenient Slow Cook. And when you want to customize your settings, you can take advantage of convenient Preheat, Sear, Warm and Delay functions to ensure your food is cooked precisely the way you want. You can even program up to 5 different cooking stages into the unit using the Stage function.
Cooking Modes or Functions
Yes
The NuWave Bravo XL includes 12 preset cooking functions for air frying, baking, broiling, roasting, toasting, grilling, dehydrating, reheating, defrosting, and making restaurant-quality waffles, pizza, and bagels with the single press of a button.
Dual Convection
Yes
The Bravo XL combines conduction, convection and radiant heat to circulate and penetrate food with cyclonic hot air that ranges between 100°F and 450°F with precise 5°F increments.
Countertop Dual Convection
Cyclonic Wave Inverter Technology
Evenly Distributes Heat
Yes
It also allows a more uniform distribution of heat in food, preventing overcooking on the edges and undercooking in the center.
Uses knobs
Yes
It uses button and knob control for the selection of the cooking function, to set the timer, the temperature selection.
Easy to use
Yes
With intuitive digital controls and 40 easy-to-follow recipes included, it's never been easier to air fry, bake, roast, broil and so much more. And with the precise temperature and time control, fully adjustable quartz heating elements, and fan speeds, just about anyone can cook like a pro.
Compact Design
Yes
With product 20 x 13.5 x 11 inches dimensions this toaster oven is lighter in weight, lower in noise.
Digital/LCD Display
Yes
It has a blue display timer to monitor the time when cooking and temperature within the oven.
non-stick interior
Yes
The oven's stainless steel interior makes cleaning even the toughest stuck-on messes a breeze
Included accessories
Yes
Heavy-duty cooking racks, non-stick enamel baking pan, silicone pad and stainless steel tray.
Interior Light
Yes
The oven features an interior light to monitor the progress of the meal preparation.
Easy Clean Up
Yes
The non-stick interior and the removable racks make cleaning this toaster oven very easy.
Item Dimensions
Yes
20 x 13.5 x 11 inches
WAS THIS REVIEW HELPFUL TO YOU? IF YES, PLEASE SHARE IT WITH A FRIEND.