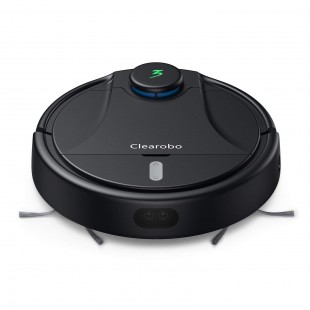 Reasons to buy OPOVE Clearobo 3:
Virtual wall and restricted zone.
Selective region cleaning.
Carpet booster.
Continuous cleaning.
Check price here....
summary Review:
PERFORMANCE

OPOVE Clearobo 3

CLEANS UNDER FURNITURE
COVERAGE
SUCTION POWER
IDEAL FOR HOMES WITH PETS
BATTERY LIFE
MULTI-FLOOR CLEANING
DEEP CLEANS THICK CARPETS
FOR LARGE ROOMS
AUTO DOCKS AND RECHARGE
RESUMES AFTER AUTO RECHARGING
MULTI-ROOM NAVIGATION
AVOIDS STAIRS AND OBJECTS
QUIET OPERATION
BOOSTS SUCTION POWER
HEPA FILTER
MAPS & PLANS ROUTE
SWEEPS AND MOPS
CONCENTRATED CLEANING

USABILITY

OPOVE Clearobo 3

HASSLE FREE OPERATION
REMOTE CONTROL WITH MOBILE APP
WIFI CONNECTED
CAN BE SCHEDULED
WORKS WITH ALEXA
ZONE CLEANING

DESIGN

OPOVE Clearobo 3

LARGE DEBRIS BIN
LOW PROFILE DESIGN
BOUNDARY STRIPS INCLUDED
BATTERY CAPACITY
DUST BIN CAPACITY
VIRTUAL WALL INCLUDED
PRODUCT DIMENSIONS
WEIGHT

CONCLUSION
CLEANS UNDER FURNITURE
Yes
This robot vacuum is able to clean under hard to reach places with its 3.81inch (97mm) height.
SUCTION POWER
Yes
It has a 2200Pa suction power that delivers deeper clean on carpet, also remove more pet hairs.
IDEAL FOR HOMES WITH PETS
Yes
The strong suction power is ideal to remove more pet hairs from the carpets making it a good fit for homes with pets.
CLEAN CORNERS AND ALONG WALLS
BATTERY LIFE
Yes
180 minutes of cleaning time, designed to cover the whole house
MULTI-FLOOR CLEANING
Yes
This device is able to clean various floor types ranging from hard floor types to deep thick carpets.
DEEP CLEANS THICK CARPETS
Yes
On carpet, Clearobo automatically increases its vacuum power to provide a thorough clean.
FOR LARGE ROOMS
Yes
5200mAh Lithium-Ion Battery which lasts 180 minutes of cleaning time is designed to cover the whole house.
AUTO DOCKS AND RECHARGE
Yes
When Clearobo's battery is low, it will automatically return to the charging base and recharge.
RESUMES AFTER AUTO RECHARGING
Yes
This unit is able to resume cleaning right where it left off after auto recharging.
MULTI-ROOM NAVIGATION
Yes
This device is able to navigate from room to room.
AVOIDS STAIRS AND OBJECTS
Yes
This robotic vacuum is able to avoid stairs and objects.
QUIET OPERATION
Yes
This device is quiet enough making it possible to work or do something else while it's cleaning.
BOOSTS SUCTION POWER
Yes
Strong 22000Pa suction and with automatic carpet boost. Ideal for all floor types.
HEPA FILTER
Yes
This device has a high efficiency heap filter that is ideal for picking up dust and other airborne particles.
MAPS & PLANS ROUTE
Yes
Precision laser navigation. Z-shape cleaning path. Selective room cleaning. Faster and better.
SWEEPS AND MOPS
Yes
Snap on the mop unit for easy vacuuming and mopping.
CONCENTRATED CLEANING
Yes
Has a max mode for concentrated cleaning which increases the suction power to deal with messes.
HASSLE FREE OPERATION
Yes
With the help with Radio Frequency technology, you can command device from any room in your house. You can initiate a cleaning session; pre-program the sessions with voice command. It comes with a WIRELESS COMMAND CENTER.
REMOTE CONTROL WITH MOBILE APP
Yes
Device comes with a remote control that lets you schedule cleaning and control it for your own convenience.
WIFI CONNECTED
Yes
Device is WIFI connected which makes it more convenient to use.
CAN BE SCHEDULED
Yes
Schedule cleaning for one specific room, with different suction levels and water flows.
WORKS WITH ALEXA
Yes
You can control the device using voice control on Alexa.
ZONE CLEANING
Yes
Virtual no-go and virtual no-mop zones, ideal for carpets or rugs.
LARGE DEBRIS BIN
Yes
Device has a large bin with a holding capacity of over 30 days cleaning sessions.
LOW PROFILE DESIGN
Yes
This device's thin design allows it to easily coast below furniture to provide thorough clean throughout your home.
BOUNDARY STRIPS INCLUDED
Yes
Device has an 8' BotBoundary strip to enable it to avoid obstacles and ledges.
VIRTUAL WALL INCLUDED
Yes
To setting Virtual Wall & Restricted Zone through opove App, so you can leave your stuff where it is and tell your robot where not to go.
PRODUCT DIMENSIONS
Yes
13.8 x 13.8 x 3.8 inches
PROS
Yes
Virtual wall and restricted zone. Continuous cleaning. Carpet booster. Selective region cleaning. Multi floors mapping. Strong mobility. Quiet cleaning. Mopping.
CONS
Yes
This device has no full bin indicator. This unit cannot empty itself.
WAS THIS REVIEW HELPFUL TO YOU? IF YES, PLEASE SHARE IT WITH A FRIEND.