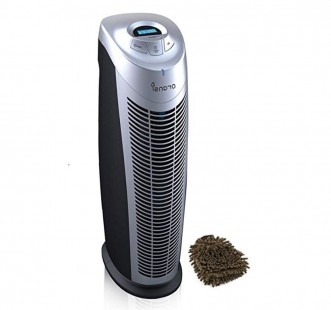 Reasons to buy Oransi Finn OVHT9908:
Quiet Air Purifier
Ideal as a Bedroom Air Purifier for Asthma
Simple to Use
HEPA UV Air Purifier
Check price here....
summary Review:
PERFORMANCE

Oransi Finn OVHT9908

HEPA FILTER
FOR LARGE ROOMS
REMOVES CIGARETTE ODOR
ROOM SIZE AND AIRFLOW
FIGHTS GERMS
ELIMINATES DUST MITES
REMOVES PET DANDER
GETS RID OF POLLEN
REMOVES SMOKE
REMOVES MOLD
TRAPS ALLERGENS
QUIET OPERATION
WASHABLE PRE-FILTERS
EASY FILTER REPLACEMENT
WATTAGE
ENERGY STAR

USABILITY

Oransi Finn OVHT9908

CONTROLS AND MODES
FILTER REPLACEMENT REMINDER
ECONOMICAL
FILTER LIFE - BASED ON USE

SAFETY
APPEARANCE

Oransi Finn OVHT9908

DESIGN
SIZE AND APPEARANCE
WEIGHT
HEPA FILTER
Yes
Has a V-Hepa filter- eliminates 98% of airborne particles that trigger sickness. Coordinates with 2 extra pre-filters; carbon pre-filter and main filter.
FOR LARGE ROOMS
Yes
Suitable for large rooms within 400 square feet. Provides high air purification within this range.
REMOVES CIGARETTE ODOR
Yes
Carbon pre-filter – removes cigarette odor and other smells. Makes your indoor air fresh and comfortable to live in.
ROOM SIZE AND AIRFLOW
Yes
Has a room size coverage of 400 square feet. Ideal for small to medium sized rooms. airflow covers entire range within a short time.
FIGHTS GERMS
Yes
Fights germs using UV light– destroys the finer sized particles like germs and viruses. No more bacterial infections caused by germs indoors.
ELIMINATES DUST MITES
Yes
Eliminates dust mites. Dust mites are common in carpets. Cause illnesses like sneezing, coughing, runny nose and other allergies.
REMOVES PET DANDER
Yes
Effective and pet dander removal. Gathers and traps flecks that fall off pets. Improves relationships with pets like cats, dogs, birds etc.
GETS RID OF POLLEN
Yes
Utilizes 3 fan speeds and V-hepa filter to remove pollen. Prevents you from suffering with pollen allergy.
REMOVES SMOKE
Yes
Removes all smoke kinds of smoke – won't miss an air spot using V lock/seal. Filters cigarette, wildfire, fireplace, kitchen smoke etc.
REMOVES MOLD
Yes
Effortlessly removes mold fungi- water leakages, humidity and damp indoors produce mold. Exposure to mold causes body allergy.
TRAPS ALLERGENS
Yes
Combines 3 filtration system o remove allergens. Carbon pre-filter traps larger allergens and main filter eliminates finer particles. Hepa removes microscopic allergens.
QUIET OPERATION
Yes
Whisper quiet operation – lowest noise level is 40 db, average level of 49 db and maximum at 60 db. Noise level is not bothersome.
WASHABLE PRE-FILTERS
Yes
Features a clean indicator – alerts once the filter is dirty and requires being cleaned. pre-filter can be rinsed with water to maintain effectiveness.
EASY FILTER REPLACEMENT
Yes
Simple to replace filters with easy filter access. Take out the filter after opening and replace with new filter. Air purifier won't operate if its cover is open.
AUTOMATICALLY DETECTS AIRBORNE PARTICLES
WATTAGE
Yes
Uses average power of 55 wattage; Will not consume alarming amounts of electricity even on full time usage.
ENERGY STAR
Yes
Certified by energy star – uses the required amount of power. Meets the energy standard set by Energy star.
CONTROLS AND MODES
Yes
Features a number of electronic controls and modes that determine its functionality. Has v-lock/v-seal 3 fan speeds, LCD display, and indicators.
FILTER REPLACEMENT REMINDER
Yes
Filter indicator – alerts you when it's almost time to change the filters. Endeavor to buy filters of the same brand because of suitability.
ECONOMICAL
Yes
Operates at only 55 watts or less – economical in terms of costs of operation. Also certified by energy star as low power consuming.
IDEAL FOR ASTHMATIC PEOPLE
FILTER LIFE - BASED ON USE
Yes
V-hepa filter has an extended life of 2 years depending on usage. Saves on your money from constant replacement of filter.
OZONE FREE
Yes
Ozone safe – certified by the State of California Air Resources Board as ozone safe. Will not creates harmful ozone as it purifies your air.
DESIGN
Yes
Trendy and compact design – has a small footprint design. Easily fits in living rooms, bedrooms and offices. Stands perfectly along other household appliances.
SIZE AND APPEARANCE
Yes
Small size of 12.8 x 8.8 x 24 Inches
WEIGHT
Yes
10 pounds – lightweight
WAS THIS REVIEW HELPFUL TO YOU? IF YES, PLEASE SHARE IT WITH A FRIEND.