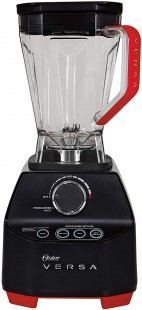 Reasons to buy Oster Versa Blender:
It lets you move difficult-to-process ingredients down into the blade for perfect blends.
Includes 2 color cookbooks with recipes to inspire you;
Three programmed settings smoothies, dips/spreads and Soup.
64-Ounce BPA-free Tritan jar
Check price here....
summary Review:
PERFORMANCE

Oster Versa Blender

Smoothie Maker
Capacity
Stainless steel Blade
Makes Hot Soups
Easy To Clean
Heavy / Commercial Duty Performance
Ideal for blending medium to large batches

FEATURES

Oster Versa Blender

Pulse Button
Preprogrammed Cycles
Commercial-Grade Motor
Sturdy Base
Variable Speed Control
comes with a tamper
High-Performance Motor
Ice Crusher
BPA-Free Jar

DESIGN

Oster Versa Blender

Volts
Watts
Low Profile Container
Low Profile Blender
Included Accessories

CONCLUSION
Smoothie Maker
Yes
It is a perfect smoothie maker.
Stainless steel Blade
Yes
Stainless steel blade spins at over 250 mph thoroughly blending ingredients so recipes turn out Perfect every time
Makes Hot Soups
Yes
You can make hot soups in this blender without worrying about the impact it has on the blender. You can add hot ingredients to the pitcher and have hot results thereafter. Choose and create your ideal blend, whether you like chunky soups, silky smooth juices, or creamy smoothies.
Easy To Clean
Yes
The pitcher is BPA-free and dishwasher safe, making cleanup just as simple and easy as using the blender.
Pair with any SELF-DETECT containers
Heavy / Commercial Duty Performance
Yes
The powerful motor and huge blending capacity make this blender a heavy-duty blender.
Ideal for blending medium to large batches
Yes
With a 64 oz. pitcher, you can make drinks, smoothies, and more for the whole family.
Pulse Button
Yes
Available- Pulse feature for added control and precision.
Commercial-Grade Motor
Yes
It has a commercial-grade motor.
Sturdy Base
Yes
Prevents movement or slipping during operation.
comes with a tamper
Yes
It comes with a tamper which gives you the ability to move difficult-to-process ingredients down into the blade for perfect blends.
High-Performance Motor
Yes
Its powerful 1400-watt motor and 250 MPH blade speed blend foods to the perfect consistency and freshest taste. Make the most of your ingredients and explore the blend abilities.
Ice Crusher
Yes
With amazing ice crushing power, you can take ice from cubed to crushed in seconds.
BPA-Free Jar
Yes
64 oz. BPA-Free Tritan Jar with no-mess spout and easy-to-read measurements. Rubberized handle for non-slip grip and comfort while in use.
Volts
Yes
Approximately 110 to 120 volts
Low Profile Blender
Yes
It is a low-profile blender.
Included Accessories
Yes
Oster Versa 1400-Watt Professional Performance Blender With Low Profile Jar Tamper Accessory 2 Recipe Books Healthy Blends And Gourmet Cousine Limited 7-Year Warranty Manual
PROS
Yes
• Low-profile jar is a plus. The gasket appears pliable and has dual ridges to securely seal the lid; only time will tell how durable the gasket will be. • Fiber remains in the smoothies soups or purees and is no waste to dispose of as you would have in a juicer. • It will blend frozen fruit after a little work. • The mixing container is a nice big size, so you can make several days' worth at one time. • it is less than 1/2 the price of a Vitamix or other powerful blenders • it is very easy to get the container on and off the base. No complicated, tight-fitting twisting and turning - you set it down, it works. • The base is heavy and has rubberized feet. It won't walk across your counter while blending, doesn't cause crazy vibrations, even at top speed. • Lightweight, durable plastic jar and (seemingly) solid, well-made, base and motor. • Seven (7) year warranty makes the high price more tolerable. • Single piece jar--no bottom to unscrew, no leaky O-rings to fiddle with and seat properly or to lose at the bottom of the dishwasher. The top has two rows of flexible ribbing that ensure a tight seal all the way around the jar. Easily removable plug in the lid made of clear plastic. Very sturdy and heavy-grade plastic all around. • It washes easily. Rinse, put a dab of liquid dish soap add hot water and blend and then rinse the soap out. • It's easy to use. You can just use the dial or use one of the pre-set buttons. • It's stable and does not move on the countertop. • it blends frozen fruits great. I use the smoothie button and give it a little extra whir at the end to get rid of any potential lumps.
CONS
Yes
• Noise level is high. • Repeatedly pressing the "Pulse" button is the only reasonable way to chop some items. • Louder than a Vitamix by a little but noticeable amount, but still much quieter than a cheapo blender. • It is not considered dishwasher safe by the manufacturer. • The blade cannot be removed...at least not very easily. • The rubber seal on the lid comes off easily. • It can be a bit tricky to get the pitcher to sit on the base properly. • The entire unit is very large. The base alone is heavy and stands fairly high. • The manufacturer recommends wrapping the cord underneath the base and around the motor. This is just not practical when you use the blender daily. see less
WAS THIS REVIEW HELPFUL TO YOU? IF YES, PLEASE SHARE IT WITH A FRIEND.