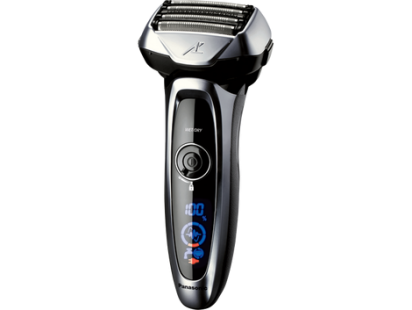 Reasons to buy Panasonic ES LV65 S:
Enjoy both Wet and Dry Shaving experience
High performance linear motor guarantees you with a quick shave
Built-in beard sensor detects a difference in beard density
Mult-flex pivoting heads glide smoothly along contours
Check price here....
summary Review:
PERFORMANCE

Panasonic ES LV65 S

WORKS WITH GEL OR FOAM
CPM
CONTOUR ADAPTABILITY
BEARD DENSITY SENSOR
FOR ALL SKIN TYPES
WORKS ON 3 DAY STUBBLE
FLEXIBLE HEAD
GOOD ON THICK BEARDS
CAN SHAVE HEAD

USABILITY

Panasonic ES LV65 S

ERGONOMIC HANDLE
FULLY WASHABLE
CHARGING TIME
CORDLESS

DESIGN

Panasonic ES LV65 S

TYPE
MECHANISM
DISPLAY
BUILD UP
TRIMMER
BATTERY LIFE
ACCESSORIES
WORKS WITH GEL OR FOAM
Yes
You can decide on whether to shave wet or dry depending on your skin type. Those who prefer cutting their beards while at the sink, you can opt for a dry shave. This Arc5 shaver is 100% waterproof, so you can shave with foam, cream and gel.
CPM
Yes
This is a high performance shaver belonging to the ARC5 family. Its strong linear motor delivers 14,000 cpm and 70,000 cross-cutting actions per minute across all the 5 sharp blades. Thus making the shaver fast and efficient.
CONTOUR ADAPTABILITY
Yes
Its Multi-Flex pivoting head will glide smoothly along all facial, neck and jaw line without losing direct contact with the skin. This will guarantee you with a clean, close and uniform shave.
BEARD DENSITY SENSOR
Yes
Features a built-in beard sensor which constantly checks and monitors the difference in beard density as you shave. The shaver will automatically adjust its power for a comfortable clean shave.
FOR ALL SKIN TYPES
Yes
Can be used by anyone. It does not matter the type of skin you have. Its foils system is tender on skin and tough on hair. Those with ingrown hairs, you should try out this shaver.
WORKS ON 3 DAY STUBBLE
Yes
Features a 5 ultra sharp precision blades that are honed at 30 degrees inner blades and a Lift-Tech foil system which pick-up short and flat lying hairs for thorough cutting without pulling or nicking the skin.
FLEXIBLE HEAD
Yes
The Multi Flexible pivoting head can move bark and forth, Side to side reaching all hard-to-shave areas like the neck and jaw lines.
GOOD ON THICK BEARDS
Yes
The built-in beard sensor will adjust shavers speed and power to cut through a thick beard with ease. You will get a real close shave with just a few passes.
CAN SHAVE HEAD
Yes
Absolutely yes. The shaver has a wide head and 5 sharp blades angled at 30 degrees. It also features a very strong and powerful linear motor which makes 70,000 cross cuttings per minute.
ERGONOMIC HANDLE
Yes
The ergonomic handle has a rubberized finished at the back which improves on the shavers grip. So it won't just slip off your hands when wet grooming.
FULLY WASHABLE
Yes
It is 100% waterproof so you can immerse it in water for cleaning or shave while in the shower.
CHARGING TIME
Yes
1 hour of charging time. This will give you up to 40 minutes of grooming time.
CORDLESS
Yes
100% cordless. Charge it fully before using it. When plugged into power, the shaver wn't turn on as a safety feature.
TYPE
Yes
Foil shaver with Hypoallergenic Blades that cut close to the skin without causing irritations.
MECHANISM
Yes
Its advanced mechanism is made up of the following features; High performance 14,000 cpm linear motor, Five Ultra-Sharp Precision Blades, Active Shave Sensor Technology which detects beard density, Multi-Flex Pivoting Shaver Head, Lift-Tech Foil System for capturing flat laying hair and Wet Dry Shaver Convenience
DISPLAY
Yes
The LED display shows battery status - so you get to know when to recharge the shaver, clean reminder and blade replacement reminder.
BUILD UP
Yes
High quality build-up. This Arc5 model is very strong, fast and efficient.
TRIMMER
Yes
Features a precision Pop-up trimmer that can be use to detail sideburns and mustache.
BATTERY LIFE
Yes
40 minutes of run time when charged fully for 1 hour
ACCESSORIES
Yes
AC adaptor, cleaning brush, travel safety lock and travel pouch.
WAS THIS REVIEW HELPFUL TO YOU? IF YES, PLEASE SHARE IT WITH A FRIEND.