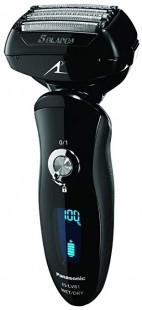 Reasons to buy Panasonic ES LV81 K:
Powerful,Fast and Efficient
Exceptional closeness and comfort
Multi-Flex pivoting head glides effortlessly along the face
It is Wet and Dry
Check price here....
summary Review:
PERFORMANCE

Panasonic ES LV81 K

WORKS WITH GEL OR FOAM
CPM
CONTOUR ADAPTABILITY
FOR ALL SKIN TYPES
WORKS ON 3 DAY STUBBLE
FLEXIBLE HEAD
GOOD ON THICK BEARDS
CAN SHAVE HEAD

USABILITY

Panasonic ES LV81 K

ERGONOMIC HANDLE
FULLY WASHABLE
CLEANING MACHINE
CHARGING TIME
CORDLESS

DESIGN

Panasonic ES LV81 K

TYPE
MECHANISM
DISPLAY
BUILD UP
TRIMMER
BATTERY LIFE
ACCESSORIES
WORKS WITH GEL OR FOAM
Yes
Enjoy either wet or dry shaving at any time of the day.
CPM
Yes
This is a quite a fast shaver, it has a powerful Hyper Performance Linear Motor which delivers 14,000 cuts per minute which computes to 70,000 cross cutting actions per minute across all 5 Arc5 blades.
CONTOUR ADAPTABILITY
Yes
The 5 multi-fit Arc blades float independently following all facial contours of your face, chine and neck for clean, smooth and close shave
FOR ALL SKIN TYPES
Yes
Can be used by everyone. This is a wet and dry foil shaver
WORKS ON 3 DAY STUBBLE
Yes
The combination of the Lift-Tech foil system and the 30-Degree Stainless Steel Nanotech Blades will ensure that 3 day stubble is shaved in no minutes. Its ARC 5 blades and foil system work together to provide you with a clean & close shave.
FLEXIBLE HEAD
Yes
Features a Face-Hugging Multi-Flex Pivoting Head which moves 25 degrees Back and Forth, 20 Degrees left and right. This shaver can reach all hard to reach area.
GOOD ON THICK BEARDS
Yes
With its 30-Degree angled Stainless Steel Nanotech Blades, no thick beard will remain standing. These 5 stainless steel blades are sharp and strong - they are beneath the smooth foil system, so they don't get direct contact with the skin
CAN SHAVE HEAD
Yes
Yes, you can use it to shave your head. It had a big head which covers a wide surface area. The sharp Arc5 angled blades can cut through hair on the head
ERGONOMIC HANDLE
Yes
It has an ergonomic handle which is rubberized to provide extra grip when wet shaving. The handle will fit very well in your hands so you won't get tired of using this shaver
FULLY WASHABLE
Yes
This unit is 100% washable; you can easily shave while in the shower without worrying about water damaging your shaver. At the same time it can be cleaned under the faucet.
CLEANING MACHINE
Yes
It comes with a clean and charge station. This unit can be used to clean the shaver thoroughly after some weeks of shaving, it also charges ,lubricates and renews the shaver
CHARGING TIME
Yes
1 hour of charging time but this will give you 45 minutes of non-stop shaving
CORDLESS
Yes
It's a cordless shaver with a premium automatic clean & charge station and an AC Recharger
TYPE
Yes
Arc5 foil shaver featuring 5 Multi-fit Arc Blades and a Lift-Tech Foil System made up of 5 foils that work together to offer you with an extremely close shave. Available foils include: 1.A finishing foil which captures and cuts stubborn hairs, 2.Lift-Tech foil which lifts and cuts flat laying hairs, Quick-Comb Blade which cuts longer hairs.
MECHANISM
Yes
Its shaving mechanism is made up of the following features: Lift-Tech Foil System, Face-Hugging Multi-Flex Pivoting Head,30-Degree Stainless Steel Nanotech Blades, Fast Linear Motor Drive, Multi-fit Arc Blades, Wet/Dry Shaving and a Pop-up Trimmer
DISPLAY
Yes
It has a 10 stage illuminated Blue LCD Display which shows battery status, charge indicator and a reminder to use a cleaning station.
BUILD UP
Yes
Has a wide shaving head featuring 5 blades and a well shaped ergonomic handle plus a detailed LED display. The big shaving head adds some weight on the shaver so you don't need to use any pressure when shaving.
TRIMMER
Yes
Features a trimmer at the back of the shaver.It is easily accessible for beard trimming and side burn grooming.
BATTERY LIFE
Yes
It lasts for 45 minutes once fully charged.
ACCESSORIES
Yes
Premium Automatic Clean and Charge Station,Detergent Cartridge,AC Recharger,Travel Pouch
WAS THIS REVIEW HELPFUL TO YOU? IF YES, PLEASE SHARE IT WITH A FRIEND.