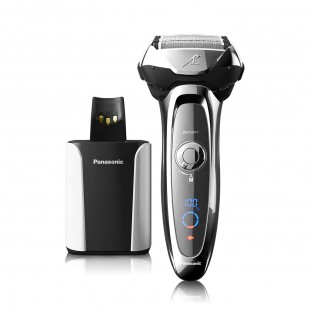 Reasons to buy Panasonic ES LV95 S:
High-performance Motor with a Linear Drive
Multi-Flex Pivoting Head
Can be used to shave head
Offers a clean close shave
Check price here....
summary Review:
PERFORMANCE

Panasonic ES LV95 S

WORKS WITH GEL OR FOAM
CPM
CONTOUR ADAPTABILITY
BEARD DENSITY SENSOR
FOR ALL SKIN TYPES
WORKS ON 3 DAY STUBBLE
FLEXIBLE HEAD
GOOD ON THICK BEARDS
CAN SHAVE HEAD

USABILITY

Panasonic ES LV95 S

ERGONOMIC HANDLE
FULLY WASHABLE
CLEANING MACHINE
CHARGING TIME
CORDLESS

DESIGN

Panasonic ES LV95 S

TYPE
MECHANISM
DISPLAY
BUILD UP
TRIMMER
BATTERY LIFE
ACCESSORIES
WORKS WITH GEL OR FOAM
Yes
You decide which option works better for you, is it Wet or Dry shaving. Those with sensitive skins, you can shave in the shower with gel, foam or water. The main purpose of shaving cream is to soften facial hair so that it becomes easy to shave
CPM
Yes
This shaver is powered by a strong Linear Motor which delivers 14,000 cuts per minute and these equate to 70,000 crosscutting actions per minute and does this while maintaining its peak power up to the end.
CONTOUR ADAPTABILITY
Yes
It has both the Multi Flex Pivoting head and ultra-sharp precision-honed 30° Nanotech blades that follow your facial contours to offer you with a clean close shave. The Pivoting head will glide smoothly on your face,neck, chic and jaw following each contour thus guarantee you with a clean close shave
BEARD DENSITY SENSOR
Yes
It comes with a Built-in shaving sensor which monitors a difference in facial hair density thus adjust the shaver's cutting speed automatically for exceptional comfort.
FOR ALL SKIN TYPES
Yes
Since it is a WET&DRY Shaver, you can use it with shaving gel to protect that sensitive skin from friction & irritation. The Ultra-thin ARC foil is very tender on skin and the precision-honed 30° Nanotech blades are beneath the thin foil so they never get intouch with the skin.
WORKS ON 3 DAY STUBBLE
Yes
The beard density sensor will automatically detect 3 day stubble and set the shaver to cut it appropriately without pulling or nicking your facial skin.
FLEXIBLE HEAD
Yes
The Arc 5 Multi Flex Pivoting Head flexes side-to-side and back-and-forth to follow your facial contours – making sure the shaver reaches all hard-to-shave areas.
GOOD ON THICK BEARDS
Yes
Due to its 5 Arc ultra-sharp precision-honed 30° Nanotech blades - no thick beard will be left standing. It also features a wide shaving head which covers a wide surface area - so you will get a quick close shave with a few strokes no matter the thickness of the beard.
CAN SHAVE HEAD
Yes
Yes, you can use it to shave hair on the head. Its auto hair density sensor will detect the thickness of hair on your head thus increase on the speed and strength of the shaver. The Wide shaving head will help you get a quick head shave.
ERGONOMIC HANDLE
Yes
Its ergonomic handle makes it easy to use while in the shower or when wet shaving. It is quite heavy but this saves you from using extra pressure when shaving.
FULLY WASHABLE
Yes
Since it is a wet and dry shaver, it is 100% washable. Always clean it after shaving to keep it safe for use for a next shave. Run the shaver under tap water and use a brush to remove both Gel & hair caught up in the blades & foil.
CLEANING MACHINE
Yes
It comes with a premium automatic cleaning and charging station which cleans, dries, and charges the shaver with a touch of a button. This cleaning station uses special cleaning cartridge which you can buy on Amazon / Panasonic.com
CHARGING TIME
Yes
60 minutes of full battery charging offers you with 45 minutes of non-stop shaving.
CORDLESS
Yes
Yes, it is a cordless foil shaver
TYPE
Yes
Foil shaver with 5 blades and a high-performance Liner Motor which makes 14,000 Cuts Per Minute
MECHANISM
Yes
Lift-Tech Foil System which captures, holds and exposes all types of hair to ultra-sharp precision-honed 30° Nanotech blades for close shaving without irritating the skin.
DISPLAY
Yes
The Digital Interface will always show you battery status and also inform you on when to clean the shaver using a cleaning station that comes with it.
BUILD UP
Yes
Premium build-up. It feels so durable while in hands.
TRIMMER
Yes
Features a beard trimmer is found at the back of the shaver.
BATTERY LIFE
Yes
45 minutes once it is fully charged for 1 hour
ACCESSORIES
Yes
Self-cleaning Recharger for keeping the shaver new all the time, Adaptor, Detergent, Travel Pouch time
WAS THIS REVIEW HELPFUL TO YOU? IF YES, PLEASE SHARE IT WITH A FRIEND.