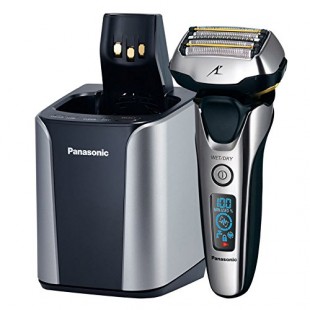 Reasons to buy Panasonic ES LV9N S:
Will give you a clean close shave with a few passes
Friendly on Sensitive Skins
Very quiet and reaches all areas
Premium foil shaver with high end features
Check price here....
summary Review:
PERFORMANCE

Panasonic ES LV9N S

WORKS WITH GEL OR FOAM
CPM
CONTOUR ADAPTABILITY
BEARD DENSITY SENSOR
FOR ALL SKIN TYPES
WORKS ON 3 DAY STUBBLE
FLEXIBLE HEAD
GOOD ON THICK BEARDS
CAN SHAVE HEAD

USABILITY

Panasonic ES LV9N S

ERGONOMIC HANDLE
FULLY WASHABLE
CLEANING MACHINE
CHARGING TIME
CORDLESS

DESIGN

Panasonic ES LV9N S

TYPE
MECHANISM
DISPLAY
BUILD UP
TRIMMER
BATTERY LIFE
ACCESSORIES
WORKS WITH GEL OR FOAM
Yes
Can be used dry or wet while in the shower. So if you have been having issues with ingrown hairs and sensitive skin issues. This shaver will be your savoir. Quick dry shaves work for those with non-sensitive skins.
CPM
Yes
This unit is fast and efficient. It is powered by a high performance motor which makes 14,000 cuts per minute. So if it comes to shaving thick beard, you will have a real close shave within a few minutes.
CONTOUR ADAPTABILITY
Yes
So, as you're shaving, the 3D Multi-flex pivoting heads move back-and-forth,up-and-down, and side-to-side following individual contours on your face,neck and jaw ensuring that no hair is left un-cut.
BEARD DENSITY SENSOR
Yes
The automatic beard sensor will always study and understand the density or thickness of your beard, thus adjust the shaver's power so that you get a consistent shave and clean results.
FOR ALL SKIN TYPES
Yes
Since it is a wet and dry shaver, it can be used by people of all types of skins.
WORKS ON 3 DAY STUBBLE
Yes
It has powerful precision 5 blades that shave as closer as a manual razor and a Lift-Tech foil which uses reverse tapered edges to lift, hold and shave short stubble and flat lying hairs.
FLEXIBLE HEAD
Yes
Features a 3D Multi-Flex pivoting head which moves up/down, side-to-side and back and forth following all contours on your face, neck and jaw line ensuring you with a real clean close shave.
GOOD ON THICK BEARDS
Yes
With its powerful Arc5 precision blades, 14,000 CPM linear Motor and Beard sensor technology - No thick beard will remain standing. You will archive a real close shave with a few passes.
CAN SHAVE HEAD
Yes
Yes, due to its strength, wide shaver head, power and the Arc5 sharp blades, it can be used to shave your head.
ERGONOMIC HANDLE
Yes
The new improved Arc5 handle is designed to fit in all hands, the masculine and small. It is ergonomic and features a soft-touch rubber with a textured surface to improve on the shaver's grip.
FULLY WASHABLE
Yes
This unit is 100% washable. You can immerse it in water and nothing will happen to it. Performs well while in the shower and can be used with gel/cream.
CLEANING MACHINE
Yes
The Cleaning System will give you effortless maintenance. It keeps your shaver's blades new all the time, Lubricates the shaver and charges it as well.
CHARGING TIME
Yes
1 hour charge time will give you 60 minutes of grooming time. But a quick 5 minutes charge can give you one shave.
CORDLESS
Yes
100% cordless shaver.
TYPE
Yes
Arc5 Foil shaver featuring 5 sharp blades that shave as close to the skin, 3 micro-thin, hypoallergenic ARC foil which protects the skin and Smooth skincare rollers that offer exceptional results.
MECHANISM
Yes
This unit's mechanism is made up of the following: Advanced 5-Blade Floating ARC System, 3D Multi-Flex Pivoting Head and an ARC5 Skin Comfort Foil System, Beard Sensor technology, beard trimmer and Wet/Dry option
DISPLAY
Yes
Features a large display screen which shows battery status, travel lock, clean reminder and blade replacement reminder.
BUILD UP
Yes
Premium build-up. This is the most beautiful electric shaver for men on the market.
TRIMMER
Yes
Features a precise beard trimmer at the back of the unit's head. Use this precise trimmer to shape your mustache and sideburn.
BATTERY LIFE
Yes
Operated for 60 minutes once it is fully charged
ACCESSORIES
Yes
Clean & Charge System, Travel Pouch, Charging Plug
WAS THIS REVIEW HELPFUL TO YOU? IF YES, PLEASE SHARE IT WITH A FRIEND.