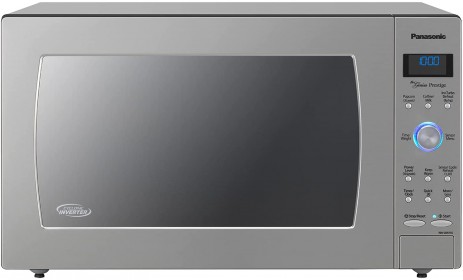 Reasons to buy Panasonic Oven NN SD975S:
Cyclonic wave inverter oven
Auto reheat for coffee/milk
3-level popcorn button
Child safety lock
Check price here....
summary Review:
PERFORMANCE

Panasonic Oven NN SD975S

Cooking Modes or Functions
Cyclonic Wave Inverter Technology
Evenly Distributes Heat
Smart Oven
Uses knobs
Easy to use

USABILITY

Panasonic Oven NN SD975S

Compact Design
Digital/LCD Display
Interior Light
Easy Clean Up

DESIGN

Panasonic Oven NN SD975S

Watts
Large Capacity
capacity
Item Weight
Item Dimensions
Cooking Modes or Functions
Yes
This family-size, 10 power-level microwaves makes every day cooking push-button easy with 20 preset menus for entrees and vegetables, quinoa, pizza, pastas and more.
Countertop Dual Convection
Cyclonic Wave Inverter Technology
Yes
At every temperature level, cyclonic wave circulates heat in ultra-efficient 3D waves for easier more versatile food preparation even with complex food textures, while patented Inverter technology delivers a constant stream of cooking power for evenly cooked meals - edges to center.
Evenly Distributes Heat
Yes
Microwaves in 3D Cyclonic Wave Technology which evenly distributes energy throughout the entire cavity and heats any size or portion
Smart Oven
Yes
Panasonic's Genius Sensor cooks and reheats to easily create healthy meals automatically by simply setting power levels and adjusting cooking or defrosting times.
Uses knobs
Yes
It uses a blue-illuminated knob.
Easy to use
Yes
A blue-illuminated dial, button controls, LED readout, 20 preset menus and 10 power levels provide automatic ease for tasty, vitamin-rich foods. Manual controls help you create and cook from scratch.
Compact Design
Yes
An intelligent design devotes less space to electronics and more to interior capacity. The result is a large 2.2 cu.ft interior with a compact outside footprint that takes up less space on your countertop.
Digital/LCD Display
Yes
A blue-illuminated dial, button controls, LED readout.
Interior Light
Yes
The Panasonic Oven NN-SD975S has an interior light which will make it easy for you to monitor the cooking progress.
Easy Clean Up
Yes
The nonstick interior makes cleaning this oven super easy.
Large Capacity
Yes
It holds a large capacity of meals making it perfect for families.
Item Dimensions
Yes
19.44 x 23.88 x 14 inches
WAS THIS REVIEW HELPFUL TO YOU? IF YES, PLEASE SHARE IT WITH A FRIEND.