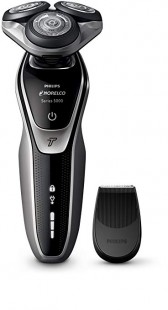 Reasons to buy Philips Norelco 5500:
It is a wet and dry electric shaver
Turbo mode makes the shaver 10x faster and powerful
Flexible shaving heads reach all hard to shave areas
Affordable
Check price here....
summary Review:
PERFORMANCE

Philips Norelco 5500

WORKS WITH GEL OR FOAM
CONTOUR ADAPTABILITY
FOR ALL SKIN TYPES
WORKS ON 3 DAY STUBBLE
FLEXIBLE HEAD

USABILITY

Philips Norelco 5500

ERGONOMIC HANDLE
SPEED SETTINGS
FULLY WASHABLE
CHARGING TIME
CORDLESS

DESIGN

Philips Norelco 5500

TYPE
MECHANISM
DISPLAY
BUILD UP
TRIMMER
BATTERY LIFE
ACCESSORIES
WORKS WITH GEL OR FOAM
Yes
This is an Aquatec Wet and dry shaver. You can choose how you would like to shave. Those with sensitive skins can shave with gel while those with normal skins can opt for a dry shave. It is fully waterproof, so you can shave while in the shower.
CONTOUR ADAPTABILITY
Yes
Its contouring system is made of 3 shaver heads and circular blades that rotate in 5 different directions capturing hair on every contour on your face, neck and jaw line
FOR ALL SKIN TYPES
Yes
Since it is a wet and dry shaver, anyone can enjoy a comfortable close shave with this shaver. Choose to shave wet or dry depending on your skin type.
WORKS ON 3 DAY STUBBLE
Yes
It will use its lift and cut blade system to capture and shave 3 day stubble. This system is made up of 2 blades. One blade lifts the short hair while the 2nd blade cuts. In addition to that, the flexible shaving head will follow each and every contour on your face, keeping close contact with the skin thus capture more short hair in a single pass.
FLEXIBLE HEAD
Yes
It features 3 flexible shaver heads that pivot up to 5 directions keeping close contact with the skin so as to provide you with a clean close shave.
ERGONOMIC HANDLE
Yes
It features a slim ergonomic handle that fits in both small and large hands.
SPEED SETTINGS
Yes
To some extent you can customize the functionality of this shaver by using the Turbo Mode function. This one will boost the shaver's power and speed 10 times. So if you want a quick shave early in the morning, opt for this turbo mode function.
FULLY WASHABLE
Yes
Due to its AquaTech feature, this model can be immersed in water and it won't get any damages. It is 100% water proof, so you can enjoy that comfortable wet shave while in the shower.
CHARGING TIME
Yes
1 hour of full battery charge will give you 45 minutes of grooming time. On the other hand, you can as well opt for a quick 5 minutes charge and get a single shave.
CORDLESS
Yes
Fully a cordless shaver. So safety reasons, Philips have disabled functionality when the shaver is plugged into power since it's a wet and dry shaver.
TYPE
Yes
It is a rotary shaver with circular blades that shave as close as possible. Rotary shavers use circular blades which shave in a circular motion.
MECHANISM
Yes
Norelco 5500's mechanism is made up of the following functions: MultiPrecision Blade System, Turbo mode which boosts the shaver 10x, 5 direction flexible heads and Aquatec Wet and Dry
DISPLAY
Yes
Features a summarized LED Display which shows only relevant information and this includes; battery status, Cleaning indicator, Travel lock and Replacement head indicator
BUILD UP
Yes
The shaver looks beautiful all durable. It is light weight and very easy to use. Its circular blades are available on Amazon so you don't have to worry about replacement blades. The ergonomic handle makes it easy to use the shaver while in the shower.
TRIMMER
Yes
Features a detachable Smart Click precision trimmer which can be used to shape sideburns or mustache.
ACCESSORIES
Yes
SmartClick precision trimmer, power cord and protective cap
WAS THIS REVIEW HELPFUL TO YOU? IF YES, PLEASE SHARE IT WITH A FRIEND.