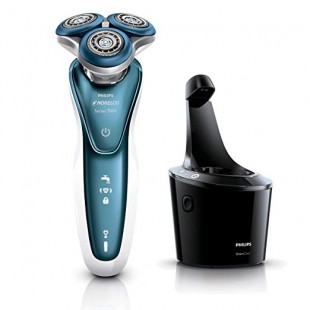 Reasons to buy Philips Norelco 7500:
Ideal on sensitive skins due to its smooth shaving heads
Enjoy a comfortable Wet or dry shave
Affordable and effective shaver
Protects your skin while cutting hair extremely
Check price here....
summary Review:
PERFORMANCE

Philips Norelco 7500

WORKS WITH GEL OR FOAM
CONTOUR ADAPTABILITY
FOR ALL SKIN TYPES
WORKS ON 3 DAY STUBBLE
FLEXIBLE HEAD

USABILITY

Philips Norelco 7500

ERGONOMIC HANDLE
FULLY WASHABLE
CLEANING MACHINE
CHARGING TIME
CORDLESS

DESIGN

Philips Norelco 7500

TYPE
MECHANISM
DISPLAY
BUILD UP
TRIMMER
BATTERY LIFE
ACCESSORIES
WORKS WITH GEL OR FOAM
Yes
The AquaTec Technology enables you to enjoy a comfortable wet or dry shave. You can opt for a quick dry shave if your skin is not sensitive but those with sensitive skins you should opt for wet shaving.
CONTOUR ADAPTABILITY
Yes
Using its DynamicFlex Technology, the shaving heads will effortlessly move in 5 directions following every curve & contour on your face thus offer you with a clean, close and uniform shave
FOR ALL SKIN TYPES
Yes
Due to its AquaTec Technology, Norelco 7500 can be used on skin types. Those with normal skins can opt for dry shaving while those sensitive skins should opt for WET shaving.
WORKS ON 3 DAY STUBBLE
Yes
Using its gentle precision blades which cut as close as possible without nicking the skin, Norelco 7500 can shave even 1-3 day stubble.
FLEXIBLE HEAD
Yes
Features a Flexible shaving head and comfort rings that are tender on skin. The head moves up to 5 directions covering more contours thus capture more hair in all hard-to-reach-areas
ERGONOMIC HANDLE
Yes
Features a well shaped and curved ergonomic handle which is easy to hold. The handle fits very well in both small and big hands. It's a light weight shaver so you won't get tired using it for long.
FULLY WASHABLE
Yes
The shaver is 100% washable. It can't get damaged by water so you can still shave from your shower. After shaving, clean it with running tap water and a brush
CLEANING MACHINE
Yes
Comes with a SmartClean System which cleans, lubricates and charges the shaver. Using this SmartClean System will maintain the shaver's performance year-after-year
CHARGING TIME
Yes
Charges fully in 1 hour and this gives you 50 minutes of non-stop shaving, but if you want a quick shave, you can opt for 5 minutes charge.
CORDLESS
Yes
Fully cordless. Does not work when plugged into power.
TYPE
Yes
This is a rotary shaver with dynamic flexible shaving heads that move up to 5 direction featuring comfort rings that are gentle on skin
MECHANISM
Yes
This unit's shaving mechanism is made up of the following features: GentlePrecisionPRO Blade System which cuts as close to the skin without irritating it, Wet&Dry and Dynamic Flex Technology which enables the shaver's heads move up to 5 directions
DISPLAY
Yes
The LED Display will also notify you about shaver battery status, alert you on when to make head replacement, alert you when there is a need to clean the shaver using a SmartClean station and also warn you when the travel lock is on
BUILD UP
Yes
It is quite a simple electric shaver with beautiful design and colours to match your style. The smooth shaving heads make it the best electric shaver for sensitive skins.
TRIMMER
Yes
It comes with a Smart Click Beard Styler which you attach on the shavers head. This Smart Click Beard Styler can be used for moustache and sideburn grooming
BATTERY LIFE
Yes
50 minutes of non-stop shaving
ACCESSORIES
Yes
SmartClean, cleaning cartridge, SmartClick precision trimmer, power cord, and travel case
WAS THIS REVIEW HELPFUL TO YOU? IF YES, PLEASE SHARE IT WITH A FRIEND.