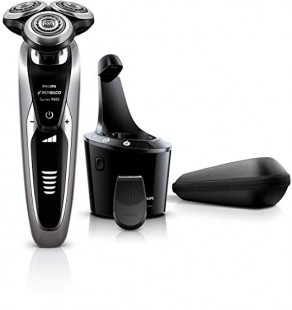 Reasons to buy Philips Norelco 9300:
Smooth and Comfortable shaving heads
Flexible shaving heads move in 8 directions
Wet and Dry electric shaving system
You can choose speed settings to get desired results
Check price here....
summary Review:
PERFORMANCE

Philips Norelco 9300

WORKS WITH GEL OR FOAM
CONTOUR ADAPTABILITY
FOR ALL SKIN TYPES
WORKS ON 3 DAY STUBBLE
FLEXIBLE HEAD
GOOD ON THICK BEARDS

USABILITY

Philips Norelco 9300

ERGONOMIC HANDLE
SPEED SETTINGS
FULLY WASHABLE
CLEANING MACHINE
CHARGING TIME
CORDLESS

DESIGN

Philips Norelco 9300

TYPE
MECHANISM
DISPLAY
BUILD UP
TRIMMER
BATTERY LIFE
ACCESSORIES
WORKS WITH GEL OR FOAM
Yes
With the AquaTec Technology, you will be in position to enjoy dry or wet shaving. Men with sensitive skins or thick beards, I advise you to opt for wet shaving because gel softens the beards thus making it easy to shave.
CONTOUR ADAPTABILITY
Yes
Since the shavers heads independently contour or move in 8 directions, the shaver will be able to reach all hard to shave areas.
FOR ALL SKIN TYPES
Yes
Since it has smooth shaving heads and it can be used dry of wet, it can be used by all men. The V-Track Precision Blades will collect hair in all areas for thorough cutting.
WORKS ON 3 DAY STUBBLE
Yes
This shaver can be used to shave a 3 day stubble. This type of hair is too short for most shavers to pick up but Norelco 9300 features V Track Precision Blades which are positioned to cut 30% closer.
FLEXIBLE HEAD
Yes
Features 3 rotary heads each with V Track Precision Blades.The heads can move in 8 different directions following various facial contours and reaching all hard to shave areas.
GOOD ON THICK BEARDS
Yes
Due to its V Track Precision Blades that are well positioned and self sharpening, Norelco 9300 will be in position to shave a thick beard. But if it is too thick and long, I suggest you trim it first using a click-on styler
ERGONOMIC HANDLE
Yes
Just like the other Norelcos, its ergonomic handle makes it easy to hold while wet shaving. The handle is textured at the back for a better grip when shaving with gel
SPEED SETTINGS
Yes
Features 3 personal comfort settings from which you can choose from and these include. Slow: for a skin-friendly shave, Medium: for a standard shave and Fast: for high performance.
FULLY WASHABLE
Yes
Yes, it is a fully washable electric shaver with AquaTech technology which allows you to enjoy a wet shave without worrying about water damage while in the shower
CLEANING MACHINE
Yes
It comes with a SmartClean System which you can control at the touch of the button. This SmartClean system will keep your shaver like new all the time. It cleans, lubricates and charges your shaver after use.
CHARGING TIME
Yes
Uses a Lithium-ion battery which charges fully in 1 hour and delivers 50 minutes of non-stop shaving. But you can also opt for a 5 minutes charge for a single shave
CORDLESS
Yes
It is not a corded electric shaver. Only works when plugged out of power.
TYPE
Yes
It is a rotary shaver using circular shaving blades and 3 shaving heads that glide over your skin smoothly without irritating it. The heads move in 8 different directions picking up each and every hair from various contours.
MECHANISM
Yes
Its mechanism is made up of the following features: AquaTec Technology for wet shaving, Self sharpening V-Track Precision Blades, Contour Detect Technology which moves each shaver head to 8 different directions capturing 20% more hair in a single pass.
DISPLAY
Yes
It has a LED Display which shows battery status, hygiene status, head replacement indicator, and a travel lock indicator
BUILD UP
Yes
Well built with an ergonomic handle,fully flexible smooth heads and fully washable.
TRIMMER
Yes
Comes with an attachable SmartClick Precision Trimmer which can be used to groom mustache or sideburns
BATTERY LIFE
Yes
50 minutes of shaving time on a 1 hour full charge
ACCESSORIES
Yes
SmartClean system, cleaning cartridge, SmartClick precision trimmer, power cord, and travel case
WAS THIS REVIEW HELPFUL TO YOU? IF YES, PLEASE SHARE IT WITH A FRIEND.