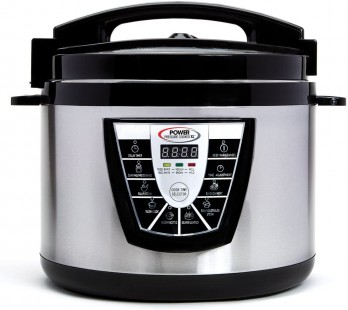 Reasons to buy Power Pressure Cooker:
Does not require much fat, thanks to the flavour technology.
Automatic Keep Warm Mode
Evenly distributes heat and keeps warm.
It is safe and equipped with safety features.
Check price here....
summary Review:
PERFORMANCE

Power Pressure Cooker

Electric
Pressure Canner
Specs & Functionality
MultiCooker
AUTO PRESSURE RELEASE
COOKING PRESET
Rice or Grain Cooker
Slow Cooks
CUSTOMIZABLE COOKING PROGRAMS
TenderCrisp Technology
Programmable

DESIGN

Power Pressure Cooker

LCD Display
Capacity (Qts)
Stainless Steel
Built-in Pressure Gauge
Built-in Scale
SAFETY FEATURES
INCLUDED ACESSORIES
Wattage
Product dimensions

CONCLUSION
FEATURES

Power Pressure Cooker

Dehydrate
Sear/Sauté
Steam
Pressure Cooks
Start/Stop functionality
Bake/Roast
Keep Warm
Reheat
Yogurt
Electric
Poultry
Bean Chili
Meat Stew
Multigrain
Rice Cooker
Soup Broth
Delay Start
Pressure Level
Cancel Cooking
Electric
Yes
The power pressure cooker XL is a 10-quart electric cooker with 10x faster slow cooking.
Pressure Canner
Yes
Not clearly indicated; for the right pressure needed for canning is not easily reached. However, some people claim to have used it as a canner.
Specs & Functionality
Yes
Power Pressure Cooker XL XL 10-Quart Electric Pressure, One-Touch Pre-set Buttons, on-Stick Inner Pot, Safe Lock Lid With, Steam Release, Digital Display Panel, Automatic Keep Warm Mode, Slow Cooker Option, Flavour Infusion Technology, Built-In Safety Features
COOKING PRESET
Yes
7 digital pre-sets let you cook with just one touch
Slow Cooks
Yes
Available- 10X faster slow cooking
CUSTOMIZABLE COOKING PROGRAMS
Programmable
Yes
Choose from the various touch programs.
INCLUDED ACESSORIES
Yes
Removable inner pot, measuring cup, ladle, condensation collector, steam tray
PROS
Yes
• The Power Pressure Cooker XL has seven one-touch digital programs that make cooking any recipe very fast. You can prepare a variety of meals with all these options. • This pressure cooker has the ability to keep your food warm for several hours after it is finished cooking. You can leave it on while you are at work and come to a hot meal back home. • It comes with several accessories which make cooking with this pressure machine pretty easy. There is a non-stick inner pot as well as a steamer basket, a three-tier pressure cooking rack, a measuring cup, and a rice paddle. • The choice they made to use an aluminum lid was a good one; aluminum does not rust and it is corrosion resistant even when exposed to air and water. • This pressure cooker maintains healthy cooking methods as it does not use too much oil all the while maintaining the food flavors. This is so because of its flavor infusion technology that traps steam inside the pot. • The Power Pressure Cooker has built-in pressure and temperature controls which maintain an even heat distribution throughout the cooking process. • The pressure cooker itself is made from long-lasting stainless steel.it is also dishwasher safe but it is better to hand wash it for it to last longer. • The Power Pressure Cooker XL has built-in safety features including a lid safety device. This keeps the pressure and piping hot air from escaping through the seal. • The Power Pressure Cooker XL and all its accompanying parts are warrantied for 60 days from the original date of purchase in case there would be any problems with your product.
CONS
Yes
• It has the food warner selection button but when you get receive the cooker, in the manual it says the food warmer option is not included so it is an issue to be handled by the manufacturer. • Lacks proper cooking instructions - have to guess how long to cook roasts and turkeys. • This pressure cooker is a bit costly and purchasing spare parts has an added cost. • Once you have started cooking using this pressure cooker, there is no turning back. You no longer have the luxury of adding spices or even tasting the food • Your meals are at risk of turning out as overcooked or undercooked or even in a texture you do not recognize because you cannot check on your meal when it is cooking.
Keep Warm
Yes
Available-this pressure cooker has a keep warm function that will keep your meal hot.
Electric
Yes
It is fully automatic
Delay Start
Yes
Available-you can set it to start cooking your meal while you are at work.
WAS THIS REVIEW HELPFUL TO YOU? IF YES, PLEASE SHARE IT WITH A FRIEND.