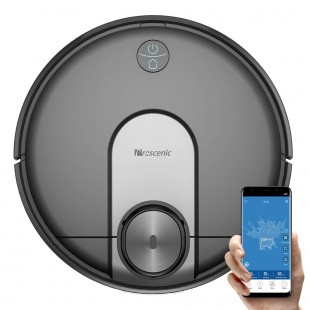 Reasons to buy Proscenic M7:
Sweeping & Mopping Robot Vacuum
2600 Pa Powerful Suction
Wide room coverage of 1615 square
Carpet boost function
Check price here....
summary Review:
PERFORMANCE

Proscenic M7

CLEANS UNDER FURNITURE
COVERAGE
SUCTION POWER
IDEAL FOR HOMES WITH PETS
CLEAN CORNERS AND ALONG WALLS
BATTERY LIFE
CHARGE TIME
MULTI-FLOOR CLEANING
FOR LARGE ROOMS
AUTO DOCKS AND RECHARGE
RESUMES AFTER AUTO RECHARGING
MULTI-ROOM NAVIGATION
AVOIDS STAIRS AND OBJECTS
QUIET OPERATION
BOOSTS SUCTION POWER
HEPA FILTER
MAPS & PLANS ROUTE
SWEEPS AND MOPS
CONCENTRATED CLEANING

USABILITY

Proscenic M7

HASSLE FREE OPERATION
REMOTE CONTROL WITH MOBILE APP
WIFI CONNECTED
CAN BE SCHEDULED
WORKS WITH ALEXA
ZONE CLEANING

DESIGN

Proscenic M7

LARGE DEBRIS BIN
LOW PROFILE DESIGN
BATTERY CAPACITY
DUST BIN CAPACITY
VIRTUAL WALL INCLUDED
PRODUCT DIMENSIONS
WEIGHT

CONCLUSION
CLEANS UNDER FURNITURE
Yes
At only 3.74 inches in height – will clean under furniture above 3.75 inches and may not clean under furniture below 3.74 inches.
COVERAGE
Yes
Total room coverage of 1615 square feet – ideal for small to large sized home sizes.
SUCTION POWER
Yes
2600 Pa strong suction with up to three adjustable suction modes – standard, energy saving and maximum modes.
IDEAL FOR HOMES WITH PETS
Yes
Three levels of suction power ideal for homes with pets. Collects pet hairs and dander from multiple floors
CLEAN CORNERS AND ALONG WALLS
Yes
Features a side brush for corners and along the walls. Enters into hard to reach places and cleans out dirt and dust
BATTERY LIFE
Yes
Sweeps between 80 – 120 minutes and mops between 60 – 120 minutes. Runs nonstop operation on a single charge
CHARGE TIME
Yes
Takes 3 – 4 hours to get fully charged
MULTI-FLOOR CLEANING
Yes
Powerful obstacle climbing ability – uses a climbing ability of 2 cm step to move on various floors. Ideal for ceramic tile, laminate, bare floor. hardwood, low pile and medium pile carpets
DEEP CLEANS THICK CARPETS
FOR LARGE ROOMS
Yes
Large coverage of 1615 square feet and 120 minutes maximum suitable for large rooms
AUTO DOCKS AND RECHARGE
Yes
Goes back to charging dock automatically to recharge when battery is low
RESUMES AFTER AUTO RECHARGING
Yes
Resumes cleaning automatically after charging.
MULTI-ROOM NAVIGATION
Yes
Intelligently navigates from room to room on a single floor. Stays away from restricted areas and uses Nidec brushless motor to maintain close floor contact.
AVOIDS STAIRS AND OBJECTS
Yes
Features anti fall and anti collision sensors – scans its surrounding areas automatically and detects stairs and objects. Reduces speed when it detects obstacles and keeps itself from falling off, bumping and getting stuck
QUIET OPERATION
Yes
72 db noise level – low noise operation. Wont distract your TV program or quiet time
BOOSTS SUCTION POWER
Yes
Carpet boost function – automatically switches from energy saving and standard to maximum mode after detecting a carpet
HEPA FILTER
Yes
High efficiency particulate air filter – eliminates allergen and dust particles from home air and floors
MAPS & PLANS ROUTE
Yes
Laser Distance Sensor (LDS) - Proscenic M7intelligently maps and scans through your home in a 360 degree angle. Provides an accurate and faster mapping ability and remembers automatically the room after the first cleaning.
CONCENTRATED CLEANING
Yes
Triple pass mopping – can be enable to spotlessly remove every grime and dirt on floors
HASSLE FREE OPERATION
Yes
Simple control panel and app for hassle free operation. make adjustments directly on the robot or use the app from anywhere for convenient cleaning
REMOTE CONTROL WITH MOBILE APP
Yes
Download Proscenic Home app first – lets you manage every function on the Proscenic M7. Customize cleaning, power on/off, check cleaning status, real time map, schedule cleaning using the app etc
WIFI CONNECTED
Yes
Connect your Smartphone to a Wifi network – will support a 2.4 GHz WIFI only
CAN BE SCHEDULED
Yes
Built for scheduled cleanings – will clean even when no one is home after it is preset. Set time and cleaning modes
WORKS WITH ALEXA
Yes
Compatible with Alexa device – don't forget to enable the appropriate skills
ZONE CLEANING
Yes
Sets zone cleanings – lets the robot only clean specific areas in your home. Use the app to set zone cleanings.
LARGE DEBRIS BIN
Yes
500 ml dust bin capacity – can accommodate large debris to the size of food crumbs
LOW PROFILE DESIGN
Yes
Slim 3.74 inches low profile design – easily enters in hard to reach places
BATTERY CAPACITY
Yes
3200 mAh battery capacity
DUST BIN CAPACITY
Yes
500 ml – can be controlled electronically
VIRTUAL WALL INCLUDED
Yes
Virtual no-go areas can be set. Restricts Proscenic M7 from going into areas or rooms you wouldn't want it to clean
PRODUCT DIMENSIONS
Yes
16.5 x 13.4 x 5.5 inches
PROS
Yes
• Cleans specific areas • Electronically controlled water tank • App control • Automatic recharge and resume • Triple pass mopping ability • 2 cm step climbing ability
CONS
Yes
• No dust bin automatic empty
WAS THIS REVIEW HELPFUL TO YOU? IF YES, PLEASE SHARE IT WITH A FRIEND.