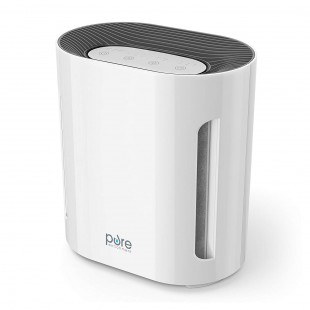 Reasons to buy Pure Enrichment PureZone:
Automatic timer that shuts after 2, 3, or 8 hours of nonstop use
3 in 1 filter technology
Fully customizable three speed settings
Whisper quiet operation
Check price here....
summary Review:
PERFORMANCE

Pure Enrichment PureZone

HEPA FILTER
TIMER
FOR LARGE ROOMS
REMOVES CIGARETTE ODOR
ROOM SIZE AND AIRFLOW
FIGHTS GERMS
ELIMINATES DUST MITES
REMOVES PET DANDER
GETS RID OF POLLEN
REMOVES SMOKE
REMOVES MOLD
TRAPS ALLERGENS
QUIET OPERATION
WASHABLE PRE-FILTERS
EASY FILTER REPLACEMENT
AUTOMATICALLY DETECTS AIRBORNE PARTICLES
WATTAGE
ENERGY STAR

USABILITY

Pure Enrichment PureZone

CONTROLS AND MODES
FILTER REPLACEMENT REMINDER
ECONOMICAL
IDEAL FOR ASTHMATIC PEOPLE

SAFETY
APPEARANCE

Pure Enrichment PureZone

DESIGN
SIZE AND APPEARANCE
WEIGHT
HEPA FILTER
Yes
Uses a True Hepa filter - Captures up to 99.97% of smoke, dust, mold spores, pet dander, pollen and household odors. Combines with Pre-filter and activated carbon filter for success.
TIMER
Yes
Built with an automatic timer. Shuts PureZone3 after 2, 3 and 8 hours and found on the intuitive control panel.
FOR LARGE ROOMS
Yes
Average room coverage of approximately 200 square feet. Suitable for mainly small room spaces.
REMOVES CIGARETTE ODOR
Yes
Capable of removing strong odors like cigarette odor and smoke. Created to maintain clean air indoors.
ROOM SIZE AND AIRFLOW
Yes
Has maximum room coverage of 200 square feet. Suitable for room sizes within that range only.
FIGHTS GERMS
Yes
Fights germs using UV-C Light – deeply cleans the air through safely removing germs, bacteria and viruses. UV-C light kills all micro organisms indoors.
ELIMINATES DUST MITES
Yes
Removes dust mites hidden in home materials like carpets and sofas.
REMOVES PET DANDER
Yes
Purifies the air thoroughly of pet dander. Brings a friendly indoor air for people with pets.
GETS RID OF POLLEN
Yes
Removes pollen using 3-in-1 filter technology. Pre filter, activated carbon filter and Hepa filter captures 99.97% germs from indoor air.
REMOVES SMOKE
Yes
Takes out various kinds of smoke from indoors leaving the air clean and healthy to inhale. Removes cigarette and kitchen smoke.
REMOVES MOLD
Yes
Removes fungus mold pores from households. Environments with mold can be dangerous to health like causes allergy.
TRAPS ALLERGENS
Yes
The combination of activated carbon filter, pre filter and hepa filter destroys up to 99.97% of allergens from indoor air.
QUIET OPERATION
Yes
Operates at whisper quite operation – with lowest level at 30 dB, 40dB medium and 50 dB high. Provides restful sleep while cleaning air.
WASHABLE PRE-FILTERS
Yes
Pre-filters can be washed once dirty or filled with dirt and dust. Washing pre-filters regularly maintains efficiency.
EASY FILTER REPLACEMENT
Yes
Features a filter reset indicator – alerts you once filter requires replacement. Filter can be easily removed and replaced for efficiency.
AUTOMATICALLY DETECTS AIRBORNE PARTICLES
Yes
Uses the UV-C light and filters to automatically detect airborne particles. Captures up to 99.97% of particles living air clean.
WATTAGE
Yes
Uses 60 watts – it will use less wattage if you chose the low speed settings. Select speed from the 3 speed options.
ENERGY STAR
Yes
Has been energy star certified
CONTROLS AND MODES
Yes
Built with intuitive control panel with 3 speed settings, 2, 4 and 8 hour timer and UV-C light mode.
FILTER REPLACEMENT REMINDER
Yes
Reset filter indicator – alerts you when it's time to change the current filter to a new filter.
ECONOMICAL
Yes
Constructed with an automatic timer that shuts off the unit after 2, 4 or 8 hours of nonstop use to ensure energy efficiency. Saves you from mega bills.
IDEAL FOR ASTHMATIC PEOPLE
Yes
PureZone destroys 99.97% of particles as small as 0.3 microns. Keeps air comfortable for asthmatic people or people with breathing difficulties.
FILTER LIFE - BASED ON USE
DESIGN
Yes
Modern, compact and sleek design – fits in most spaces available and matches with most interior decor.
SIZE AND APPEARANCE
Yes
10.8 inches L x 6.9 inches W x 12.1 inches H
WAS THIS REVIEW HELPFUL TO YOU? IF YES, PLEASE SHARE IT WITH A FRIEND.