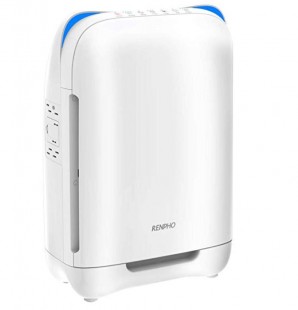 Reasons to buy RENPHO Air Purifier:
Built in air quality sensor technology
Key lock function
4 stage filtration system
Separated filter replacement indicator
Check price here....
summary Review:
PERFORMANCE

RENPHO Air Purifier

HEPA FILTER
TIMER
FOR LARGE ROOMS
REMOVES CIGARETTE ODOR
ROOM SIZE AND AIRFLOW
FIGHTS GERMS
ELIMINATES DUST MITES
REMOVES PET DANDER
GETS RID OF POLLEN
REMOVES SMOKE
REMOVES MOLD
TRAPS ALLERGENS
QUIET OPERATION
WASHABLE PRE-FILTERS
EASY FILTER REPLACEMENT
AUTOMATICALLY DETECTS AIRBORNE PARTICLES
SLEEP MODE
WATTAGE
ENERGY STAR

USABILITY

RENPHO Air Purifier

CONTROLS AND MODES
FILTER REPLACEMENT REMINDER
ECONOMICAL
AFFORDABLE
IDEAL FOR ASTHMATIC PEOPLE
FILTER LIFE - BASED ON USE

SAFETY
APPEARANCE

RENPHO Air Purifier

DESIGN
SIZE AND APPEARANCE
WEIGHT
HEPA FILTER
Yes
Has a Hepa filter – 99.97% of airborne particles are effectively eliminated. Allergen, pollen, pet dander, smoke, dust and particles to a size of 0.3 microns.
TIMER
Yes
Timer button – has a 2, 4 and 8 hour timer. Press the button of the timer and it will automatically switch off air purifier.
FOR LARGE ROOMS
Yes
For large rooms within range of 301 square feet or 28 square meters.
REMOVES CIGARETTE ODOR
Yes
Can remove cigarette and other household odors. Uses activated carbon filter to neutralize and capture odors.
ROOM SIZE AND AIRFLOW
Yes
Has a room size of 301 square feet. Its airflow ADR is rated at 135 CFM for effectively room cleaning.
FIGHTS GERMS
Yes
Fights and eliminates germs and bacteria. Germs to the size of 0.3 microns are removed. Enjoy germ free environment.
ELIMINATES DUST MITES
Yes
Eliminates dust mite matter – usually hidden in rugs and corners. Dust mites can cause health problems like coughing, stuffy nose and allergy.
REMOVES PET DANDER
Yes
Pre-filter gathers pet dander and other larger particles. Removes pet dead skin and hairs that regularly shed off.
GETS RID OF POLLEN
Yes
Gets rid of pollen in few minutes. 99.97% of pollen easily removed. Thus prevents you from pollen allergy.
REMOVES SMOKE
Yes
Removes wildfire cigarette and house smoke. Air congested with smoke causes difficulty in breathing, coughing and red eyes.
REMOVES MOLD
Yes
Powerful mold remover – uses a 4 level filtration system to remove mold fungus. Allergy like skin irritation is caused by mold.
TRAPS ALLERGENS
Yes
Traps all sizes and kinds of allergens. Gathers allergens with of 135 CFM air flow. Makes air clean for diseases causing particles.
QUIET OPERATION
Yes
Operates at whisper quiet operation – its minimum noise level is 35 db at sleep mode. Cleans without bothersome background noise.
WASHABLE PRE-FILTERS
Yes
Has washable pre-filters – rinse off the dirt and dust once it gets dirty using clean water.
EASY FILTER REPLACEMENT
Yes
Easy filter replacement – carefully take out the old filter from the sides. Replace the new filter and lock the device.
AUTOMATICALLY DETECTS AIRBORNE PARTICLES
Yes
Built in high technology air quality sensor – uses the smart auto mode to detect the air quality at the time. Automatically adjusts the colors and fan speed depending on air quality sensed.
SLEEP MODE
Yes
Sleep mode – change this air purifier to sleep mode and it works at lowest noise level 35db. Dims the lights for calming sleep.
ENERGY STAR
Yes
It is Intertek ETL certified – wont consume high energy even when used day and night every day.
CONTROLS AND MODES
Yes
Its functionality is determined by the controls and modes. Has a sleep mode, Auto mode, key lock mode, smart sensor and 3 fan speed options.
FILTER REPLACEMENT REMINDER
Yes
Separated filter replacement indicator – allows you change only one filter at a time when its time. Has an appropriate indicator lights that flashes to alert you.
ECONOMICAL
Yes
Has been ETL certified – power consumption rates will not be alarming even after full time operation.
IDEAL FOR ASTHMATIC PEOPLE
Yes
Cleans air of 99.97% if airborne pollutants. Reduces the risk of asthmatic attack in adults and children
FILTER LIFE - BASED ON USE
CHILD LOCK
Yes
Lock button – press the lock button multiple times for 3 seconds to activate key lock feature. Prevents errors caused by children and pets.
OZONE FREE
Yes
100% ozone free – won't produce harmful ozone or UV-C
DESIGN
Yes
Compact and modern design – fits into most lifestyles. Matcher interior decor and requires little storage space.
SIZE AND APPEARANCE
Yes
14 x 8.1 x 20.9 inches
WAS THIS REVIEW HELPFUL TO YOU? IF YES, PLEASE SHARE IT WITH A FRIEND.