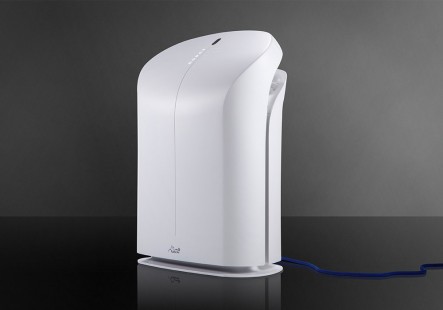 Reasons to buy Rabbit Air BioGS 2.0:
Inexpensive
Gets rid of cigarette smoke & odor
Impressive performance ''in a small - medium room''
Durable (with good maintenance - it works for 10+ years)
Check price here....
summary Review:
PERFORMANCE

Rabbit Air BioGS 2.0

HEPA FILTER
ROOM SIZE AND AIRFLOW
FIGHTS GERMS
ELIMINATES DUST MITES
REMOVES PET DANDER
GETS RID OF POLLEN
REMOVES MOLD
TRAPS ALLERGENS
QUIET OPERATION
WASHABLE PRE-FILTERS
EASY FILTER REPLACEMENT
AUTOMATICALLY DETECTS AIRBORNE PARTICLES
WATTAGE
ENERGY STAR

USABILITY

Rabbit Air BioGS 2.0

CONTROLS AND MODES
FILTER REPLACEMENT REMINDER
ECONOMICAL
AFFORDABLE
IDEAL FOR ASTHMATIC PEOPLE
REMOTE CONTROL
FILTER LIFE - BASED ON USE

SAFETY
APPEARANCE

Rabbit Air BioGS 2.0

DESIGN
SIZE AND APPEARANCE
WEIGHT
HEPA FILTER
Yes
Uses BioGS HEPA Filter which is not a typical True HEPA Filter that most cheap air filters use. The BioGS HEPA Filter does more than trapping 99.97% of 0.3 sized microns. It also reduces on common allergen buildup within the machine thus prolong on the life span of air filter.
ROOM SIZE AND AIRFLOW
Yes
Its room coverage is about 550 Sq.Ft. CADR Rating: 189 Pollen , 165 Dust, 152 Smoke
FIGHTS GERMS
Yes
To some extent it gets rid of germs using its BioGS HEPA Filter which reduces the growth/build-up of bacteria and viruses on the filter.
ELIMINATES DUST MITES
Yes
The BioGD HEPA Filter deals with common allergens such as dust mites that are trapped in the filter. It will reduce them by 99%.
REMOVES PET DANDER
Yes
The BioGS HEPA filter will take care of Pet Dander that is trapped by the air filters. It eliminates it so that the air you breathe is 99.97% safe & clean.
GETS RID OF POLLEN
Yes
Uses the BioGS HEPA filter to reduce pollen build-up on filters inside the unit.
REMOVES MOLD
Yes
Uses its BioGS HEPA Filter to remove mold build-up on the filter.
TRAPS ALLERGENS
Yes
Yes, the BiosGS HEPA Filter and Charcoal-Based Activated Carbon filters will trap and reduce any type of allergen that could make you sick.
QUIET OPERATION
Yes
Is smart and quiet when operating at standard settings. However, when you opt for the highest setting, it will make some noise.
WASHABLE PRE-FILTERS
Yes
Wash the Pre-Filters – this should be done at the end of every week
EASY FILTER REPLACEMENT
Yes
Simply remove the front panel
AUTOMATICALLY DETECTS AIRBORNE PARTICLES
Yes
Can detect air contaminants but not all of them. It might detect dust in the air but fail to auto detect bad odor.
WATTAGE
Yes
5 to 29 watts – consumes very little power.
ENERGY STAR
Yes
It is an Energy Star Certified Unit
CONTROLS AND MODES
Yes
Once in Auto mode, the unit will always detect bad smells and pollutants in the air.
FILTER REPLACEMENT REMINDER
Yes
The filter indicator will always alert you when the BioGS filter needs replacement. Remember that it will take you a period of almost 3 years without replacing air filters.
ECONOMICAL
Yes
The device is very economical, its BioGS HEPA and Charcoal-Based Activated Carbon filters cab last up to 3 years, when used for 12 hours daily.
AFFORDABLE
Yes
Is priced below $500. The unit is worth every penny.
IDEAL FOR ASTHMATIC PEOPLE
Yes
Can be used by Asthmatic people who are allergic to pet dander, pollen and other air pollutants. Has very strong sensors which capture dust and air contaminants.
REMOTE CONTROL
Yes
Comes with a remote control. You can use it to switch on/off the unit or change fan speed
FILTER LIFE - BASED ON USE
Yes
18 months when the air filter is used for 12 hours daily
CHILD LOCK
Yes
It has a child proof feature which pauses the air filter when the front panel is removed.
DESIGN
Yes
Classic compact design - it does not consume lots of space
WAS THIS REVIEW HELPFUL TO YOU? IF YES, PLEASE SHARE IT WITH A FRIEND.