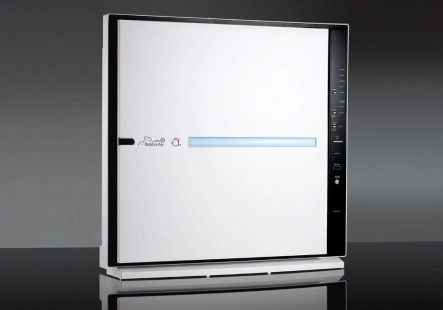 Reasons to buy Rabbit Air MinusA2:
Thorough performance
Wide room coverage of 815 Sq.Ft
Very Economical
Ultra quiet
Check price here....
summary Review:
PERFORMANCE

Rabbit Air MinusA2

HEPA FILTER
TIMER
FOR LARGE ROOMS
REMOVES CIGARETTE ODOR
ROOM SIZE AND AIRFLOW
FIGHTS GERMS
ELIMINATES DUST MITES
REMOVES PET DANDER
GETS RID OF POLLEN
REMOVES SMOKE
REMOVES MOLD
TRAPS ALLERGENS
QUIET OPERATION
WASHABLE PRE-FILTERS
EASY FILTER REPLACEMENT
AUTOMATICALLY DETECTS AIRBORNE PARTICLES
SLEEP MODE
WATTAGE
ENERGY STAR

USABILITY

Rabbit Air MinusA2

CONTROLS AND MODES
FILTER REPLACEMENT REMINDER
ECONOMICAL
IDEAL FOR ASTHMATIC PEOPLE
REMOTE CONTROL
FILTER LIFE - BASED ON USE

SAFETY
APPEARANCE

Rabbit Air MinusA2

DESIGN
SIZE AND APPEARANCE
WEIGHT
HEPA FILTER
Yes
The 6 stages of filtration include: (1) Pre-filter - for large sized allergens (2) Medium Filter - for airborne particles larger than 1 micron (3) BioGS HEPA filter
TIMER
Yes
Set schedules using a list of slide bars which change as you scroll down/upwards. Pick a schedule from the slide bars.
FOR LARGE ROOMS
Yes
Is ideal for large rooms of about 815 Sq.Ft. You can hang it on the wall or let it sit on the floor.
REMOVES CIGARETTE ODOR
Yes
The Odor Remover Filter is the one responsible for removing cigarettes and cigars Odor.
ROOM SIZE AND AIRFLOW
Yes
Its room coverage is 815 sq. ft. (Ideal for Large Rooms)
FIGHTS GERMS
Yes
With a Germ Defense Filter - Rabbit AirMinusA2 can trap and reduce airborne bacteria, very small particles that carry viruses and mold spores that host germs.
ELIMINATES DUST MITES
Yes
BioGS HEPA Filter is powerful and effective enough to capture and reduce dust mites that hide in carpets, bed sheets, sofas, door rugs and clothes
REMOVES PET DANDER
Yes
Medium Filter will take care of Pet dander. Traps and reduces all air borne particles larger than 1 micron in size
GETS RID OF POLLEN
Yes
Traps and reduces pollen that finds its way into the air you breathe. Uses a Medium Filter to capture particles larger than 1 micron
REMOVES SMOKE
Yes
Has a very strong suction power - so it will traps and reduces any kind of smoke in your room / house.
REMOVES MOLD
Yes
Medium Filter traps and eliminates mold that builds up in your house. But it only traps mold that is within its range of 815 sq.ft.
TRAPS ALLERGENS
Yes
Has both the Pet Allergy Filter and BioGS HEPA Filter. The Pet Allergy Filter removes pet dander and pet allergens while the BioGS HEPA Filter will capture small particles
QUIET OPERATION
Yes
The Ultra quiet fan with 5 stop fan speeds operates quietly - with a noise level ranging from 25.6 to 51.3 dBA
WASHABLE PRE-FILTERS
Yes
Wash the filter when you get an alert. Doing this will prolong the air purifier's life
EASY FILTER REPLACEMENT
Yes
Both the BioGs HEPA & PRE-Filter are easy to replace. Simply remove the front panel - remove and replace the air filter and then put the panel back
AUTOMATICALLY DETECTS AIRBORNE PARTICLES
Yes
Has an Auto-Air Quality Monitor which adjusts fan speed to capture contaminated air in the room.
SLEEP MODE
Yes
Will go into a sleep mode when light in the room dims or goes off completely. Sleep mode function makes the device economical and bill friendly.
WATTAGE
Yes
Input voltage: 120V/ 60Hz
ENERGY STAR
Yes
It has an energy star certified motor which uses 60Hz and goes into sleep mode when lights are off.
CONTROLS AND MODES
Yes
Control touch buttons are found on the side of the front panel. Modes include: Auto Mode and a Sleep Mode.
FILTER REPLACEMENT REMINDER
Yes
Has an Automatic reminder which beeps when the filter needs replacement. This will save you from the guess work.
ECONOMICAL
Yes
Its air filters last up to 2 years; on a 12 hours daily usage. The smart light sensor puts the device to a sleep mode when lights go off.
IDEAL FOR ASTHMATIC PEOPLE
Yes
With a wide coverage of 815 Sq. ft, CADR of 200 Pollen, 193 of Dust and 180 of Smoke - this unit is ideal for asthmatic people.
REMOTE CONTROL
Yes
Yes, you can control and customize the functionality of the air filter using a remote control.
FILTER LIFE - BASED ON USE
Yes
The BioGS filter lasts for 12 months while the Pre-filter can last for more than 1 if well maintained.
CHILD LOCK
Yes
Features a child proof safety design which stops the air purifier from operating when the front panel is removed.
OZONE FREE
Yes
Does not emit ozone as cheap air purifiers do. Your indoor environment won't be polluted even when the machine is on the highest setting.
DESIGN
Yes
Has a compact design which makes it unobtrusive.
WAS THIS REVIEW HELPFUL TO YOU? IF YES, PLEASE SHARE IT WITH A FRIEND.