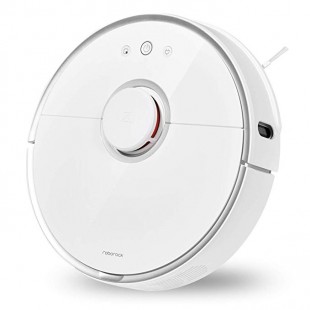 Reasons to buy Roborock S5:
It sweeps and mops
Multiple cleaning modes
Great suction power - ideal for home with pets & carpets
Long lasting 5,200 mAh battery provides you with 2.5 hours of cleaning time
See price on Amazon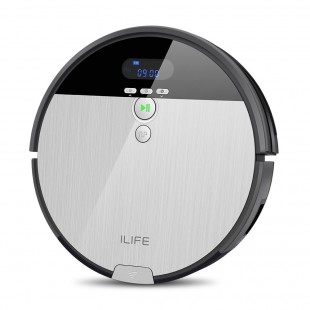 Reasons to buy iLife V8s :
Can clean under very low profile furniture
Affordable
Auto Recharges
Has a Large 750ML dustbin
See price on Amazon
summary Review:
PERFORMANCE

WINNER :

Roborock S5

DEEP CLEANS THICK CARPETS
FOR LARGE ROOMS
RESUMES AFTER AUTO RECHARGING
CONCENTRATED CLEANING

USABILITY

WINNER :

Roborock S5

REMOTE CONTROL WITH MOBILE APP
WIFI CONNECTED
WORKS WITH ALEXA
ZONE CLEANING

DESIGN
CONCLUSION
Reasons why we like it:
DEEP CLEANS THICK CARPETS
FOR LARGE ROOMS
RESUMES AFTER AUTO RECHARGING
CONCENTRATED CLEANING
REMOTE CONTROL WITH MOBILE APP
WIFI CONNECTED
WORKS WITH ALEXA
ZONE CLEANING
VIRTUAL WALL INCLUDED
See price on Amazon
CLEANS UNDER FURNITURE
Yes
Height is 9.6 cm. With this low profile design, it can clean under furniture, bed and sofas.
Yes
With its 3.19 inches tall – This robot can clean under very low profile furniture
COVERAGE
Yes
2691 ft2 - ideal for big house and multi-room
Yes
1076 Sq.ft – According to this coverage, iLife V8s is ideal for medium sized rooms.
SUCTION POWER
Yes
2000Pa Cyclone 3D Cleaning System delivers strong suction power combined with a multi-mode system. You can choose from the following cleaning modes: Carpet mode, Quiet, Mopping mode, Balanced, Turbo Mode and Max Mode. These modes will provide you with custom results.
Yes
1000 Pa - Not the best on the market. But it can perform very well on hard floors and light carpets.
IDEAL FOR HOMES WITH PETS
Yes
Features tangle free brushes which are very effective at capturing and removing pet hair without clogging the motor. It also comes with a beak-like cleaning tool accessory which helps in removing more pet hair from carpets and floors.
Yes
Once set in the MAX mode, It can pick up pet hair on hard floors. However, it might not do a great job on thick carpets because its suction power is below 3000 pa.
CLEAN CORNERS AND ALONG WALLS
Yes
Features Self-adjustable Side Brushes that spin at 330 Rounds Per Minute when cleaning along wall edges and corners.
Yes
With the help of the Edge cleaning mode - the device will be in position to thoroughly clean both corners and wall edges in your room.
BATTERY LIFE
Yes
150 minutes. More than what Roomba can provide.
Yes
80 min - of runtime. Better than some robots. At least it will accomplish more in a short period of time. It won't always go back to auto recharge.
CHARGE TIME
Yes
300 min - Now that is quite long compared to the 120 minutes charging time by Roomba Robots.
MULTI-FLOOR CLEANING
Yes
With its advanced climbing ability - Roborock S5 can move from one level to another, climb over objects with a maximum height of 2 cm and also clean from hard floor to carpets
Yes
It is able to clean both hard floors and low-pile carpets. Bare floors it can vacuum and clean include; laminate, marble tile, hardwood, ceramic tile, linoleum
DEEP CLEANS THICK CARPETS
Yes
Uses a Carpet Pressurization function to increase suction power when it meets a carpet. This will ensure your carpet is thoroughly cleaned from dust and pet hair. When it leaves the carpet and goes to a hard floor, the Carpet Pressurization mode will go off and the robot will go back to its normal suction power.
FOR LARGE ROOMS
Yes
Due to its coverage of 2691 ft2 – Robotock C5 can be used in both large and medium sized rooms.
AUTO DOCKS AND RECHARGE
Yes
It will go back to the charging dock when the battery gets low.
Yes
Can return back to the charging station and recharge. Battery life is 80 minutes and charge time is 200 minutes.
RESUMES AFTER AUTO RECHARGING
Yes
After recharging, Roborock C5 will auto resume with its cleaning tusk - making sure no place is left with dirt.
MULTI-ROOM NAVIGATION
Yes
Can clean all rooms on a single floor. Use LDS Smart Navigation system to scan the room at 360 degrees, gather information for each room on a single floor, generate a cleaning map and start cleaning according to the map.
Yes
It can clean multiple rooms using a navigation and mapping system.
AVOIDS STAIRS AND OBJECTS
Yes
The Anti-Collision sensors will always emit infrared-rays to detect obstacles and cliffs.
Yes
Features an Anti drop and Cliff sensor which prevents it from bumping into objects and falling over cliffs.
QUIET OPERATION
Yes
60 db - Operates quietly.
Yes
This device can be whisper-silent when under operation.
BOOSTS SUCTION POWER
Yes
The Carpet Pressurization mode automatically identifies carpets, so it witches to maximum suction to thoroughly vacuum your carpet.
Yes
It features a MAX-mode that helps to increase suction-power in-order to thoroughly clean hard-floors.
HEPA FILTER
Yes
Features 2 Washable E11 High Efficiency filters that capture 99.2% of allergens, dust, pet dander, pollen, mold spores and small 0.3 microns. You can wash it once in a week to maintain good performance and this reduces on replacement frequency.
Yes
Has a HEPA Filter which removes 99% of allergens and dust mites that could make you sick.
MAPS & PLANS ROUTE
Yes
Uses its high-precision LDS laser range sensors to scan 5x360 degrees for distance information. After that It creates a layout the apartment, run routes and save maps for further usage.
Yes
It automatically plans its cleaning area. Mark out objects, cliffs and free space to be cleaned.
SWEEPS AND MOPS
Yes
Can sweep and mop hard floors
Yes
While in the moping mode, the device will mop and vacuum your room thoroughly. If you have carpets, put the device against the carpet area. After that turn on the vacuum mode - the unit will divide the whole area and know which areas to avoid.
CONCENTRATED CLEANING
Yes
You can set it to vacuum and mop a specific area with high concentration of dirt.

Roborock S5
HASSLE FREE OPERATION
Yes
It is very easy to control using Alexa and the Smartphone Application. The water tank can be easily plugged-in saving you from overturning the robot but at the same time avoid water leakages.
Yes
Works with a remote but it won't respond to it when moving. Don't try to change its direction with a remote control while it's in action, this will mess up its vacuuming route.
REMOTE CONTROL WITH MOBILE APP
Yes
You can control it with a Smartphone application. Via you phone you will be able to view the cleaning map and set custom cleaning modes for each room on a single floor.
WIFI CONNECTED
Yes
It is WifI Enables – that is how it communicates with Alexa
CAN BE SCHEDULED
Yes
Features a Multi-task programmable schedule system which allows you to create cleaning schedule for a week.
WORKS WITH ALEXA
Yes
Command the vacuum with voice. ASK Alexa to turn on Roborock S5
ZONE CLEANING
Yes
Use the Zone Cleaning Function to command the robot to clean specific rooms. All you have to do is to drag and drop the cleaning frame on the map and the robot will clean rooms of your choice.

Roborock S5
LARGE DEBRIS BIN
Yes
750 ml – large enough to accommodate large debris
LOW PROFILE DESIGN
Yes
9.6 cm – can easily clean under low profile furniture
Yes
8.1 cm in height – very good low profile design. Can get under furniture and sofas.
BATTERY CAPACITY
Yes
5,200mAh Ultra-high battery capacity - This will provide you with 150 minutes. More than what Roomba can provide.
Yes
2600 mAh – very low when compared with other top models
DUST BIN CAPACITY
Yes
750 ml - Large Dustbin Capacity. You don't have to empty the bin all the time.
VIRTUAL WALL INCLUDED
Yes
It has a Virtual Wall but this is bought separately.
PRODUCT DIMENSIONS
Yes
13.8 x 13.7 x 3.8 inches
PROS
Yes
• Affordable and very effective • Auto docks and resumes • Customizable performance using various cleaning modes • Great suction power • Good battery life of 150 minutes • Sweeps and mops • Boosts suction power when it meets a carpet
Yes
• Large dustbin • HEPA Filtration system captures 99% of allergens • Mops and Sweeps • You can create weekly schedules • Very good at cleaning corners
CONS
Yes
• Does not have a full bin indicator • Small Dust Bin • Does not come with boundary strips
Yes
• It does not have a mapping feature • Does not have a virtual wall • No Smartphone APP • Does not support Amazon Alexa • Loud • Long charging time • Low battery capacity 2600 mAh
Overall Winner
WAS THIS COMPARISON BETWEEN Roborock S5 & iLife V8s HELPFUL TO YOU? IF YES, PLEASE SHARE IT WITH A FRIEND.