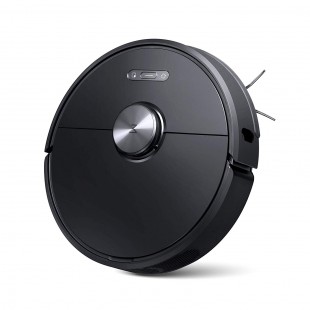 Reasons to buy Roborock S6 Robot Vacuum:
Up to three hours nonstop battery life
14 kinds of sensors
2000 Pa suction power
Adaptive routing algorithm
Check price here....
summary Review:
PERFORMANCE

Roborock S6 Robot Vacuum

CLEANS UNDER FURNITURE
COVERAGE
SUCTION POWER
IDEAL FOR HOMES WITH PETS
CLEAN CORNERS AND ALONG WALLS
BATTERY LIFE
CHARGE TIME
MULTI-FLOOR CLEANING
DEEP CLEANS THICK CARPETS
FOR LARGE ROOMS
AUTO DOCKS AND RECHARGE
RESUMES AFTER AUTO RECHARGING
MULTI-ROOM NAVIGATION
AVOIDS STAIRS AND OBJECTS
QUIET OPERATION
BOOSTS SUCTION POWER
HEPA FILTER
MAPS & PLANS ROUTE
SWEEPS AND MOPS
CONCENTRATED CLEANING

USABILITY

Roborock S6 Robot Vacuum

HASSLE FREE OPERATION
REMOTE CONTROL WITH MOBILE APP
WIFI CONNECTED
CAN BE SCHEDULED
WORKS WITH ALEXA
ZONE CLEANING

DESIGN

Roborock S6 Robot Vacuum

LARGE DEBRIS BIN
LOW PROFILE DESIGN
BATTERY CAPACITY
DUST BIN CAPACITY
PRODUCT DIMENSIONS
WEIGHT

CONCLUSION
CLEANS UNDER FURNITURE
Yes
Stands at only 3.78 inches tall. Smoothly enters under furniture, beds and drawers above 3.78 inches tall only.
COVERAGE
Yes
2691 square feet – perfect for big homes and multiple rooms.
SUCTION POWER
Yes
2000 Pa – provides intensive suction cleaning ability. Strong enough to lift up AA batteries. Chose from quiet, turbo, balanced and mopping modes.
IDEAL FOR HOMES WITH PETS
Yes
Roborock S6 features tangle free brushes suitable at pet hair removal. Minimizes trapped hair on every hidden place. Cleaning brush parts are also detachable.
CLEAN CORNERS AND ALONG WALLS
Yes
Features edge optimized cleaning with deep reach variable side brush speeds up to clean along corners and side walls thoroughly.
BATTERY LIFE
Yes
150 minutes of running time – very long run time after full charge.
CHARGE TIME
Yes
Takes 150 minutes to obtain full battery
MULTI-FLOOR CLEANING
Yes
Built with 0.8 inch climbing ability for multiple floors cleaning. it large wheels and high torque motor can drive over thresholds between rooms and onto carpets without stopping.
DEEP CLEANS THICK CARPETS
Yes
Has carpet pressurization to deep clean thick carpets. Senses carpets automatically and maximizes suction power to provide carpets with effective cleaning.
FOR LARGE ROOMS
Yes
Due to its coverage of up to 2691 square feet – this unit can be used in both large and medium sized rooms.
AUTO DOCKS AND RECHARGE
Yes
Auto docks and recharges after completing the job or when it runs low on battery while cleaning.
RESUMES AFTER AUTO RECHARGING
Yes
Heads back to where it had auto docked from to resume cleaning after gaining 80% battery charge.
MULTI-ROOM NAVIGATION
Yes
Features up to 14 kinds of sensors for smooth navigation without missing a spot. Includes precision accuracy laser range finder, carpet sensor that boost power on carpets, infra-red cliff sensor for cliffs etc.
AVOIDS STAIRS AND OBJECTS
Yes
Uses adaptive routing algorithm to avoid stairs and objects. This unit learns and comprehends the contour of your home and selects the perfect routine. Cleans round objects and turns away from stairs.
QUIET OPERATION
Yes
Only 56 db – runs quietly
BOOSTS SUCTION POWER
Yes
Carpet Pressurization mode to sense carpets automatically. Increase power to maximum suction to effectively vacuum carpets.
HEPA FILTER
Yes
Inbuilt with high efficiency filter that efficiently captures pet hairs, dust and dirt from multiple floors and air. Destroys allergens that trigger allergic and asthmatic attacks.
MAPS & PLANS ROUTE
Yes
Features Precision accuracy laser range finder to sense paths and scan routes to form a map of the home. After it finds the quickest routes to clean each room depending on its shape.
SWEEPS AND MOPS
Yes
Can sweep and even mop hard floors surfaces with adjustable water flow
HASSLE FREE OPERATION
Yes
Effortless operation through simple touch on your Smartphone. It can be controlled from wherever you are.
REMOTE CONTROL WITH MOBILE APP
Yes
You can control it through wifi or Smartphone connectivity. Provides remote control and scheduling. Cleaning schedule can also be monitored for a distance.
WIFI CONNECTED
Yes
Accepts wifi connectivity – download mobile App first.
CAN BE SCHEDULED
Yes
Cleaning schedules can be set in advance for various rooms at different times of the day.
WORKS WITH ALEXA
Yes
Support Amazon Alexa – can be voice controlled
ZONE CLEANING
Yes
Built with selective room scheduling, virtual no-go zones and zone cleaning. Manage where you want to clean and where you don't want Roborock S6 to go using your phone.
LARGE DEBRIS BIN
Yes
Large debris capacity – doesn't require to be emptied constantly.
LOW PROFILE DESIGN
Yes
Height of only 3.78 inches low profile design – doesn't hassle entering beneath objects above its height to clean.
BATTERY CAPACITY
Yes
5200 mAh powerful battery capacity – delivers approximately 150 minutes of run time.
PRODUCT DIMENSIONS
Yes
13.7 x 13.8 x 3.8 inches
PROS
Yes
• onmi-directional front wheel for easy movement • can mop and sweep floors • Virtual no go zone and barriers • Quiet operation
CONS
Yes
• Doesn't have full bin indicator
WAS THIS REVIEW HELPFUL TO YOU? IF YES, PLEASE SHARE IT WITH A FRIEND.