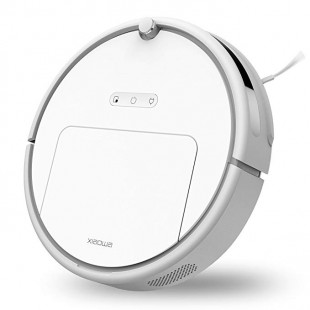 Reasons to buy Roborock Xiaowa Lite C10:
Concentrated cleaning through spot mode
Can be controlled using Mi Home App
Cleanings can be scheduled in advanced
3D cleaning system
Check price here....
summary Review:
PERFORMANCE

Roborock Xiaowa Lite C10

CLEANS UNDER FURNITURE
COVERAGE
SUCTION POWER
IDEAL FOR HOMES WITH PETS
CLEAN CORNERS AND ALONG WALLS
BATTERY LIFE
CHARGE TIME
MULTI-FLOOR CLEANING
FOR LARGE ROOMS
AUTO DOCKS AND RECHARGE
MULTI-ROOM NAVIGATION
AVOIDS STAIRS AND OBJECTS
QUIET OPERATION
BOOSTS SUCTION POWER
HEPA FILTER
SWEEPS AND MOPS
CONCENTRATED CLEANING

USABILITY

Roborock Xiaowa Lite C10

HASSLE FREE OPERATION
REMOTE CONTROL WITH MOBILE APP
WIFI CONNECTED
CAN BE SCHEDULED
WORKS WITH ALEXA
ZONE CLEANING

DESIGN

Roborock Xiaowa Lite C10

LARGE DEBRIS BIN
LOW PROFILE DESIGN
BATTERY CAPACITY
DUST BIN CAPACITY
PRODUCT DIMENSIONS
WEIGHT

CONCLUSION
CLEANS UNDER FURNITURE
Yes
Stands tall at 9 cm above ground. Is able to clean under furniture below 9 cm tall and cannot enter under furniture above 9 cm tall.
COVERAGE
Yes
Covers up to 200 square meters – suitable for small and medium sized homes and offices.
SUCTION POWER
Yes
Its cyclonic cleaning system produces up to 1600 Pa suction power. Comes out through its streamlined air ducts and efficiently lifts dust and dirt off multiple floors.
IDEAL FOR HOMES WITH PETS
Yes
Features tangle free designed brushes and wheels. Includes a cleaning accessory that removes pet hairs from outside the cleaner so that you won't have to open the robot.
CLEAN CORNERS AND ALONG WALLS
Yes
Adjustable side brush that easily alters its speed to fit various situations and hard to reach areas like corners and along walls.
MULTI-FLOOR CLEANING
Yes
Cleans multi floors horizontally and vertically – ideal for linoleum, ceramic, laminate, marble tile, wood, vynil, low and medium pile carpets.
DEEP CLEANS THICK CARPETS
FOR LARGE ROOMS
Yes
Only large rooms within a diameter of 200 square meters
AUTO DOCKS AND RECHARGE
Yes
Xiaowa Lite C10 goes back to its infrared guidance dock to automatically recharge once battery drops below 30%.
RESUMES AFTER AUTO RECHARGING
MULTI-ROOM NAVIGATION
Yes
Randomly moves from room to room as it's guided by the obstacle crossing function. Will climb over obstacles with a height of 0.8 inches and deal with thresholds, other low barriers and even thin carpets in the home.
AVOIDS STAIRS AND OBJECTS
Yes
Built with 10 sensors to assist robot from knocking obstacles and falling off stairs. Alerts robot if it's navigating along a wall or if its surrounded by obstacles.
BOOSTS SUCTION POWER
Yes
Automatically switches to maximum suction power when it's on carpets to collect dirt and dust deeply rooted in.
HEPA FILTER
Yes
Cleans out all the tiny particles in the air that are capable of triggering asthmatic attacks or allergies in a home.
SWEEPS AND MOPS
Yes
Only vacuums and sweeps
CONCENTRATED CLEANING
Yes
Spot cleaning mode provides concentrated cleaning. Works through drawing a 1.2m diameter circle around the areas it currently is and then thoroughly cleans it up.
HASSLE FREE OPERATION
Yes
The powerful App control makes its usage hassle free. Use the app to control the robot from wherever you are with simple clicks.
REMOTE CONTROL WITH MOBILE APP
Yes
Download the Mi Home App on your Smartphone – will start, stop, choose clean modes, schedule cleans, check accessory status, view cleaning progress and information, auto recharge and clean specific areas.
WIFI CONNECTED
Yes
Connects to a 2.4 Hz Wifi
CAN BE SCHEDULED
Yes
Cleanings can be set in advance and the robot will clean at specific times even when no one is home. Schedule cleaning through Mi Home App.
WORKS WITH ALEXA
Yes
Allows voice prompt commands through Alexa.
ZONE CLEANING
Yes
Xiaowa Lite C10 can be restricted to clean specific areas using Mi Home App.
LARGE DEBRIS BIN
Yes
640 ml dust bin capacity is large enough to save you from constant emptying.
LOW PROFILE DESIGN
Yes
At 3.56 inches tall, this robot will move smoothly below furniture, couches, beds and coffee tables without trouble.
DUST BIN CAPACITY
Yes
640 ml – can accommodate dust for 7 days without empting.
PRODUCT DIMENSIONS
Yes
13.8 x 3.6 x 13.9 inches
PROS
Yes
• Automatically charges when battery falls to 30% • Concentrated cleaning through spot mode • O.8 inches obstacle crossing ability • Maximum suction power on carpets • Connects to wifi • Can be controlled using Mi Home App • Cleanings can be scheduled in advanced • 3D cleaning system • High efficiency hepa filter • Integrated with Amazon Alexa
CONS
Yes
• Doesn't have a mopping feature • No virtual walls included • Cannot clean thick carpets • Random navigation
WAS THIS REVIEW HELPFUL TO YOU? IF YES, PLEASE SHARE IT WITH A FRIEND.