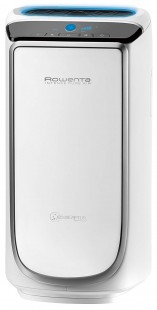 Reasons to buy Rowenta Air Purifier:
4 filtration levels – pre filter, active carbon, Hepa filter and Nano capture filters
Self monitoring air filtration system
Timer / delayed start up to 8 hours
4 filtration speeds
Check price here....
summary Review:
PERFORMANCE

Rowenta Air Purifier

HEPA FILTER
TIMER
FOR LARGE ROOMS
REMOVES CIGARETTE ODOR
ROOM SIZE AND AIRFLOW
FIGHTS GERMS
ELIMINATES DUST MITES
REMOVES PET DANDER
GETS RID OF POLLEN
REMOVES SMOKE
REMOVES MOLD
TRAPS ALLERGENS
QUIET OPERATION
WASHABLE PRE-FILTERS
EASY FILTER REPLACEMENT
AUTOMATICALLY DETECTS AIRBORNE PARTICLES
SLEEP MODE
WATTAGE
ENERGY STAR

USABILITY

Rowenta Air Purifier

CONTROLS AND MODES
FILTER REPLACEMENT REMINDER
ECONOMICAL
AFFORDABLE
IDEAL FOR ASTHMATIC PEOPLE
FILTER LIFE - BASED ON USE

SAFETY
APPEARANCE

Rowenta Air Purifier

DESIGN
SIZE AND APPEARANCE
WEIGHT
HEPA FILTER
Yes
Features True Hepa filter – effective at capturing and removing up to 99.99% of particles to the mini size of 0.3 microns.
TIMER
Yes
Built in sleep timer – set a power off or delayed start timer up to 8 hours from the control panel.
FOR LARGE ROOMS
Yes
400 square feet is the room size coverage size. Cleans air in other nearby rooms within this coverage perfectly.
REMOVES CIGARETTE ODOR
Yes
Removes cigarette odor and other kinds of smell. Makes it conducive to live with smokers as freshness indoors is maintained.
ROOM SIZE AND AIRFLOW
Yes
Total room size coverage of 400 square feet. Cleans room and kitchen air within this range well.
FIGHTS GERMS
Yes
True hepa filter fights germs – kills approximately 99.99% germs, bacteria and other tiny microscopic organisms
ELIMINATES DUST MITES
Yes
Eliminates dust mites – these mites usually hide in thick materials and make people uncomfortable. Triggers attacks like asthma if not eliminated.
REMOVES PET DANDER
Yes
Uses 4 stage high quality filters to remove pet dander. Makes air clean and betters human and pet relationships.
GETS RID OF POLLEN
Yes
Advanced technology detects and gets rid of pollen. Pollen populated air is unhealthy and causes, runny nose, sneezing and allergy.
REMOVES SMOKE
Yes
Active carbon filter removes 75 cfm of smoke. It minimizes smoke from burning objects, cigarettes, cooking and other odors and chemicals from air.
REMOVES MOLD
Yes
Destroys almost all mold spores. Mold is unavoidable in moist places and causes allergy and skin irritation in people.
TRAPS ALLERGENS
Yes
Traps allergens substances that cause allergic reaction. True Hepa filter traps allergens to a size of 0.3 microns and up to 99.99% allergens are trapped.
QUIET OPERATION
Yes
Has low volume sound at each manual speed. Its night mode provides whisper quiet operation for a restful sleep. 23 db is the minimum noise level and 45 db noise level is the maximum.
WASHABLE PRE-FILTERS
Yes
Pre filters can be washed once dirty. Clean pre filters have longer life and are more functional.
EASY FILTER REPLACEMENT
Yes
Remove the filter after you have powered the device off, replace it and power on.
AUTOMATICALLY DETECTS AIRBORNE PARTICLES
Yes
Has Smart pollution sensors that automatically detect airborne particles. Monitors and adjust filtration level for through air cleaning.
SLEEP MODE
Yes
Night mode – dims the light in the night to let you enjoy uninterrupted rest. Also adjusts filtration speed for whisper quiet air flow.
WATTAGE
Yes
Power is rated at 30 watts. At night mode, it saves energy and uses less power.
ENERGY STAR
Yes
Is energy star rated – will not consume a lot of electricity even on full day operation.
CONTROLS AND MODES
Yes
Has a number of controls and modes that better its performance. Uses two modes; Auto and night mode.
FILTER REPLACEMENT REMINDER
Yes
Filter change indicator – control panel produces a light to inform you that it's about time to replace the Active Carbon, NanoCaptur and Hepa filters.
ECONOMICAL
Yes
Has been certified and rated by energy star – your power bills won't be worrying when they come.
AFFORDABLE
Yes
Comes at an affordable price
IDEAL FOR ASTHMATIC PEOPLE
Yes
A combination of 4 filtration system is ideal for asthmatic people. You won't find much need for the steam inhalers anymore.
FILTER LIFE - BASED ON USE
OZONE FREE
Yes
Comes with automatic modes that make it effective. Will not release harmful substance to the atmosphere.
DESIGN
Yes
Modern and sleek design – matches with most interior decor and doesn't require much storage space.
SIZE AND APPEARANCE
Yes
11.8 x 11.2 x 21.3 inches
WAS THIS REVIEW HELPFUL TO YOU? IF YES, PLEASE SHARE IT WITH A FRIEND.