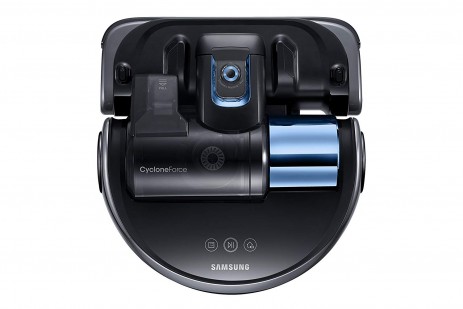 Reasons to buy Samsung POWERbot R9040:
Features 10X more suction power.
Large Easy Pass Wheels & a Combo-Brush.
Visionary Mapping Plus & FullView-Sensors.
Wi-Fi Connectivity & Works with Alexa for voice control.
Check price here....
summary Review:
PERFORMANCE

Samsung POWERbot R9040

CLEANS UNDER FURNITURE
COVERAGE
SUCTION POWER
IDEAL FOR HOMES WITH PETS
BATTERY LIFE
CHARGE TIME
MULTI-FLOOR CLEANING
DEEP CLEANS THICK CARPETS
FOR LARGE ROOMS
AUTO DOCKS AND RECHARGE
RESUMES AFTER AUTO RECHARGING
MULTI-ROOM NAVIGATION
AVOIDS STAIRS AND OBJECTS
QUIET OPERATION
BOOSTS SUCTION POWER
HEPA FILTER
MAPS & PLANS ROUTE
CONCENTRATED CLEANING

USABILITY

Samsung POWERbot R9040

HASSLE FREE OPERATION
REMOTE CONTROL WITH MOBILE APP
WIFI CONNECTED
CAN BE SCHEDULED
WORKS WITH ALEXA
ZONE CLEANING

DESIGN

Samsung POWERbot R9040

LARGE DEBRIS BIN
BATTERY CAPACITY
DUST BIN CAPACITY
PRODUCT DIMENSIONS
WEIGHT

CONCLUSION
CLEANS UNDER FURNITURE
Yes
With 5.3-inches high, this robot-vacuum can easily clean under certain furniture above that height. However, this also makes it a bit tall whereby it won't fit under most furniture below that height.
COVERAGE
Yes
It thoroughly cleans medium-to-large sized rooms of up-to 1800sq.ft.
SUCTION POWER
Yes
Provides a 10X more powerful suction than conventional robotic-vacuums. In fact, it has a 5.9watts powerful suction.
IDEAL FOR HOMES WITH PETS
Yes
Features a specially designed Combo-Brush that helps to thoroughly pick-up pet-hair with fewer tangles.
CLEAN CORNERS AND ALONG WALLS
BATTERY LIFE
Yes
Offers up-to 60-minutes of run-time on a single-charge.
CHARGE TIME
Yes
The battery takes 3-hours to get fully charged.
MULTI-FLOOR CLEANING
Yes
It's equipped with Large Easy-Pass Wheels that allow it to move smoothly over obstacles and to transition from hard-floors to carpets easily.
DEEP CLEANS THICK CARPETS
Yes
Uses CycloneForce-Technology and a 12" Combo-Brush to provide deep carpet cleaning.
FOR LARGE ROOMS
Yes
Thoroughly clean large-sized rooms of up-to 1800sq.ft.
AUTO DOCKS AND RECHARGE
Yes
Automatically returns to the docking-station to recharge when the battery gets low on power.
RESUMES AFTER AUTO RECHARGING
Yes
When it's fully-charged, this robotic-vacuum will go back-out to its last location and resume cleaning.
MULTI-ROOM NAVIGATION
Yes
It features Visionary Mapping Plus Technology that uses an onboard camera and individual smart sensors to help create an optimal cleaning path hence facilitating for multi-room cleaning.
AVOIDS STAIRS AND OBJECTS
Yes
Uses 10 smart-sensors and an onboard digital camera to minimize bumping into furniture and avoid stair drop-offs.
QUIET OPERATION
Yes
It is fairly quiet when running on the lowest setting but it will make a louder noise when operating in turbo-mode.
BOOSTS SUCTION POWER
Yes
This device uses a powerful Cyclone Force system to boost suction power up-to 10X.
HEPA FILTER
Yes
Feature a washable Hepa-like, sponge, washable-filter that can trap smaller particles and allergens.
MAPS & PLANS ROUTE
Yes
It uses a Visionary Mapping Plus system, an onboard digital camera and multiple smart-sensors to create an ideal cleaning-path.
CONCENTRATED CLEANING
Yes
Features a spot-clean-mode that allows for repeated vacuuming of a particular-section until it gets thoroughly clean.
HASSLE FREE OPERATION
Yes
This device is Wi-Fi enabled for remote-control via your smart-device. It also comes with an IR-remote-control and even features onboard-controls for easy hands-on operation.
REMOTE CONTROL WITH MOBILE APP
Yes
You Remotely control this robot-vacuum with your Smartphone via Smart-Home or Samsung-Connect.
WIFI CONNECTED
Yes
This device is Wi-Fi enabled for remote-control via your Smartphone.
CAN BE SCHEDULED
Yes
Use the scheduling-function to program a desired cleaning time up-to 7-days. In fact, this function will help you achieve an automatic-cleaning routine whether you're away or at home.
WORKS WITH ALEXA
Yes
It works with Alexa for voice control. However, the Alexa-device is sold separately.
ZONE CLEANING
Yes
A Visionary Mapping Plus system creates a coverage-map that shows-up on your Smartphone-App where the POWERbot has cleaned and where it hasn't. So, this allows you to set specific zones to be cleaned.
LARGE DEBRIS BIN
Yes
Comes with a larger 700ml dust-canister that facilitates for longer cleanings but with fewer emptying.
PRODUCT DIMENSIONS
Yes
14.9"W X 5.3"H X 14.25"D
PROS
Yes
• Wi-Fi Connectivity. • EasyPass Large Wheels. • 10x More Powerful Suction. • Large 700ml Dust-Canister. • Recharge and Resume function. • Combo-Brush that removes pet hair. • Works with Alexa for voice control. • CycloneForce Technology for consistent power. • Visionary Mapping Plus & FullView Sensor.
CONS
Yes
• Loud noise in Turbo-mode. • Lacks wet-mopping function. • Doesn't have a HEPA filter. • No boundary-strip & No virtual walls.
WAS THIS REVIEW HELPFUL TO YOU? IF YES, PLEASE SHARE IT WITH A FRIEND.