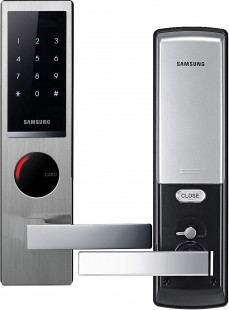 Reasons to buy Samsung SHS H635 FMS:
Random Security Code throws off on lookers
Emergency power option once the battery is dead
Anti theft alarm
Excellent performance
Check price here....
summary Review:
PERFORMANCE
USABILITY

Samsung SHS H635 FMS

USER FRIENDLY
BATTERY LIFE

SAFETY

Samsung SHS H635 FMS

PIN CODES ACCESS
FIRE WARNING
DOUBLE AUTHENTICATION
RANDOM SECURITY CODE
INTRUSION ALARM
DOUBLE LOCKING
ANTI THEFT ALARM
MISCHIEF PREVENTION

DESIGN

Samsung SHS H635 FMS

DURABLE
LED KEYPAD
LOW BATTERY WARNING
EMERGENCY POWER OPTION
DIGITAL TOUCHSCREEN
AUTO-LOCK
Yes
Features a physical sensor that enables the door to automatically lock its self after 3 seconds of being closed. So just in case you forgot to lock your door while rushing for work in the morning - there is no need to worry about un-invited entrants.
AUTO-UNLOCK
Yes
Yes, but this feature works when the lock detects fire indoors using a thermal sensor which activates the alarm. We're not sure if it auto unlocks from the outside without an emergency.
TRACKS ACTIVITY AT YOUR DOORSTEP
KEEP YOUR EXISTING LOCK AND KEYS
USER FRIENDLY
Yes
It features a luxurious, sleek and responsive black touch screen which makes it easy to use. Not only will it keep your home safe, but it will also make your door look beautiful.
COMPATIBLE WITH COMMON TYPES OF CYLINDERS
ATTACHES TO YOUR EXISTING DEADBOLT
ATTACHES TO YOUR EXISTING KEYS
BATTERY LIFE
Yes
Battery Life - 12 months at 10 uses per day, Type of battery - 8 AA alkaline batteries. These batteries will work for a full year without replacement. This is a very economical gadget
PIN CODES ACCESS
Yes
You will set a security pin for your lock - however; the password will work hand-in-hand with RFID tag to unlock the door. The other methods you can use to unlock this smart lock include; RFID CARD, & OVERRIDE KEY
FIRE WARNING
Yes
It will automatically unlock its self thus help you to escape in case of fire. It uses a thermal sensor to detect a change in indoor temperature - thus activate the alarm to warn you of a fire outbreak in your house.
DOUBLE AUTHENTICATION
Yes
For security purposes, the lock will require you to have a unique password and RFID tag - without these two - the lock won't unlock.
RANDOM SECURITY CODE
Yes
The main purpose of this random security code is to prevent password guessing by intruders. Before entering your personal security pin, the lock will bring 2 random numbers to throw off on-lookers.
INTRUSION ALARM
Yes
It sets off the alarm when someone tries to force themselves inside your house even when the door is locked. The alarm will make it difficult for the intruder to stay.
DOUBLE LOCKING
Yes
This is an additional function - use it to prevent this lock from being unlocked from outside by intruders even if they get access to an override key.
ANTI THEFT ALARM
Yes
The alarm made by this smart door lock might scare away a thief when you're not at home. However, this does not provide you will full protection.
MISCHIEF PREVENTION
Yes
The intruder will try to guess your password so many times, but after 5 failed entry attempts a warning alarm will go on thus make the intruder scared. The lock will stop working for at least 3 minutes.
DURABLE
Yes
It is a durable smart lock – well built. During bad weather - The lock will survive in a -20°C to +55°C temperature, but anything lower than that we have no guarantee - it might experience internal mechanics freezing.
LED KEYPAD
Yes
It features an interactive moving LED key pad which makes the lock more responsive.
LOW BATTERY WARNING
Yes
The low battery indicator alerts you when the battery is going low - thus enable you to make battery changes in time so that your lock never dies.
EMERGENCY POWER OPTION
Yes
If the battery runs out, you can power the lock with a 9V battery – however this can only be done from the outdoor.
DIGITAL TOUCHSCREEN
Yes
Features a luxurious touch screen with a secured password system to prevent unauthorized entries.
WAS THIS REVIEW HELPFUL TO YOU? IF YES, PLEASE SHARE IT WITH A FRIEND.