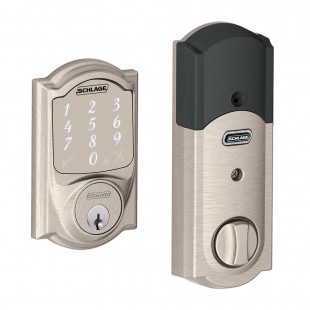 Reasons to buy Schlage Sense:
Remote access
Auto Locks & Unlocks
Very easy to install
Encrypts Data exchanged between the unit & your smartphone
Check price here....
summary Review:
PERFORMANCE

Schlage Sense

REMOTELY CONTROLLED
AUTO-LOCK
WIRELESS SMART LOCK
TRACKS ACTIVITY AT YOUR DOORSTEP

USABILITY

Schlage Sense

EASY INSTALLATION
WORKS WITH ALEXA
CONTROL ACCESS
USER FRIENDLY
BATTERY LIFE

SAFETY

Schlage Sense

PIN CODES ACCESS
DATA ENCRYPTION
INTRUSION ALARM
ANTI THEFT ALARM
MISCHIEF PREVENTION

DESIGN

Schlage Sense

DURABLE
LED KEYPAD
LOW BATTERY WARNING
EMERGENCY POWER OPTION
DIGITAL TOUCHSCREEN
REMOTELY CONTROLLED
Yes
Yes, you can easily add a Schlage Sense Wi-Fi Adapter to your home-network in-order to remotely control the smart-lock from anywhere using a free Schlage Sense app compatible with both iOS and Android Smartphones.
AUTO-LOCK
Yes
It is equipped with an Auto-Lock feature that relocks the deadbolt after being unlocked for a certain period of time. In fact, this feature can be set using the Schlage Sense app and you can also increase or decrease the Auto-Lock time to suit your preference or turn it off altogether using the App.
WIRELESS SMART LOCK
Yes
But you will need to acquire a Schlage Sense Wi-Fi Adapter in-order to easily connect to your Smartphone or home-network-devices so as to facilitate for wireless locking and unlocking of the doors.
TRACKS ACTIVITY AT YOUR DOORSTEP
Yes
The device will allow you to check lock-activity easily using the Schlage Sense App that can help you view up-to 100 last events so that you can always know who accessed your door and when.
EASY INSTALLATION
Yes
Very easy to install and setup by yourself in just minutes using only a screwdriver. Additionally, it even comes with a user-manual that will guide you through the installation process.
WORKS WITH ALEXA
Yes
It is very compatible with Amazon-Alexa devices in-order to allow for remote voice-control of the door-lock. However, this will require you to connect a Schlage Sense Wi-Fi Adapter to any Alexa device.
KEEP YOUR EXISTING LOCK AND KEYS
CONTROL ACCESS
Yes
Use Schlage Sense App to share and manage access to your home. With this App you can create different guest-codes that give every guest 24/7 access to your lock or even create a custom schedule that only allows a certain access code to be active during designated hours of the day. Lastly, guest access code can removed easily in-order ensure maximum-security.
USER FRIENDLY
Yes
It uses access-codes that can be easily entered on the lock's touchscreen display. Additionally, this unit can be easily locked and unlocked using the Schlage Sense App installed on your Smartphone or you can even use the included key to unlock this device manually.
COMPATIBLE WITH COMMON TYPES OF CYLINDERS
ATTACHES TO YOUR EXISTING DEADBOLT
ATTACHES TO YOUR EXISTING KEYS
BATTERY LIFE
Yes
its battery will last for about a year with average-use before needing a replacement
PIN CODES ACCESS
Yes
This smart-lock uses access-codes to allow you and other visitors to easily unlock the door. In fact, this device features an access-code memory capacity of 30-codes which facilitate for shared access when living with different people within the same house
DATA ENCRYPTION
Yes
Provides users with end-to-end encryption and authentication when transferring data between the smart lock and other devices via Wi-Fi or Bluetooth in-order to ensure optimum-security at all times..
INTRUSION ALARM
Yes
Features a built-in alarm sensor that can sense intrusion and make a sound coupled with sending you an alert on your Smartphone via Schlage-App.
ANTI THEFT ALARM
Yes
Features an inbuilt ant-theft alarm that can sense potential door-attacks and then make a loud-sound to alert nearby people coupled sending you an alert-message on your Smartphone using the Schlage-App.
MISCHIEF PREVENTION
Yes
This device will make a loud noise when wrong-codes are entered for multiple times. Additionally, red-light will blink if a wrong access-code is entered and the home-owner will also receive an alert-massage on his/her Smartphone if they are not home.
DURABLE
Yes
It's been designed to meet the highest industry standards for strength and durability because it features very durable metallic-body coupled with smudge-resistant keypad. Additionally, this device is weather-resistant and it can be used outside your house no-matter the weather conditions.
LED KEYPAD
Yes
This device is equipped with a LED-keypad that facilitates quick and easy code-entry at any time of the day or night. In fact, this Keypad creates a great Led-light at night for easy code-entry and it's even smudge-resistant.
LOW BATTERY WARNING
Yes
Features a low battery indicator that will help to remind you several weeks before the batteries get completely drained so that you can replace them earlier.
EMERGENCY POWER OPTION
Yes
It is equipped with a 9V battery-terminal for emergency power in-case the batteries get drained when the device is locked. However, this unit features a low-battery indicator that will remind you weeks in advance to replace the batteries and it even comes with a backup-key for manual unlocking of the door if power is lost.
DIGITAL TOUCHSCREEN
Yes
Features a digital touchscreen display that facilitates for easy access-code entry in-order to unlock the door. Additionally, this touchscreen-display can illuminate a simple led-light at night so that you can easily enter the access-codes.
WAS THIS REVIEW HELPFUL TO YOU? IF YES, PLEASE SHARE IT WITH A FRIEND.