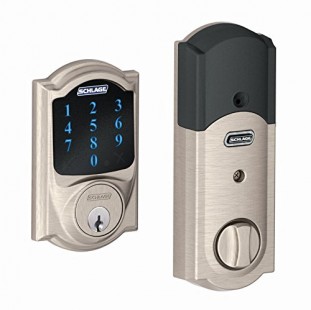 Reasons to buy Schlage Z Wave Connect:
Set different access pin codes for family members
Good battery life
Fingerprint-resistant touch screen
Can be managed remotely
Check price here....
summary Review:
PERFORMANCE

Schlage Z Wave Connect

REMOTELY CONTROLLED
WIRELESS SMART LOCK
TRACKS ACTIVITY AT YOUR DOORSTEP

USABILITY

Schlage Z Wave Connect

EASY INSTALLATION
WORKS WITH ALEXA
KEEP YOUR EXISTING LOCK AND KEYS
CONTROL ACCESS
USER FRIENDLY
ATTACHES TO YOUR EXISTING DEADBOLT
ATTACHES TO YOUR EXISTING KEYS
BATTERY LIFE

SAFETY

Schlage Z Wave Connect

PIN CODES ACCESS
INTRUSION ALARM
ANTI THEFT ALARM

DESIGN

Schlage Z Wave Connect

DURABLE
LED KEYPAD
LOW BATTERY WARNING
DIGITAL TOUCHSCREEN
REMOTELY CONTROLLED
Yes
Remotely control the device with Alexa voice control or Smartphone. You can use any of those two technologies to lock or unlock your door remotely.
WIRELESS SMART LOCK
Yes
It syncs with various wireless enabled devices that control your home and these include; Amazon Alexa, Echo Plus, Nexia, Samsung SmartThings, Lowe's, Wink and Google Assistant
TRACKS ACTIVITY AT YOUR DOORSTEP
Yes
Much as it lacks a video camera which keeps track of door steps, Schlage has a built in feature which alerts you about what codes where used and when. These access codes can be created via the Smartphone using Z-Wave technology. Each member of your home can own a code - but you will always get alerts when they use the lock.
EASY INSTALLATION
Yes
It has a standard lock design which fits most one-hole doors. All you need is a screwdriver to install this smart door lock on your door.
WORKS WITH ALEXA
Yes
Easily control Schlage Z-Wave smart lock with Amazon Alexa Echo Device. This is a voice activated device which you can command with voice to lock/unlock the door.
KEEP YOUR EXISTING LOCK AND KEYS
Yes
Yes – this smart lock can fit above your default door lock
CONTROL ACCESS
Yes
Set up to 30 access codes for family members, friends, guests and neighbour. Set a 4 digit code for each member of your house and delete any of these codes to limit access to your home at a given time. All key access code programming can be done from the keypad. Using Schlage Connect home monitoring system, you will receive alerts when people lock/unlock the door
USER FRIENDLY
Yes
The keypad keyless entry smart lock is very easy to use. The 4 digit access code is very to remember.
COMPATIBLE WITH COMMON TYPES OF CYLINDERS
ATTACHES TO YOUR EXISTING DEADBOLT
Yes
You can attach it to your existing deadbolt
ATTACHES TO YOUR EXISTING KEYS
Yes
You don't have to throw away your keys. All you can do is change and delete codes but not keys.
BATTERY LIFE
Yes
The device uses 4 AA alkaline batteries which last up-to 6-12 months
PIN CODES ACCESS
Yes
This keyless security device can be locked / unlocked with a special pin code that you can set via the LED screen. By default the device comes with a pin code but you change it to suit your best needs.
INTRUSION ALARM
Yes
It comes with a built-in audible alarm sensor that alerts you when there is a suspicious activity on the door. You can choose between 3 alert modes and these include; Activity, Tamper and Forced Entry alert mode.
ANTI THEFT ALARM
Yes
Device comes with a Forced Entry Alert Mode which works as an anti theft alarm. It will warn you when somebody tries to force themselves into the house.
DURABLE
Yes
It has a strong, functional and durable Touchscreen finished with matte that protects it against smudges
LED KEYPAD
Yes
It has a LED KEYPAD which displays numbers from 0 - 9 and Schlage button which you can use to set/reset the device.
LOW BATTERY WARNING
Yes
Once the battery is low, you will see a red beeping light on the Touch Pad.
DIGITAL TOUCHSCREEN
Yes
The illuminated, fingerprint-resistant digital Touch screen is smudge protected thus ensuring that wear patterns always remain undetectable.
WAS THIS REVIEW HELPFUL TO YOU? IF YES, PLEASE SHARE IT WITH A FRIEND.