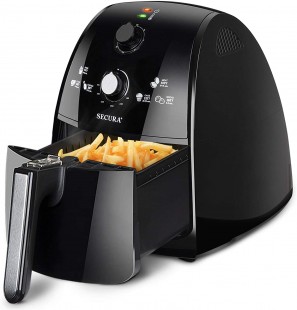 Reasons to buy Secura Air Fryer 4.2qt:
360 Rapid hot air circulation instead of oil. •
Extra-large 4.2 quart basket, more capacity than most other Air Fryers.
60 minute cooking timer with auto-shut off.
2-Year Manufacturer's Limited Warranty.
Check price here....
summary Review:
PERFORMANCE

Secura Air Fryer 4.2qt

Multipurpose
Capacity (Quarts)
GRILL
LESS FAT
Customizable
Cooking Functions
Cooks Faster
Adjust Temperature
Easy To Clean
Uses Less Oil
Evenly Distributes Heat

FEATURES

Secura Air Fryer 4.2qt

Air fry
Roast
Bake
Reheat
Dehydrate
Dishwasher-Safe
Nonstick
Save and Preset Cooking Functions
Recipes Book Included
Frying Basket
Number of Buskets
Grill

DESIGN

Secura Air Fryer 4.2qt

Digital Touch Screen
Dimensions
Included Accessories

CONCLUSION
Multipurpose
Yes
This air fryer oven is a multifunctional device that functions as most multiple kitchen appliances.
Capacity (Quarts)
Yes
4.2Qt / 4.0L-cook a variety of delicious dishes for 4-6 people in just 10 minutes.
LESS FAT
Yes
Create Healthier food by using less fat in your cooking with the "Hot Air Cooking" method. The Secura Hot Air Fryer cuts out the oil to give you crispy food without the added fat. The air fryer uses hot air in combination with high-speed air circulation (rapid hot air) to surround food and give you delicious, crispier results unlike deep frying which uses direct oil.
Customizable
Yes
The easy to access control panel and adjustable dialing knobs makes this air fryer very customizable. Simply put in your ingredients, in put a saved time and temperature preset and get ready to enjoy a hassle-free meal.
Cooking Functions
Yes
It features 4 cooking functions for increased versatility grilling. Roasting, frying, and baking. And several accessories are included with this Secura air fryer to enable you get the most out of your cooking.
Cooks Faster
Yes
The Secura Hot Air Fryer uses hot air in combination with high-speed air circulation (rapid hot air) and a top grill to prepare a variety of tasty dishes in a healthy, fast and easy way
Adjust Temperature
Yes
Variable temperature control 180°~390°F, giving you total control over the food you are cooking. The fully adjustable temperature control allows you to pre-set the best cooking temperature for your food.
Easy To Clean
Yes
Smudge-resistant exterior for easier cleaning includes dishwasher-safe removable parts and a quick-clean basket to save you time.
Uses Less Oil
Yes
Makeup to 3 lbs. of hand-cut French fries with up to 75% less fat than traditional frying methods.
Evenly Distributes Heat
Yes
The precision cook control method also manages bottom heating elements to distribute heat evenly.
Reheat
Yes
Reheat and revive leftover pizza, fries, wings, and more back to crispy perfection.
Dehydrate
Yes
Gently remove moisture from ingredients to make homemade dried fruits, veggie chips, and jerky.
Dishwasher-Safe
Yes
It includes dishwasher-safe removable parts and a quick-clean basket to save you time.
Nonstick
Yes
The interior of this air fryer and basket are made of nonstick material for quick and easy cleanup.
Save and Preset Cooking Functions
Yes
Features cooking, temperature, and timer preset to enable you to get the most out of most dishes.
Recipes Book Included
Yes
The air fryer includes a cookbook with over 200 easy-to-make and inspiring dishes to try.
Grill
Yes
It can grill your meals to perfect tenderness and doneness with a wide temperature range.
Included Accessories
Yes
Air Fryer Machine Air Fryer Basket Air Fryer Pan BBQ Rack Skewers * 4 User's Guide with Recipes
PROS
Yes
• It is very easy to use and very easy to clean. • It really puts a crispy outside on things like burritos and makes a killer grilled cheese! • It cooks quickly, way faster than putting cheese sticks or other breaded items in the oven. • Secura 4.2 qt air fryer has a manual control panel with two different control knobs. With the timing controller, you can set the timer up to 60 minutes. • The basket of this air fryer is non-stick. Therefore, you do not need to spray cooking oil to prevent the foods from sticking to the wall of the pan. • Convection technology seals in flavor and moisture without added fat or grease.
CONS
Yes
• Bulky - Good size for families. Kind of big for two people. • Good white noise generator. • Analog controls seem to work ok but are not specific enough. • The knobs are smooth so, they can be hard to turn - they need to be ribbed or have some kind of notch for easy turning. • The basket doesn't sit evenly on the counter; it sits at an angle unless you move it to the edge of the counter. • It's big. • Interestingly, while it is cooking, it smells of the oil used to cook the food, not the food itself. • Temperature isn't accurate • Can only set the timer in increments of 10
WAS THIS REVIEW HELPFUL TO YOU? IF YES, PLEASE SHARE IT WITH A FRIEND.