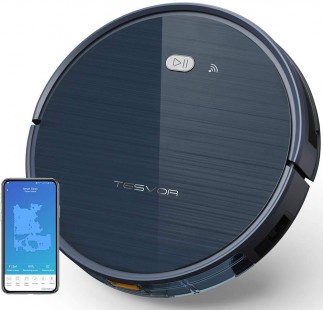 Reasons to buy Tesvor Robot Vacuum:
Ultra-Slim
Self-Charging
Compatible with Alexa Voice Control
Upgraded 1500 Pa Max Suction
Check price here....
summary Review:
PERFORMANCE

Tesvor Robot Vacuum

CLEANS UNDER FURNITURE
COVERAGE
SUCTION POWER
IDEAL FOR HOMES WITH PETS
CLEAN CORNERS AND ALONG WALLS
BATTERY LIFE
CHARGE TIME
MULTI-FLOOR CLEANING
FOR LARGE ROOMS
AUTO DOCKS AND RECHARGE
RESUMES AFTER AUTO RECHARGING
MULTI-ROOM NAVIGATION
AVOIDS STAIRS AND OBJECTS
QUIET OPERATION
BOOSTS SUCTION POWER
HEPA FILTER
MAPS & PLANS ROUTE
SWEEPS AND MOPS
CONCENTRATED CLEANING

USABILITY

Tesvor Robot Vacuum

HASSLE FREE OPERATION
REMOTE CONTROL WITH MOBILE APP
WIFI CONNECTED
CAN BE SCHEDULED
WORKS WITH ALEXA
ZONE CLEANING

DESIGN

Tesvor Robot Vacuum

LARGE DEBRIS BIN
LOW PROFILE DESIGN
BATTERY CAPACITY
DUST BIN CAPACITY
VIRTUAL WALL INCLUDED
PRODUCT DIMENSIONS
WEIGHT

CONCLUSION
CLEANS UNDER FURNITURE
Yes
Has a height of 2.9 inches tall – cleans under sofas, beds, kickboards and other furniture above its height. May not enter under furniture below its height.
COVERAGE
Yes
Built for a cleaning coverage of 1600 square feet. Best for homes and offices
SUCTION POWER
Yes
1500 Pa suction power – easily lifts off dust, dirt and hairs from multiple floor surfaces
IDEAL FOR HOMES WITH PETS
Yes
Hepa filter and strong suction power – thoroughly cleans floor and air from pet dander. Ideal for indoors with cats, dogs etc
CLEAN CORNERS AND ALONG WALLS
Yes
Professional bilateral brushes – specializes in difficult areas like corners and along the walls. Leaves them clean and free from dirt and dust.
BATTERY LIFE
Yes
Delivers 100 minutes of nonstop cleaning after full battery charge
CHARGE TIME
Yes
Roughly takes 240 minutes for a complete battery charge
MULTI-FLOOR CLEANING
Yes
Professional brushes for multi floor cleaning. thoroughly cleans tile, hardwood and low pile carpets
DEEP CLEANS THICK CARPETS
FOR LARGE ROOMS
Yes
Ideal for large rooms within 1600 square feet coverage. Spends 100 minutes cleaning this room size while protecting furniture and robot.
AUTO DOCKS AND RECHARGE
Yes
After cleaning or on low battery, Tesvor will automatically return to the charging station. Start charging to prepare for next session.
RESUMES AFTER AUTO RECHARGING
MULTI-ROOM NAVIGATION
Yes
Intelligently navigates from room to room on one floor. Utilizes the S-shape cleaning pattern to prevent missing spots.
AVOIDS STAIRS AND OBJECTS
Yes
Has anti drop and anti collision sensors – protects Tesvor from bumping into objects of falling off stairs. Protects both furniture and the robot.
QUIET OPERATION
Yes
Only 60 db maximum noise level – enjoy quiet operation as you watch your TV program, rest or share conversations
HEPA FILTER
Yes
High efficiency hepa filter – guards your home from asthmatic and allergic attacks caused by allergens and dust particles
MAPS & PLANS ROUTE
Yes
Built with a high tech smart mapping system – navigates the home intelligently to fully cover the entire surrounding using S-shape routes. Creates a systematic wall to wall cleaning route on hard floors
CONCENTRATED CLEANING
Yes
Sot cleaning mode for parts that require concentrated cleaning. Eliminates stains and other messes effectively and quickly.
HASSLE FREE OPERATION
Yes
One button control through mobile app remote control. Click start from wherever you are to activate cleaning. Or you can schedule and robot will do all the dirty work for you.
REMOTE CONTROL WITH MOBILE APP
Yes
Tesvor Smart App – can be used to schedule, start stop, monitor, cleaning modes, create virtual walls etc from where ever you are. Download the app first onto your Smartphone
WIFI CONNECTED
Yes
Connects to Home WIFI
CAN BE SCHEDULED
Yes
Customize your cleaning schedule to what suits you. set timely, daily or weekly scheduled through the Tesvor Smart App.
WORKS WITH ALEXA
Yes
Start, stop or command the unit to return to charging station using your voice through Alexa and Google Assistant
ZONE CLEANING
Yes
Virtual walls allow Tesvor to clean specific areas. Limits it from cleaning out of its limit boundaries set by you.
LARGE DEBRIS BIN
Yes
Allows large debris to the size of crumbs of bread
LOW PROFILE DESIGN
Yes
Ultra slim 2.9 inches tall – doesn't get stuck under most furniture and other hard to access areas.
VIRTUAL WALL INCLUDED
Yes
Features upgraded dual-hall sensors – automatically detect boundary stripes to exclude the robot from cleaning some areas you wouldn't want.
PRODUCT DIMENSIONS
Yes
12.9 L x 12.9 W x 2.9 H inches
PROS
Yes
• Has an ungraded dual hall sensors • Highly sensitive ant falling and anti collision ability • 100 minutes of run time • Can be scheduled • Large dust bin capacity – 600 ml • High tech smart mapping • S-shape cleaning route • Auto recharge
CONS
Yes
• Boundary strips not included
WAS THIS REVIEW HELPFUL TO YOU? IF YES, PLEASE SHARE IT WITH A FRIEND.